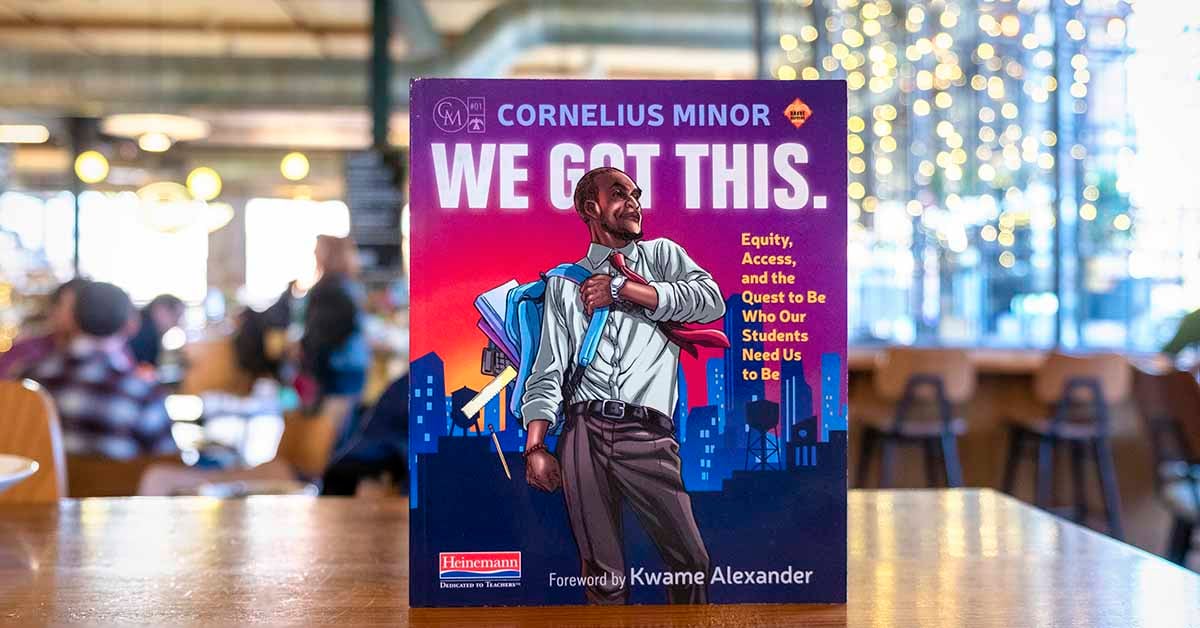 No is such a powerful declaration. As teachers we don't often use it enough. The simplicity of the word no obscures the thoughtful complexity required to wield it. No is not just something that we can say in a meeting when an idea that we don't like surfaces. A no is rarely about an idea we dislike.
As teachers, our no responses must be about our students. Because our students and their needs are dynamic, those paths shift and change. Our no responses must be similarly dynamic.
When you receive a directive, a mandate, a request for action, a suggestion, or advice from colleagues, parents, stakeholders, or administrators, follow this thinking process:
First, assume that this thing comes from a great place. Though we my have different visions for success, we all want children to succeed.
Next, listen carefully to the advice. Try to hear the directive with your students in mind. Ask questions that will allow you to understand fully.
Is this thing accessible to the children that I teach?
Does it consider their abilities and preferences?
Does it seem to motivate them or are there aspects of it that will help them to sustain interest when things get difficult?
Are there enough supports to help them through the practices and tasks and allow them to meet the learning objectives?
Can the students understand the materials associated with this approach?
Does it value their personalities and backgrounds?
Is there room for students to make some choices about how their learning unfolds?
Does this meet the learning goals that I have co-constructed with the for my students?
Finally, choose a course of action based on your answers to these questions:
If you answered yes to most or all of these questions, follow advice!
If you answered no to most or all of these questions, consider the advice. Think about what changes you'll need to make so that this piece of advice works optimally for your kids.
If you're not allowed to customize this advice, follow it earnestly for a week. Try earnestly. Collect student work, and pay close attention to see if it yields the kind of learning outcomes that you were hoping for. If it does, celebrate your new learning. If it does not, use the data that you collected to propose changes based on your good-faith first-week effort.
This work is not about saying no just because we do not like a thing. This is about carefully considering the needs of our students and using our no power to ensure that they get what they need.
…
The above has been adapted from We Got This. To learn more, visit Heinemann.com
---
Follow us on Instagram @heinemannpub to stay up to date on the latest books, your favorite authors, and upcoming events!
---
Cornelius Minor is a frequent keynote speaker for and Lead Staff Developer at the Teachers College Reading and Writing Project. In that capacity, he works with teachers, school leaders, and leaders of community-based organizations to support deep and wide literacy reform in cities (and sometimes villages) across the globe. Whether working with teachers and young people in Singapore, Seattle, or New York City, Cornelius always uses his love for technology, hip-hop, and social media to recruit students' engagement in reading and writing and teachers' engagement in communities of practice. As a staff developer, Cornelius draws not only on his years teaching middle school in the Bronx and Brooklyn, but also on time spent skateboarding, shooting hoops, and working with young people.
You can follow Cornelius on Twitter @MisterMinor