Heinemann's General Manager Vicki Boyd offers a tour of our building and a promise to be present for students.
By Vicki Boyd, General Manager
[dropcap]Every[/dropcap] morning I trace the slow path of the Salmon Falls and Cocheco rivers southeast toward the Seacoast. Where they join to form the Piscataqua, I turn in and cross over its magnificence from Maine to New Hampshire on a high, steel bridge. Downstream, the arched trusses frame Portsmouth's white steeples and red bricks, its clapboards and cupolas, its waterfront of tugboats and salt piles. It's an arresting view, a display of history and beauty that pulls me up and over the crest of that bridge each time I cross it.
On the other side, I take the Market Street exit, turn right at those salt piles toward the North End, and creep toward a mid-nineteenth-century mill building. Once the Portsmouth Steam Factory, it is now Heinemann's headquarters.
Inside, tall, arched windows channel broad beams of sunlight that brighten and warm everything in their path. From my perch on the second floor (was this where the foreman stood a hundred and seventy years ago to observe a thrumming mill?) I can see most of the way through the building, a honeycomb of cubicles east and west of me.
We long to feel a necessary part of something greater than ourselves

Some of the people I love best set this hive humming with something that feels like joy to me most days, taking our place among the ghosts of mill hands engaged in "the manufacture of the finer class of cotton fabrics" (so proclaimed Gleason's 1855 Pictorial Parlor Companion). We lean toward excellence in the same way, but today we dedicate ourselves to teachers. And we engage not machinery but minds—among the brightest in the profession—to make books and invent materials and dream up learning experiences that aim to ennoble and edify teaching and learning for teachers and children alike.
We humans long to feel a necessary part of something greater than ourselves, something that matters and endures. Those of us who work in this haven of red brick and granite, glass and beams of sunlight, feel that tug on our best days. We imagine practitioners like you, entering school buildings all across this country, even the world, and at a time when policies threaten to reduce teachers to technicians, finding a way to be wholly present for students.
"It's a hard time to be human. We know too much and too little," poet Ellen Bass writes in "The World Has Need of You." But this conundrum is not uniquely ours. Surely, those who lived through the socioeconomic shift that took us from the farm to the mill endured a similar bemusement.
So you return to your classroom every day, and we show up for you here in this reimagined steam-powered textile factory, all of us relying on Heinemann's authors and one another to remind us that we are not alone in this. It is our great fortune and privilege to help children feel the tug between themselves and everything else, to see themselves as those "the world has need of." Indeed, these children, and the world, are counting on us to do so.
♦ ♦


♦ ♦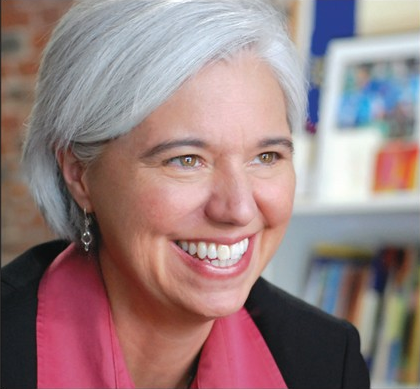 Vicki Boyd is the General Manager of Heinemann. Follow her on Twitter @VickiBoyd.