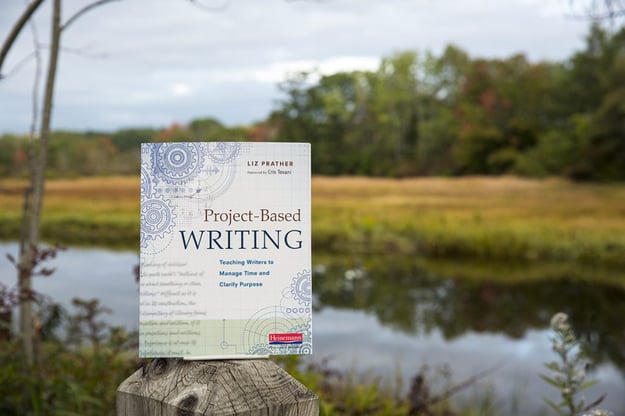 The following, written by Cris Tovani, is the foreword to Project-Based Writing: Teaching Writers to Manage Time and Clarify Purpose by Liz Prather
• • •

Thankfully, I selfishly agreed to write the foreword for this book. Not only did it mean I could read it before anyone else, but I could also see how another teacher implements writing instruction using a project-based format. By page seven, I was annotating comments like, "I love the voice." "She is so honest." "I can try this idea tomorrow." Jealously, I wanted to be the author of the book, not just the foreword!
By Chapter 3, the jealousy was gone and I was captivated. I thought to myself, This teacher-author knows me. She knows my struggles. She knows what I care about as a writing teacher, and most importantly, she knows the wide range of students I teach. Author Liz Prather shows readers how to balance authentic, engaging writing instruction with the responsibility of meeting standards to prepare students for college and beyond. She understands that choice drives engagement and that when students have a purpose or an opportunity to investigate something they are curious about, the desire to write well increases.
There are many reasons to read this book, but I'd like to highlight two—one for teachers and one for their students:
• • •

Reason #1: As a teacher, I will take risks to try new ideas if there are manageable ways for me to accomplish the new learning.
I'm guessing that one reason teachers don't immediately glom onto project- based instruction is the fear of its complexity. For those who don't want to implement a pure project-based writing and learning model, Prather provides differentiated implementation options. Using her adaptations, readers can decide whether they want to dip their toe into the water or go for the full 500-meter swim.
Having taught striving readers and writers my whole career, this book provides support for teachers who have kids who won't write or think they can't write. Project-Based Writing: Teaching Writers to Manage Time and Clarify Purpose is so much more than a collection of ideas or units of study. Think authenticity—not a checklist of steps. Prather provides many examples that help teachers set up and manage the writing students will do. She demonstrates how teachers can harness the power of authentic audiences to induce risk taking and revision.
Prather has been in our shoes. She understands that writing is hard—and trying to teach someone else how to do it well is even harder. She empathizes with us because she, too, has handed back assignments that took the whole weekend to grade, only to have students focus on their point total as they promptly pitched their work into the trash. She's experienced the cruel reality that just because students turn in writing, it doesn't mean they actually care about the work they've done.
Like a lot of teachers, I'm always on the quest to consistently provide purposeful work and authentic audiences for whom students can write. I search to find better ways to help kids care about their writing enough to move beyond the one and done attitude. I struggle to balance the demands of a school seting with the work of real writers. And like all teachers, I want to help students write better, faster. This book is full of practical, manageable ideas that show teachers how to layer in systems and structures that will enhance planning routines and improve the quality of student writing.
• • •

Reason #2: Students will take ownership of their writing when they are afforded authentic reasons to write and shown the habits of real writers in the world.
Prather honors the craft of teaching. She asks herself two questions that serve as a litmus test: Does this allow my students to direct their own learning? Am I showing students how writers work in the real world? Prather provides models for readers so they can shift the responsibility of writing well from the teacher to the student. She pulls away the curtain so readers can see how she develops students' reverence for their writing processes. Along the way, readers are learning how to develop the serious habits of writers.
As in life, in order for project-based writing to be successful, students have to learn how to project manage—a skill that all successful adults need. But there are many more soft skills that Prather weaves throughout the book— skills that aren't found on state or national assessments like persevering, being vulnerable, communicating clearly, pitching ideas, increasing endurance, and using failure as a means to learn. These are only some of the red threads woven throughout this book. Mastering these skills serves students as learners, but more importantly, they serve them way beyond high school graduation.
Prather's humor and practicality make Project-Based Writing a pragmatic and useful read. While glancing at the table of contents, I feared the ideas would be overwhelming. Instead, I found concrete ways to challenge my students. As I read, I found myself emotionally engaged—truly entertained. What I appreciated even more than being entertained was being cognitively engaged. Every time I picked up the book and read, I felt smarter.
We all know that writing is difficult. Defaulting to what real writers do, modeling authentic strategies, and providing opportunities for students to do real work will save us. That's the beauty of this book. You don't have to implement every idea to see growth in your students. There are all sizes of ideas here. Yes, I understand that reading professionally sometimes takes a back-seat to the day-to-day work that has to get done. Teachers are busy people! But take heart. Reading and thinking about how to use this book will be well worth your time. You will quite likely be the person students remember as the one who taught them how to write!
• • •

To learn more about Project Based Writing, and to download a sample chapter, visit Heinemann.com