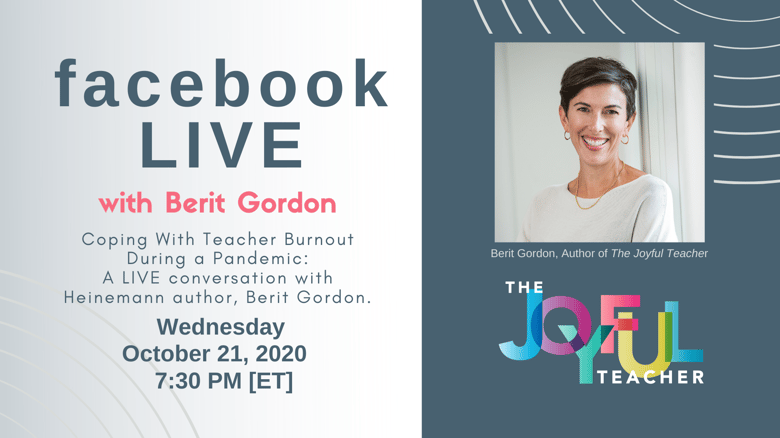 Are you flirting with burnout? Overwhelmed by what it takes to teach in a pandemic? You're not alone. Many teachers are struggling to feel good at their job or that the job is even doable. They know the adrenaline that fueled them through last spring won't last for the long haul.
Join us for a Facebook LIVE conversation with Berit Gordon,
Author of The Joyful Teacher: Strategies for Becoming the Teacher Every Student Deserves
Wednesday, October 21, 2020 at 7:30 PM [ET]

We need preventive medicine right now so we are still here in May, not just limping along to the finish line but having found ways to cope and even thrive during this challenging time. This free live session is going to give you ways to stop risking burnout, or to dig out of the hole if you're already in knee-deep. You will learn six strategies you can use right now to protect your mental and physical health, all of which you can model and teach to your students (who may also be struggling).

Since your teaching to-do list will be crazier than ever this year, you'll also see how to keep prioritizing this self-care so it's not an extra for when you have time, but the foundation on which good teaching rests. Then, you'll learn an approach around self-selected teaching goals to build a feeling of, "I've got this!" across the year.

We'll end by creating a personalized plan to help you access a bit more joy and bit less struggle as a teacher, and to keep burnout at bay.


• • •
To learn more about The Joyful Teacher, visit Heinemann.com.
Fan of podcasts? Listen to our recent conversation with Berit Gordon.

---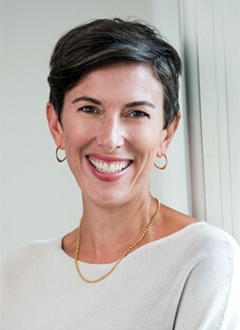 Berit Gordon brings many years of teaching experience in New York City schools as well as in the Dominican Republic to her literacy coaching work. She is a graduate and former instructor at Teachers College, Columbia University. Berit is the author of No More Fake Reading, which offers solutions for boosting stamina, joy, and skills among adolescent readers. Whether running workshops, leading literacy coaching sessions, or working in classrooms, Gordon strives to help students fall in love with reading and writing, and to lay the groundwork so they are experts at both for life. She lives with her family in Maplewood, New Jersey.

You can connect with her on her website at BeritGordon.com or on Twitter @BeritGordon.