In the new book Innovative Educators: An Action Plan for Teachers, author Gretchen Morgan discusses how the individual teacher can effect meaningful and lasting change. In his foreword to the book, Yong Zhao wrote that Gretchen's faith in teachers is "coupled with suggestions that can help teachers become innovative in their practice, suggestions rooted in her own experiences leading innovations in schools and in current research, not wishful prescriptions or personal reflections."
In today's blog post adapted from the book's introduction, Gretchen imagines what a "community of doers" might do to a school's culture.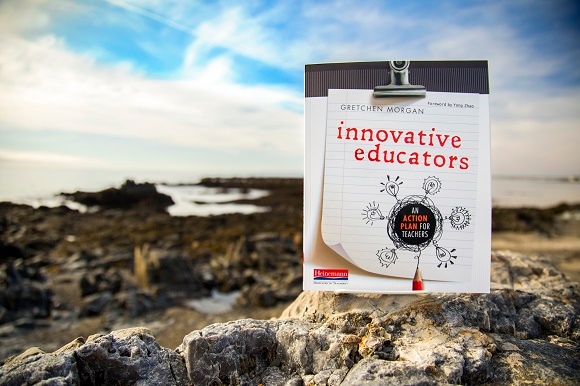 A Community of Doers
There are some schools around the country that have figured out that factory management isn't working. Success Academy charter schools are one example. While there may be some differing views on these schools, especially in the political context of New York City, there is a key idea they have identified and strive to exemplify in the experiences of both students and teachers in their schools that is relevant to understanding twenty-first century nonfactory school. Rather than prescribing exactly what students and teachers do, they describe their schools like this:
Visit any of our schools and you'll feel the energy as soon as you walk through the doors. Instead of defining limits, we challenge scholars to approach each day like investigators, explorers, and sleuths—making discoveries that enrich their knowledge of the world.
In fact, we challenge parents, teachers, leaders, and staff members to do the same. The result is a community of doers with deeply held principles by which we strive to adhere. These core beliefs embody our ACTION values:
Agency—We take ownership and responsibility for all we do.
Curiosity—Wonder fuels us so we always ask, "What if?"
Try and Try—We know that success takes elbow grease.
Integrity—We are honest, open, and transparent.
Others—We look out for each other with respect and support.
No Shortcuts—Excellent learning takes time and effort.
Try to imagine schools full of doers. As we go forward doing the good work of converting beautiful old glass doorknobs into coatracks and inventing new kinds of spaces to match new purposes, we need to think of ourselves this way. We, teachers and school leaders, need to take a proactive stance and become communities of doers.
Now is the time for us to tap into our own creativity and inventiveness and embrace our role as sophisticated professionals who are curious, persistent, savvy, and strategic. As proactive teachers, we will cleverly adapt good things from our current practice and take prudent risks as we invent new and better ways of engaging students in learning. We will use familiar practices in unfamiliar ways or convert existing practice to fit new goals as we redesign and renovate the American schoolhouse. As we metaphorically tear down walls to create new spaces and replace outdated wiring with sophisticated lighting systems, we will also look for new and effective uses for old hardwood flooring, structural beams, and glass doorknobs. We will experiment and invent in responsible ways. We will capitalize on our diverse experiences and skills to help one another overcome the fears that might hold us back.
Click here to read a sample chapter of Innovative Educators.