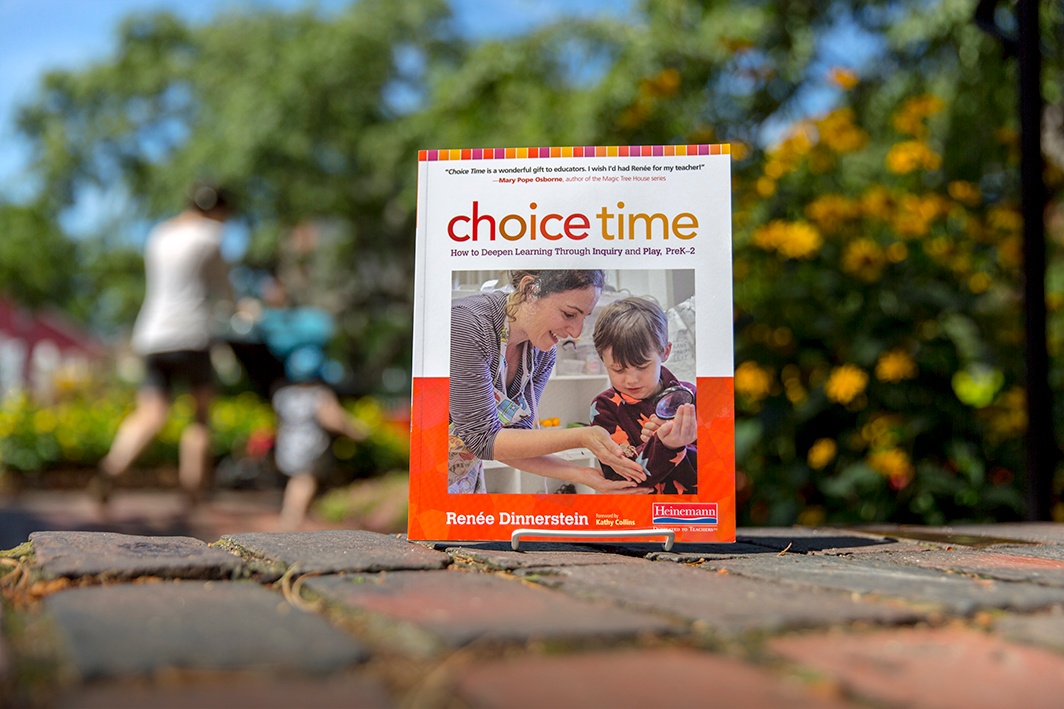 In Choice Time, Renée Dinnerstein gives you everything you need to set up choice-time centers that promote inquiry-based, guided play in your classroom. Renée summarizes the research, describing the different kinds of play and why they are important. In this post, adapted from the foreword by Kathy Collins, learn how valuable choice-time can be for a robust, child-centered classroom.
by Kathy Collins
I first met Renée Dinnerstein in the mid-'90s when I was a research assistant at the Teachers College Reading and Writing Project (TCRWP). My job was to go to classrooms all over New York City and its surrounding areas, and observe teachers and children engaged in reading workshops. Then I'd head back to the Reading and Writing Project to share findings and observations. On a résumé, this would be viewed as a great job, but for an aspiring teacher, a job that enabled one to work with colleagues at the TCRWP and in classrooms like Renée's was an extraordinary gift.
When Lucy Calkins sent me to Renée's classroom at PS 321 in Brooklyn, she told me to watch everything closely because I could find gold there. One day, I had my times mixed up and I arrived early, well before Renée's reading workshop was to begin. She invited me in, explaining that it was choice time. My choice to go in that day changed everything! From that day forward, I made sure I always arrived at Renée's classroom early because I did not want to miss the wonder of choice time in her kindergarten.
I had struck classroom gold!

During choice time, Renée was often hard to find as she sat alongside children, observing, nudging, and supporting their approximations as they made sense of their world and their learning through play. Her room was abuzz. There was action and conversation, but no signs of chaos or conflict. I observed children paired up on fluffy cushions, reading together inside a cozy refashioned and beautifully painted refrigerator box; children zooming small trains along subway maps as they taught themselves about directions and puzzled out map symbols together; and a small group working on a model of a suspension bridge that spanned a portion of the classroom while another group built cities in the block area. During any given choice time, there was a kaleidoscope of work and play—children cooking snacks, making plays, creating art, observing the class turtle, and so on. On the surface, it looked seamless and almost effortless, like all of the moving pieces just fell into place, but I always wondered, "How does this happen? What did Renée do?"
I tried to find moments to ask Renée questions or tell her about the striking things children were doing and saying, but it wasn't easy to have those conversations during class time because when children were in the room, they were Renée's focal point. The children were (and are) her priority, and they always had her undivided attention. Fortunately, we now have this book in which Renée takes us behind the scenes to the belief systems and planning that lead to robust, engaging, child-centered choice times. As I read it, I felt like I was finally having the conversation I longed to have back in the days when I observed in her classroom.
In this book, Renée shares the secrets and stories of choice time so that any teacher might be able to create these authentic, engaging learning opportunities for his or her own students.

When I was looking to teach, Renée was one of the main reasons I applied for a position at PS 321. I wanted to work alongside teachers like her. We were colleagues at PS 321 for several years. Renée's presence in grade-level meetings was always grounding. She thought of the children first, no matter what. She served as any group's conscience, helping us stay rooted in the real needs of our students as we weathered ever-escalating expectations and became enamored by the latest teaching fads and tangled up in education buzzwords like rigor, stamina, and standards. Renée reminded us that our true work was to teach children, not to teach stuff.
Over the years, in my work as a consultant, I've asked teachers to think of resources they couldn't live without in their professional lives, including three people, three places, and three things. In other words, "Who and what have influenced you and continue to fuel you as a teacher?" If I were to answer this myself, I would name Renée. Our paths have crossed frequently, from the first time I researched in her classroom, to my years as a teacher at PS 321, to the cobblestone streets of Reggio Emilia, Italy, when I participated in a study tour that Renée and Matt Glover had organized, to our shared hotel room at an NCTE conference, when we both felt exhausted and perplexed by the din of Las Vegas.
Through our shared experiences, Renée has become a cherished friend.

I admire so much about her and her family, and I realize that not only is she one of my professional heroes, but she is a personal inspiration as well. As you read on in this book, you'll know what I know: Renée is a tireless and vocal advocate for the role of play, inquiry, and choice in early childhood classrooms, even when the education climate is storming with corporate reform, classroom rigor, and curricula on steroids. She has worked in schools all over, supporting teachers across the grades as they launch inquiries and create choice times in their classrooms. In this capacity, Renée empowers teachers with whom she works, as many of them have presented stories from their classrooms at local and national conferences.
And now, Renée has empowered us all by writing a book that matters so much. By sharing research and classroom anecdotes, Renée has given us a rationale for and a vision of choice time that can be transferred and tailored to any classroom. Even if you have never had the pleasure of watching Renée at work in her own classroom, you'll find that she writes in the same way she teaches, side by side with you, working tirelessly to get it right, staying true to her values, and always, always keeping her eyes on children.
Choice Time: How To Deepen Learning Through Inquiry and Play, K–2, by Renee Dinnerstein, is out now. Learn more here.

And follow Renée Dinnerstein's blog "Investigating Choice Time." Read her post sampling the second chapter of her new book.
♦ ♦ ♦ ♦
Kathy Collins is coauthor with Matt Glover of the Heinemann title I Am Reading. Kathy is the beloved author of Growing Readers as well as Reading for Real. She presents at conferences and works in schools all over the world to support teachers in developing high-quality, effective literacy instruction in the elementary school grades. Kathy has worked closely with the Teachers College Reading and Writing Project at Columbia University, and she was a first grade teacher in Brooklyn, New York.