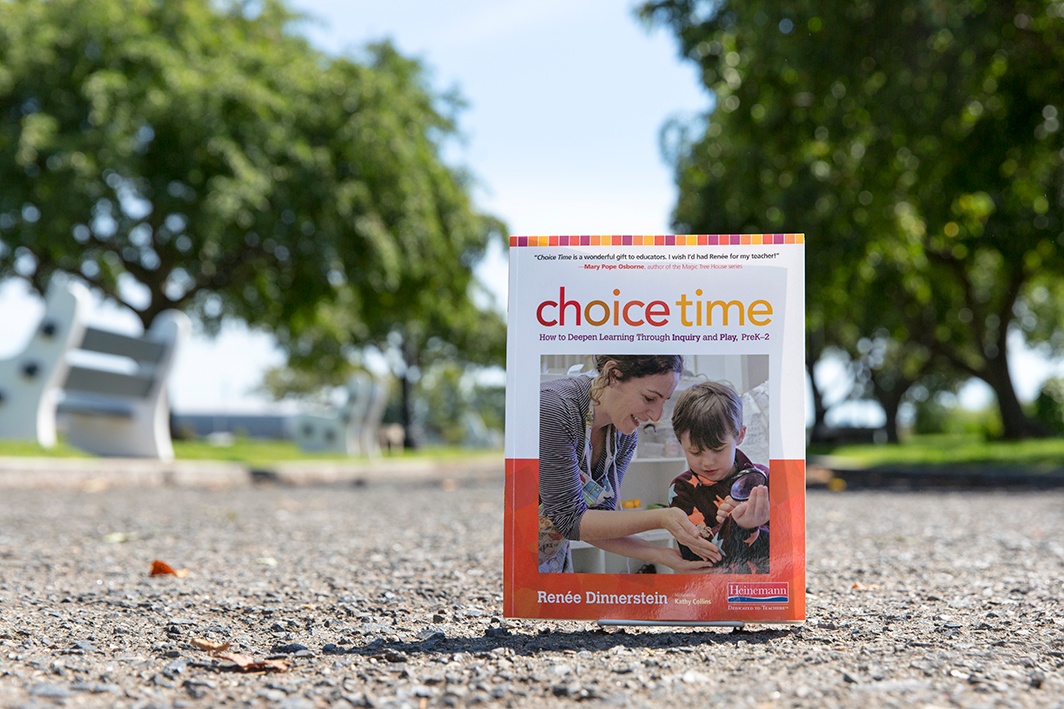 In Choice Time, Renée Dinnerstein gives you everything you need to set up choice-time centers that promote inquiry-based, guided play in your classroom. Renée summarizes the research, describing the different kinds of play and why they are important. In this post, adapted from the new book, Renee lists the benefits of play using an imaginary doctor's office as reference.
Before they ever come to school, children naturally learn and grow as they play with each other and with adults. This learning is essentially effortless—a natural consequence of play. Seeing this, it just makes sense that developmentally appropriate practices in classrooms should tap into the natural energy of play that children bring with them to school. In a 2012 position paper, the National Association for the Education of Young Children (NAEYC) notes the many benefits of children's play to developmentally appropriate practice. To clearly see each of these benefits in action, all you have to do is picture children playing in an imaginary doctor's office in the classroom. As the NAEYC paper notes, children's play has a number of advantages:
It helps develop self-regulation.

Children take turns playing different roles at different times. One child wants to be the doctor now, but she has to wait her turn.
It promotes the development of language.

Drawing from their experiences, the children support each other in using the particular language of a doctor's office: fever, X-ray, medicine.
It promotes cognition.

All the children must think their way through the play in very intentional ways. I am in a doctor's office. What should I do next?
It promotes social competence.

As children execute a successful play experience together, each of them is empowered by the role she or he plays in its success.
It gives children opportunities to explore the world.

In dramatic play particularly, children bring the world into their play, where they can explore it safely. Today it's a doctor's office; next week it might be a camping expedition or a fire station.
It provides opportunities for children to interact.

It's difficult to play "doctor's office" by yourself, so children must interact and co-construct all the meaning and decision making.
It provides opportunities for children to express and control their emotions.

All sorts of emotional issues can arise in play: fairness, inclusion and exclusion, a lack of understanding, varied expectations, success and failure.
It helps children develop their symbolic and problem-solving abilities.

Two chairs placed side by side make an examination table. But wait—it's not long enough for the "patient" to lie down on. Let's get two more chairs!
It gives children opportunities to practice emerging skills.

The doctor writes a prescription, carefully sounding out the words, "Pills for a cold."
The bottom line is, when children are at play, they're not just playing— they're learning. Play is the engine that drives their learning.
Choice Time: How To Deepen Learning Through Inquiry and Play, K–2, by Renee Dinnerstein, is out now. Learn more here.

And follow Renée Dinnerstein's blog "Investigating Choice Time." Read her post sampling the second chapter of her new book.
♦ ♦ ♦ ♦
Renée Dinnerstein has almost 50 years experience as an early childhood educator, teaching in both Italy and in the United States. She is a past member of the Teachers' College Reading and Writing Project Early Childhood Reading 'think tank', and has worked as an Early Childhood Staff Developer in the New York City Department of Education, where she helped write the New York City Pre Kindergarten Standards.