Math in Practice is a comprehensive, grade-by-grade professional learning resource designed to fit with any math curriculum you are using. It identifies the big ideas of both math content and math teaching, unpacking key instructional strategies and detailing why those strategies are so powerful.
Rather than providing another sequence of lessons and units to take students from the beginning to the end of the year, Math in Practice focuses on developing deep content knowledge, understanding why certain strategies and approaches are most effective, and rethinking our beliefs about what math teaching should be.
In this video, Joan Tellish, co-author of Teaching Fifth Grade Math from Math in Practice, explains some of the things that elementary teachers struggle with the most when teaching math, including: understanding the content, finding the time to teach everything, and having access to the right materials to help with comprehension.
Thanks for reporting a problem. We'll attach technical data about this session to help us figure out the issue. Which of these best describes the problem?
Any other details or context?
message
---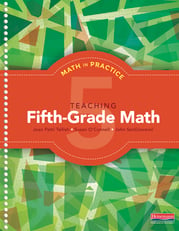 Joan Petti Tellish is a mathematics support teacher in Howard County, Maryland. Joan has over 20 years of teaching experience and is certified in mathematics instructional leadership as well as administration and supervision. She is an adjunct instructor at Towson University, McDaniel College, and has presented at several local, regional, and national conferences.