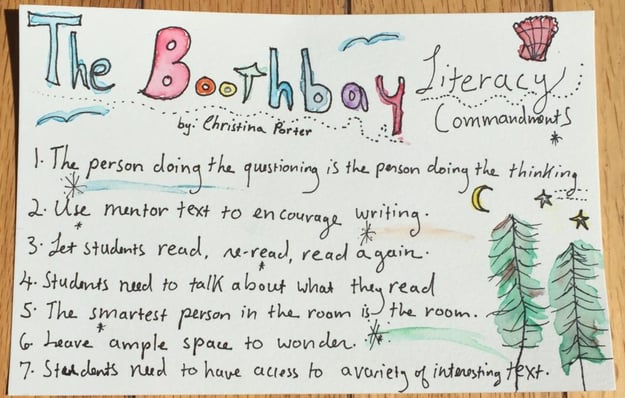 *artwork 6/28/17 by attendee Christina Porter
"The smartest person in the room IS the room." —Kylene Beers and Bob Probst
This was one of the most popular tweets from the Boothbay Literacy institute, Day Two. We've been practicing this every moment as we think, write, talk, and reflect on what this mean for our students, how this empowers them as thinkers, inquirers, and learners.
Boothbay Day Two held incredible amounts of book recommendations from our book goddess, Teri Lesesne (@professornana), more vital early morning writing workshop with Linda Rief, conferring videos and advice from Penny Kittle, examples of how the signposts spark thinking in students, and a night full of laughter with author Chris Crutcher.
Chris read aloud to us from a few of his books, and without a doubt hearing his voice attached to his stories from King of the Mild Frontier had us laughing, crying, and holding our stomach with the beautiful ache of connecting to human story. Scroll down for the Storify from Tuesday!
---
Previous #BBLit17 posts >>> *Sunday opening session *Day One
---
Loving the thinking coming out of Boothbay? You can still sign up for our Pacific Coast Literacy Institute 7/30 to 8/2 this summer in San Diego, CA! Click here for details.