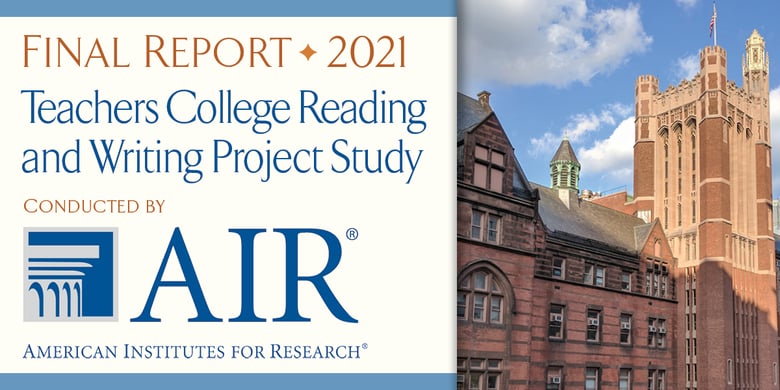 The American Institutes for Research (AIR), a not-for-profit, independent research firm based in the greater Washington, D.C., area, has completed the first objective, rigorous, quasi-experimental study of the Teachers College Reading and Writing Project's reading and writing workshop and Units of Study curriculum. Although there have been other studies of TCRWP's work, no previous study contrasted results achieved by schools implementing Units of Study with a comparison group of schools that was not implementing the curriculum.
The AIR study compared relative school-level changes over time in the reading and writing achievement of students in Grades 3, 4, and 5 in TCRWP schools with those in matched comparison schools. The study used a mixed method approach, including both quantitative and qualitative analyses, to address two research questions:
To what extent does the literacy achievement of schools whose teachers are implementing the TCRWP approach—including using the Units of Study curriculum and receiving professional development from TCRWP staff—differ from that of schools whose teachers are not?

In what ways is the TCRWP model being implemented in the treatment schools in the early years of implementation?
Schools included in the AIR study are located in New York City (NYC) and in four districts in greater Atlanta, Georgia.
Results
The study used publicly-available aggregate state English Language Arts (ELA) data—spanning up to 10 years for some schools—and showed that beginning in Year 2 of program use, TCRWP implementation was associated with statistically significant positive effects on state ELA test scores. In addition, this difference became larger as time passed, suggesting positive cumulative effects of use of the TCRWP approach.
Data from teachers and principals in the eight Georgia treatment schools also provided insight into both the successes and challenges of their first two years of TCRWP use. Principals in all eight Georgia schools were supportive of TCRWP use and took an active interest in the professional development TCRWP staff provided to teachers. One principal said, "It's probably the strongest on-site professional development I've ever been a part of, because it's that hands on." Teachers' comments about the professional development were largely positive, in part because they were "able to watch [the staff developer] doing it in real time with our kids. We're able to see, 'okay, this is possible'." Both teachers and principals reported that students were exercising greater independence in their learning and were doing more reading and writing, both in and outside of class. They also observed that students exhibited greater engagement than prior to TCRWP implementation. In the words of one teacher, "I know that our kids are loving reading and writing."
Visit the Research page at UOS.com/Research to download the report and learn more about the research underpinning the Units of Study.