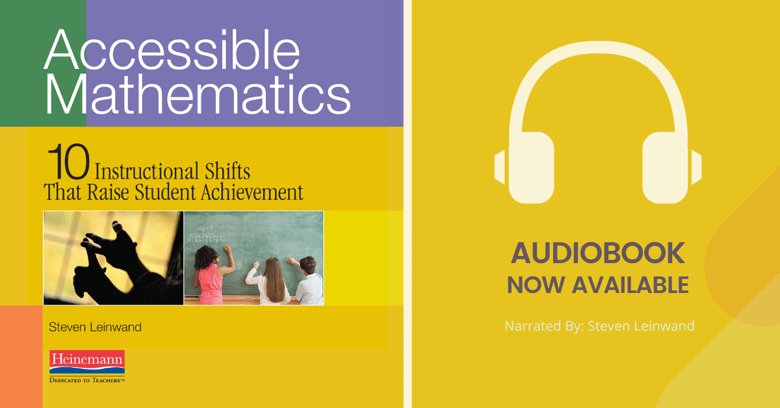 Heinemann Audiobooks presents the audiobook of Accessible Mathematics: Ten Instructional Shifts That Raise Student Achievement by Steven Leinwand.
Access this title on your favorite platform:


Audible · Chirp · Apple Audiobooks · Google Play
Listen to a preview of the audiobook:
Raising students' math achievement doesn't mean ripping up your planning book and starting over. In Accessible Mathematics Steven Leinwand (author of Sensible Mathematics) shows how small shifts in the good teaching you already do can make a big difference in student learning.

Steve focuses on the crucial issue of classroom instruction. He scours the research and visits highly effective classrooms for practical examples of small adjustments to your teaching that lead to deeper student learning in math. Some of his 10 classroom-tested teaching shifts may surprise you and others will validate your thinking. But all of them will improve your students' performance.

Thoroughly practical and ever-aware of the limits of teachers' time, Steve gives you everything you need to put his commonsense ideas to use immediately. His extensive planning advice will help you streamline your teaching to get more from everything you do. Classroom examples from every grade level model teaching language and instructional moves. And his suggestions for professional learning help increase your effectiveness through the power of collaboration.

Steven Leinwand shares your priority: raising the mathematical understanding and achievement of every one of your students. Listen to Accessible Mathematics, try his 10 suggestions in your practice, and discover how minor shifts in your teaching can put student learning into high gear.
•••
Steve Leinwand is the author of the bestselling Heinemann title Accessible Mathematics: Ten Instructional Shifts That Raise Student Achievement.He is Principal Research Analyst at the American Institutes for Research in Washington, D.C., where he supports a range of mathematics education initiatives and research. Steve served as Mathematics Supervisor in the Connecticut Department of Education for twenty-two years and is a former president of the National Council of Supervisors of Mathematics.
To learn more about all our Heinemann Audiobooks, click here: