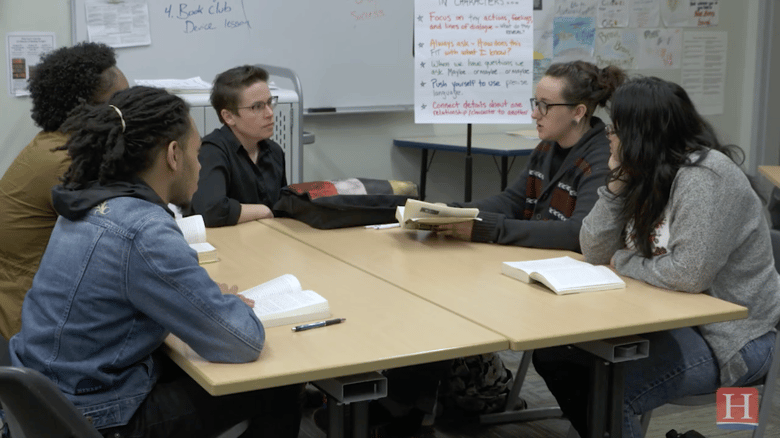 As an English teacher, Kate Roberts has seen the power of whole-class novels to build community in her classroom. But she's also seen too many kids struggle too much to read them--and consequently, check out of reading altogether.
In the following video, Kate walks you through what you can expect to find in her new book, A Novel Approach and shows you how you too can find a student-centered, balanced approach to teaching reading.
The best part of a whole-class novel is that the kids are all reading the same book. It forms community and encourages productive struggle. But the worst part of a whole-class novel unit is that the students are all reading the same book, no matter what their reading ability is. It's as though we're saying to kids, "I am going to grade you based on how well you can perform on something that is ridiculously hard for you the same way I do for the kids who find the work easy."
If we want students to be working on the same thing, we are going to have to create supports and experiences that will allow them to get to a similar place. We are going to need to devote considerable time and energy to making sure the students for whom the book is too hard can learn the strategies for tackling a tough text, and we are going to need to create for the readers who find the text easier some work they can do to deepen their reading experience.
…
Learn more about A Novel Approach at Heinemann.com
---
KATE ROBERTS is a national literacy consultant, author, and popular keynote speaker. She taught reading and writing in Brooklyn, NY and worked as a literacy coach before joining the Teachers College Reading and Writing Project in 2005, where she worked as a Lead Staff Developer for 11 years. Kate is the co-author (with Christopher Lehman) of the popular Falling in Love with Close Reading, and of DIY Literacy (with Maggie Beattie Roberts), along with two Heinemann Unit of Study books on Literary Essay. Her work with students across the country has led to her belief that all kids can be insightful, academic thinkers when the work is demystified, broken down and made engaging. To this end, Kate has worked nationally and internationally to help teachers, schools, and districts develop and implement strong teaching practices and curriculum. Her blog, indent, is a touchstone for teachers and she uses social media, particularly Twitter (@teachkate), to help build community and solve problems among her educator peers.