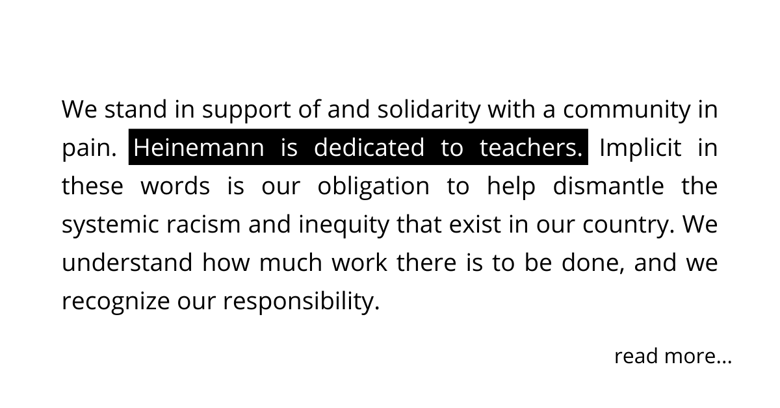 We stand in support of and solidarity with a community in pain. Heinemann is dedicated to teachers. Implicit in these words is our obligation to help dismantle the systemic racism and inequity that exist in our country. We understand how much work there is to be done, and we recognize our responsibility.

Three years ago, Heinemann undertook a large-scale initiative to examine issues of diversity, equity, and inclusion. As a result, our team and our authors, the teachers whose voices we amplify and who influence our work, are more representative of the world we live in, and we are learning. But progress has been slow, and we now recognize this is simply not enough.

The only way to end white supremacy is to address the systems that allow it to continue. With other educators, we will lean harder into anti-racism. As we educate ourselves and through our ongoing action, you will see our commitment demonstrated in the faces, the words, and the work of our authors and employees.


◊ ◊ ◊
This week on our social media channels you'll find suggestions for anti-racist resources that we are reading and learning from. We hope you'll share your own recommendations and your thoughts as we work together to be anti-racist.
For Educators
Call to Action
Donate
Note: the Minnesota Freedom Fund and Brooklyn Community Bail fund are urging people to donate elsewhere, because they've each received so many donations at this point.
Bookshop: again part of the proceeds will be donated to Brooklyn Community Bail Fund, the Minnesota Freedom Fund, and the family of George Floyd