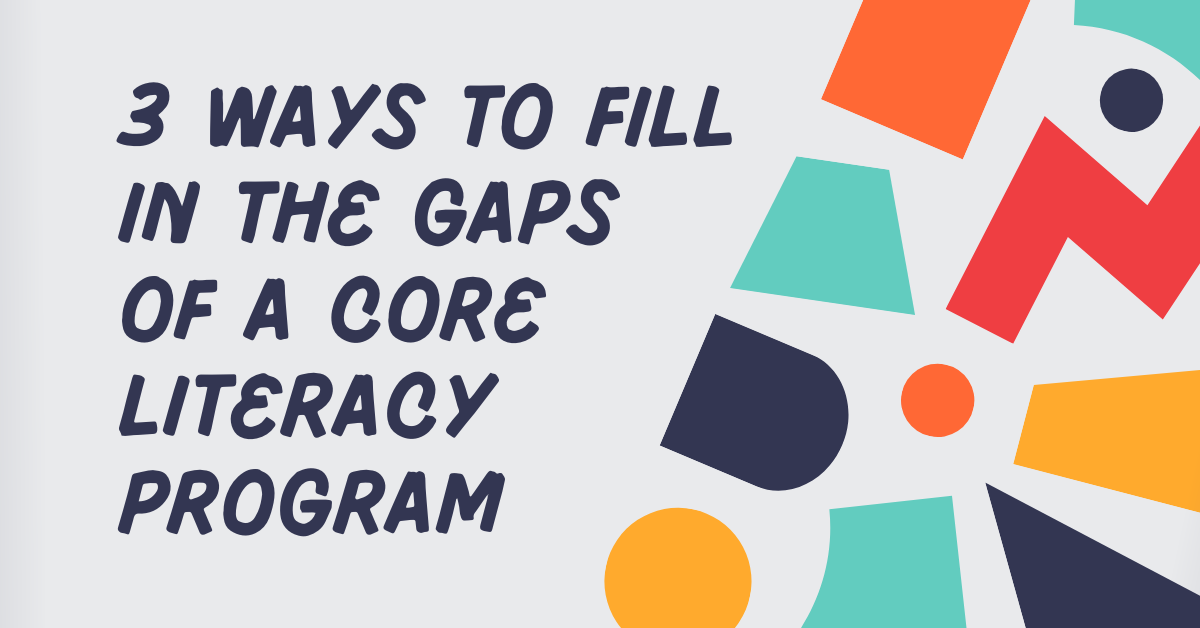 Everyone wants their core reading program or prepackaged writing curriculum to work! But can core reading programs reach everyone in a classroom? There's so many kinds of learners with so many different needs. How can we provide targeted support any children whose needs a core program can't quite match?


The good news is that there are ways to help all students that are both tried-and-true and research-based. Better yet, they focus on students' individual needs, so they can help fill the gaps of a core program or curriculum, greatly increasing its value.

Here are three ways:
Independent practice with student-selected texts or topics
Research by Richard Allington and others about summer reading loss showed that students with limited literacy options at home who were given self-selected texts made as much progress as students in summer school—but without any instructional time. This provides yet more evidence that the act of reading itself is high-impact instruction.

Additional research has shown that comprehension can vary based on a student's motivation or interest or a text's relevance. Students with a passion for a topic may choose a text on it that appears too difficult for their skill level, but because of the background knowledge and enthusiasm they bring to it, they are able to comprehend at a higher-than-expected level. Text selection is a powerful way to increase engagement and support growth.*



Similarly, the foundational research of Donald Graves, detailed in

Writing: Teachers and Children at Work

and subsequent publications,

pointed out the crucial importance of self-selected topics in motivating student writers. Plus, writing, like reading, takes practice to gain mastery of skills as wide as the muscular control to form letters and write legibly to the ability to understand the difference between story and plot and use that understanding to plan and execute good writing.

In short, doing what adult readers and writers do is powerful enough to make time for and will support growth in all students, helping to fill curricular gaps.
Small groups and conferring
For readers and writers who are struggling or disengaged, differentiation allows them to make more progress. Striving students need to develop skills that will help them catch up to their peers or grade level. Disengaged students need acceleration to avoid stagnation. Small groups and conferring help you meet each student exactly where they are.

With groups, you can reach a wide range of readers and writers each day. By working on a common need with a small group, the teacher follows the findings of

the massive meta-study that formed the basis of John Hattie's groundbreaking book

Visible Learning,

which

revealed that time with a skilled teacher drove progress more than anything else. Giving students increased time with their teacher and focused attention on a specific instructional need makes the most efficient use of this finding. Conferring, five-minute conferences with an individual reader or writer, do the same for students with a unique need in class or who can benefit from extra time with their teacher.
Goal-based, strategy-driven instruction
Hattie has also found that making instructional goals visible to students is of great importance to their progress. Of course, for all students, let alone those outside the middle-third of the class, assessment and progress monitoring are key to locating high-priority instructional goals. Making it clear what their learning goal is helps students stay focused and self-monitor for improvement.

Strategies are a great way to drive progress toward a goal. Strategies are ways students approximate the skill they are working on until they reach automaticity. By teaching readers and writers strategies, they get practical how-tos that help them turn abstractions such as inference or character arcs into skillful reading or writing. In terms of core programs and curriculum, by teaching strategies in groups or one-to-one, a teacher can reinforce a lesson from the program or give students extensions that help them engage with content.

To be successful, core programs require an investment of not only money but time, whole-school buy-in, and trust. If it isn't working as well as expected, resources that support these three supplemental instructional moves could help.

To learn more about resources that help fill curricular gaps, talk to your Heinemann representative or visit Hein.pub/Serravallo for examples.

References:
Summer Reading: Closing the Rich/Poor Reading Achievement Gap. Second Edition. Language and Literacy Series. Allington and McGill-Franzen.
https://eric.ed.gov/?id=ED584709
*The importance of student text selection and cultural relevance is well established along a long line of researchers including Steven Krashen, P. David Pearson, Alfred Tatum, and many others.