Today on the Heinemann Podcast, we continue our special read aloud with 180 Days authors Kelly Gallagher and Penny Kittle. In part two of this podcast series, the authors share more excerpts from their new book 180 Days: Two Teachers and the Quest to Engage and Empower Adolescents. Last week, we heard about their core teaching beliefs and strategies for generating creative and meaningful writing. This week, Kelly and Penny expand on their teaching beliefs, discuss the value of talk, and share a story about their process of learning to work together.
We pick up where we left off last week…
•••
To learn more about 180 Days visit heinemann.com, or click here to read more related blogs! Below, take a tour of the accompanying online resources.
---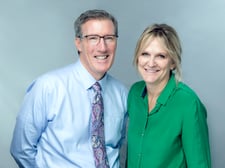 Kelly Gallagher teaches at Magnolia High School in Anaheim, California. He is the author of several books on adolescent literacy, most notably Readicide and Write Like This. Kelly is the former co-director of the South Basin Writing Project at California State University, Long Beach and the former president of the Secondary Reading Group for the International Literacy Association. You can follow him on Twitter @KellyGToGo
As a professional development coordinator for the Conway, New Hampshire, School District, Penny Kittle acts as a K-12 literacy coach and directs new-teacher mentoring. In addition, she teaches writing at Conway's Kennett High School and in the Summer Literacy Institutes at the University of New Hampshire.
Penny is the author of numerous books including Book Love: Developing Depth, Stamina, and Passion in Adolescent Readers; Children Want to Write (coauthored with Thomas Newkirk); and Write Beside Them: Risk, Voice, and Clarity in High School Writing. You can follow her on twitter @pennykittle