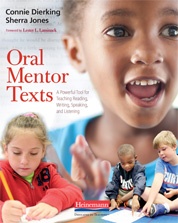 Oral Mentor Texts, by Connie Dierking and Sherra Jones, presents new and effective ways to use the power of oral language to reinforce comprehension and help writers internalize narrative structures. Working with oral mentor texts also helps struggling readers and writers meet literacy standards for speaking and listening. In today's blog the authors tell us what oral mentor texts are and what the process looks like.
What is an oral mentor text? Written by Connie Dierking and Sherra Jones
Lucy Calkins, Katie Wood Ray, Isoke Mia, and many others have taught teachers the importance of a mentor, or touchstone, text. They remind us that a mentor text is a scaffold, a powerful example for students as they begin to read like a writer and write like a reader. Katie Wood Ray tells us, "All texts are demonstrations of some writer's decisions about word choice, voice, and perspective. All texts are demonstrations of some genre potential. All texts are demonstrations of how our language works and its conventions. Every single text is a whole chunk of curriculum potential." We wholeheartedly agree! The picture and chapter books that we carry with us during literacy instruction allow our students to see reading and writing skills and strategies at work. We can show students how Ezra Jack Keats uses an ellipsis to make his reader pause or Cynthia Rylant makes details pop off a page. We use these texts to say, "See what this writer has done! You can do it too!"
What is the difference between a mentor text and an oral mentor text?
The only differences are that an oral mentor text is based on a shared class experience and it is—and remains—oral. Retelling an event that really happened during the school day in their own classroom is a powerful mentor text that students have with them always. Many students struggle to find words to retell a personal story; can't sequence their own stories or stories written by someone else; and need support with regard to phonemic awareness, vocabulary, or syntax. Oral mentor texts can help!
What's the process?
First, choose a simple event your students have experienced together—finding a lizard, noticing a bird in a tree, being in class during a thunderstorm—and write the text, strategically tucking in craft techniques and skills you want your students to practice (your students' needs, your school and district curriculums, and the Common Core State Standards offer a wealth of choices). Once you have composed the story, teach it to your students orally. We've developed four structures, all oral, for practicing the story so that every student learns the story and commits it to memory. Once students know the story well, they perform the story for an audience. This oral performance is an authentic way for students to meet the Common Core speaking and listening standards.
Once the story is part of your students' story lexicon, it becomes an oral mentor text you can use over and over as you teach reading and writing. For example, you can refer to the oral story during a minilesson: "Remember in our oral class story we started with a sound word? Why don't we try that?" Or you can refer to a technique or skill included in the class oral story in a writing conference.
According to Isoke Nia, a book is a touchstone text if the teacher loves it, it includes many teachable things, every member of the class has a copy, it is a little more sophisticated than typical student writing, it is a great example of the genre being studied, and it is written by a trusted writer. The oral mentor text is all of those things.
Mary Osborne, the district writing coach for Pinellas County Schools, suggests some questions teachers can ask with regard to mentor texts:
• How does the writer establish the situation?
• Who is telling the story?
• How does the writer use description to develop events?
• Which words are used to create a picture?
• Does the writer use dialogue?
• Which words are used to show the order of events?
• Which elements of the writing craft did the writer use?
• How did the writer begin or end the story?
These are all questions you can consider as you develop an oral mentor text and then use it with your students. Because you have chosen every sentence intentionally, you have a text that demonstrates exactly what your students need to know in order to grow as readers and writers.
For more information on Oral Mentor Texts and to read a sample chapter from the book, click here
References
Nia, Isoke. 2008. Teacher's College Reading and Writing Institute Presentation.
Ray, Katie Wood. 2002 What You Know By Heart. Portsmouth, NH: Heinemann.