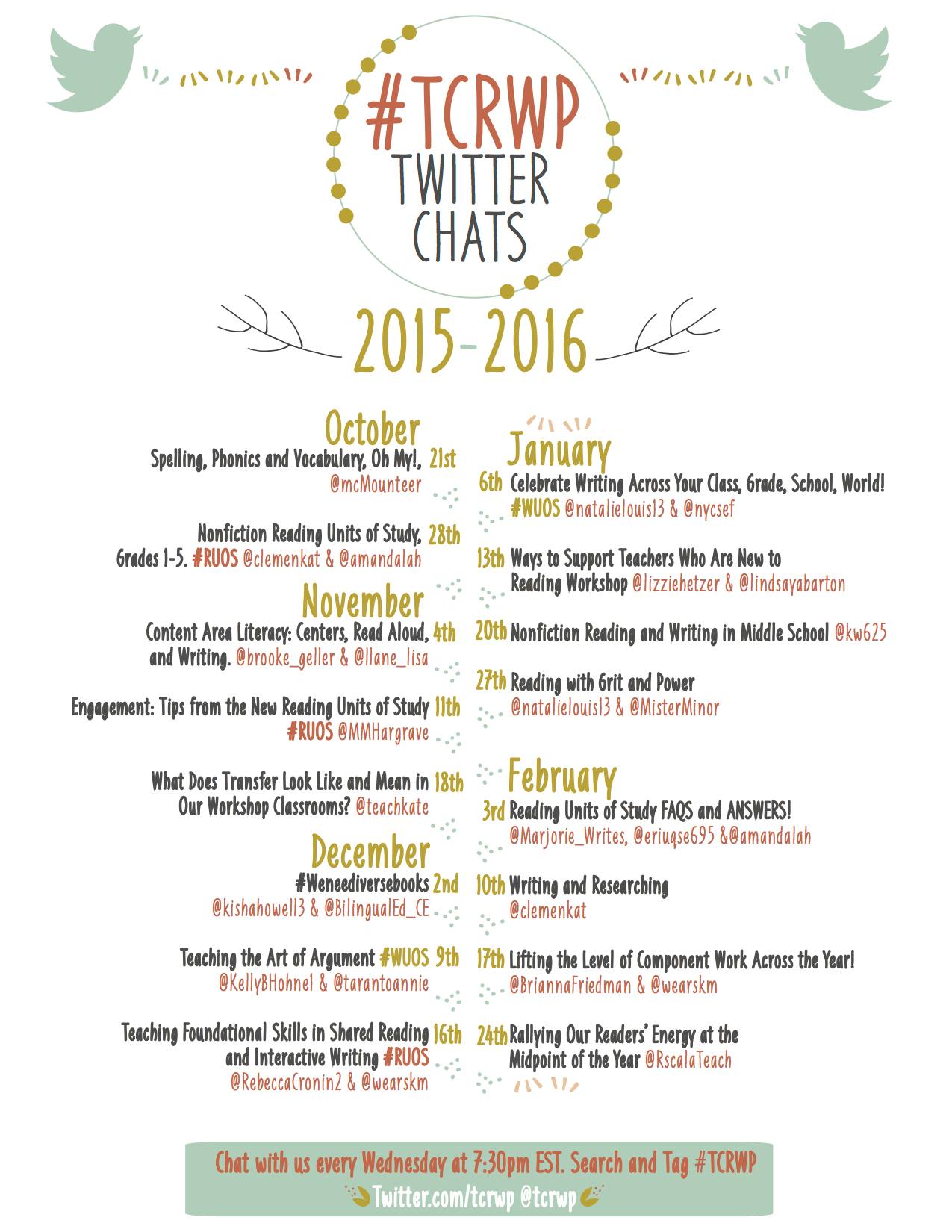 See below for a full transcript of the #TCRWP chat from Wednesday 2/17/16.
by Anna Gratz Cockerille
Often, when literacy coaches and staff developers work with schools, teachers ask them for help with minilessons. Certainly, this is important. Minilessons are a crucial part of the reading workshop. It is in the minilesson that we gather students and give them the gift of another strategy they can add to their toolkits. It is in the minilesson that we rally and challenge our students to be the best they can be. It is in the minilesson that we bear witness to the power of trying something new in service of getting better and better.
It's no wonder, then, that minilessons get a large amount of attention. They kick off the reading workshop, they take up the most pages in our Unit books, and they often take up most of our planning energy. But, like a diet that includes only leafy greens, a literacy program that over-emphasizes minilessons isn't balanced.
To truly support readers, especially in the primary grades, a literacy program should include of balance of reading workshop (which includes minilessons), read-alouds with accountable talk, shared reading, and word study. (Writing workshop and interactive writing round out the balanced literacy components, but we'll focus on the reading-based components for the purposes of this post.) Reading workshop begins with a minilesson, then provides students time to read independently. The heart of the reading workshop is the time that students spend reading, while their teachers provide individual, customized support through conferring and small group work. This is where students have the chance to practice and combine all of the strategies they are learning and work on reading with stamina and joy. But students need different types of modeling and direct instruction in addition those provided during a reading workshop.
Consider the different ways the following components support readers:

Read-aloud: Reading aloud to students is one of the very best ways to introduce students to new, challenging work. It is also one of the very best ways to cement a community of readers and create a culture of love for reading. When we read aloud, we "immerse students in the glories of reading, showing them both how and why one reads (A Guide to the Reading Workshop, p. 144.)
Shared Reading: Shared reading is a chance for students to participate joyfully and actively in a reading experience and to practice new skills in the company of their peers, with the support of a teacher. Shared reading provides a bridge linking direct instruction, active engagement, and independent reading (A Guide to the Reading Workshop, p. 137).
Word Study: Early readers in particular need to learn how letters and words work. They need instruction on phonemic awareness, letter-sound work, spelling patterns, high-frequency words, strategies for problem-solving words, and vocabulary development (A Guide to the Reading Workshop, K–2, p. 122).
The new Units of Study for Teaching Reading series provides more support for all of the components of a balanced reading program than ever before. Within each Unit book for grades K–2 are separate sections to support shared reading and read-aloud. In this sections, lessons are provided with example texts, along with tips for choosing your own texts that will best compliment the instruction in the Unit.
To power up your component instruction, join Brianna Friedman, Katie Wears, and lots of #TCRWP friends tomorrow on Twitter. Hope to see you there!
Each Wednesday night at 7:30 p.m. ET, The Teacher's College Reading and Writing Project hosts a Twitter chat using the hashtag #TCRWP. Join @BriannaFriedman and @WearsKM to chat about lifting the level of component work across the year this evening.
♦ ♦ ♦ ♦
Anna Cockerille is a staff developer, literacy coach, and writer based in New York City. She has taught in K–8 classrooms all over the world in places such as Sydney, Australia; San Pedro Sula, Honduras; and Auckland, New Zealand. Anna has been a staff developer for the Teachers College Reading and Writing Project at Columbia University (TCRWP) and an adjunct instructor for the Literacy Specialist Program at Teachers College. She writes at Two Writing Teachers.
Not on Twitter? New to Twitter? Take Heinemann's free Twitter for Educators course here.