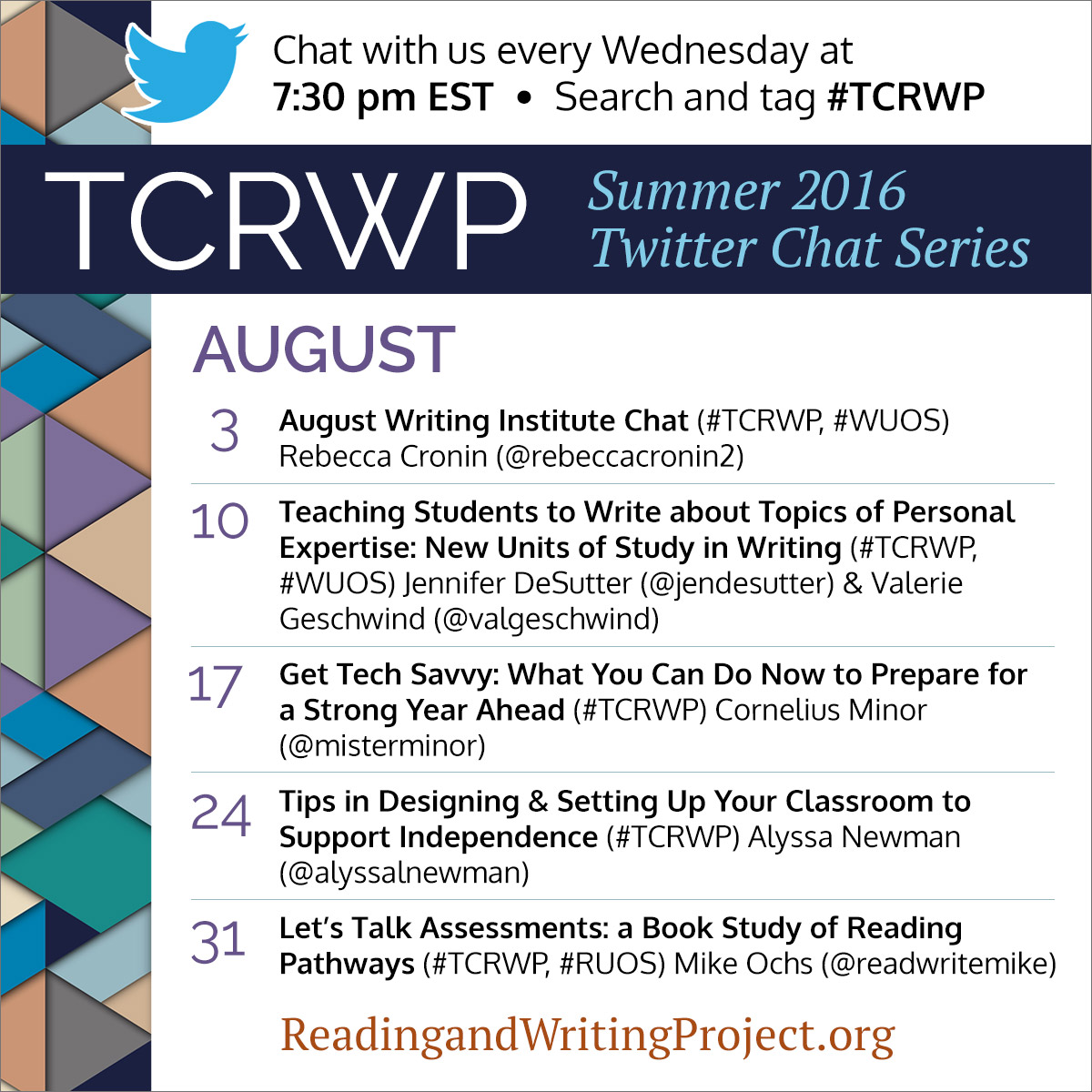 by Anna Gratz Cockerille
This week is the August Writing Institute at The Teachers College Reading and Writing Project. There, thousands of educators from all over the country and world are learning, thinking, and writing together. There is nothing quite like a TCRWP Institute. Participants immerse themselves in a study of one aspect of literacy instruction. They not only gain invaluable fundamentals and best practices, but—perhaps even more importantly—they become learners. They get to know a subject area inside out because of daily practice and reflection.
If you are at the August Writing Institute this week, you are experiencing:
Large-group sessions with a TCRWP expert lecturer: During the large-group sessions, participants gather in an auditorium or lecture hall to grow their knowledge. They are immersed in the terms, practices, and structures foundational to the writing workshop. They watch clips of experts in the midst of instruction, and they leave with all of the nuts-and-bolts information they'll need to launch writing workshop in their classrooms.
Small-group sessions with a TCRWP lead: During the small group sessions, participants have the opportunity to practice the kind of writing that they'll be asking their students to do. Their group leaders offer practical tips, advice, and knowledge that give them the confidence to lead a writing workshop in both the best and the worst of times. Many past writing institute participants have reported that their greatest learning came from this experience of doing the writing work that they will ask their students to do. Writing daily themselves helped them to understand the angst and struggle and relief and pride that their students feel whey they are asked to write.
Keynotes given by a leader in the field of writing: In addition to hearing Lucy Calkins herself speak, participants have the opportunity to learn from writers and literacy experts like Carl Anderson, Kwame Alexander, and Jack Gantos. We don't blame participants for feeling a bit starstruck. We do too!
Additional workshops given by a TCRWP staff developer: Participants have the opportunity to attend additional workshop sessions on topics of their choice. Whether they want to learn more about integrating writing into social studies and science, or about how to help students to grow more powerful characters in narrative writing, or about how to provision a writing workshop with the best materials possible, there will be a workshop (or five!) for them.
Don't be alarmed if you feel a bit overwhelmed. With such a rush of information coming in daily, you aren't alone if you feel this way. Fortunately, connecting with others who are sharing the experience can help. Tomorrow, TCRWP Lead Staff Developer Rebecca Cronin will lead a Twitter chat on writing workshop essentials as part of the August Writing Institute. You'll be able to ask and answer questions about logistics, terminology, routines, structures, materials, and more to help solidify and clarify some of the information you are getting this week.
We invite veteran and first time attendees to join the chat, as we hope veteran attendees will share insights and reflections on how to the most out of the wonderful, rigorous, joyful week of learning that is a TCRWP institute.
Each Wednesday night at 7:30 p.m. eastern, The Teacher's College Reading and Writing Project hosts a Twitter chat using the hashtag #TCRWP. Join @rebeccacronin2 to chat about the August Writing Institute tomorrow evening.
♦ ♦ ♦ ♦
Anna Cockerille is a staff developer, literacy coach, and writer based in New York City. She has taught in K–8 classrooms all over the world in places such as Sydney, Australia; San Pedro Sula, Honduras; and Auckland, New Zealand. Anna has been a staff developer for the Teachers College Reading and Writing Project at Columbia University (TCRWP) and an adjunct instructor for the Literacy Specialist Program at Teachers College. She writes at Two Writing Teachers.
Not on Twitter? New to Twitter? Take Heinemann's free Twitter for Educators course here.