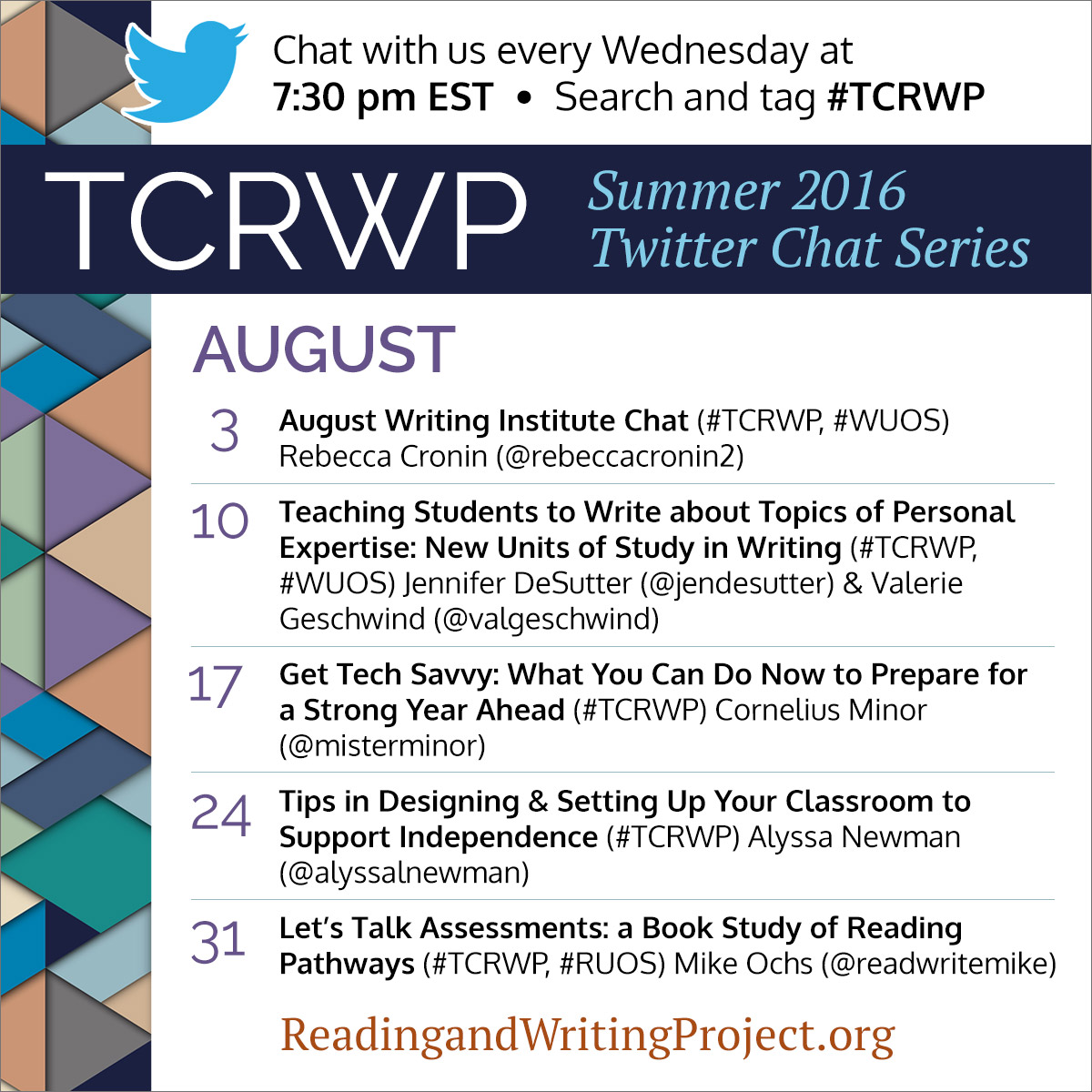 by Anna Gratz Cockerille
In his recent article, "Seeing Anew: An Invitation to Teacher Research" in Heinemann's 2016-2017 Professional Development Catalogue-Journal, Thomas Newkirk wrote, "I have always thought this is the cycle of true research: to take something you think you 'know'—and through sustained attention, begin to see it anew."
How true this is about all kinds of teacher research, whether one is researching a student, a teaching method, or a professional text. Certainly, a text as weighty as Reading Pathways,part of the Units of Study for Teaching Reading series for grades 3-5, is worth visiting and revisiting. Each time one does, one discovers more.
Back in April, Alicia Luickled the TCRWP community in a book study of Reading Pathways. See the blog post introducing the chat here. Participants came to the study toward the end of a school year, many with the perspective of deep knowledge of their current students and with nearly a year's worth of Units of Study under their belts. The conversation highlighted ways to use Reading Pathways to lift the level of current students' work, and to understand how to help students reach end of year benchmarks.
Now, as we turn toward the new year ahead, we are hosting another book study of reading pathways. This time, the chat will be geared toward a beginning of the year perspective. including planning, setting overarching goals, and gaining invaluable knowledge of the progression of reading development detailed in Reading Pathways.
Mike Ochs, Staff Developer and co-author of the 4th grade book Reading the Weather, Reading the World will lead the chat.
Each Wednesday night at 7:30 p.m. eastern, The Teacher's College Reading and Writing Project hosts a Twitter chat using the hashtag #TCRWP. Join Mike Ochs to chat about Reading Pathways tomorrow evening.
♦ ♦ ♦ ♦
Anna Gratz Cockerille is a staff developer, literacy coach, and writer based in New York City. She has taught in K–8 classrooms all over the world in places such as Sydney, Australia; San Pedro Sula, Honduras; and Auckland, New Zealand. Anna has been a staff developer for the Teachers College Reading and Writing Project at Columbia University (TCRWP) and an adjunct instructor for the Literacy Specialist Program at Teachers College. She writes at Two Writing Teachers.
Not on Twitter? New to Twitter? Take Heinemann's free Twitter for Educators course here.