Dive into the brand new Heinemann Spring 2016 catalog! You'll find the latest resources from Harvey "Smokey" Daniels, Yvonne and David Freeman, Roz Linder, Kristi Mraz, Steven Zemelman and more. You'll also discover new editions of the Primary and Intermediate Comprehension Toolkits, and the amazing new curricular resource Math in Practice from Sue O'Connell. Visit the online catalog here.
Below, you can read the catalog's letter from Heinemann's General Manager Vicki Boyd. In it, she remembers Jean Robbins, former principal of Atkinson Academy, where Don Graves began his research.
Dear colleagues,

I met Jean Robbins only once. When I shook her hand in a lecture hall at the University of New Hampshire last summer, she was warm and unassuming. She gave away nothing of her fabled status, beyond a charming sprightliness. Just shy of her eighty-seventh birthday, she was still attending symposia on the work she had devoted her life to. A few weeks later, she passed away.
Jean was best known as the principal of New Hampshire's Atkinson Academy where UNH Professor Don Graves and his graduate student Lucy Calkins engaged in the research that revolutionized writing instruction. "Jean played a pivotal role in the study, supporting teachers, explaining the challenges to parents, and facilitating the visits of hundreds of educators. Each visit began with a meeting in her office at seven A.M. sharp," remembers colleague and Heinemann author Tom Newkirk.
I thought of Jean while reading Annie Dillard's The Writing Life:
Rembrandt and Shakespeare, Tolstoy and Gaugin, possessed, I believe, powerful hearts… They loved the range of materials they used. The work's possibilities excited them; the field's complexities fired their imaginations. The caring suggested the tasks; the tasks suggested the schedules. They learned their fields and then loved them. They worked respectfully, out of their love and knowledge, and they produced complex bodies of work that endure.
Dillard's meditation applies not only to great artists but to all of us who work with deep purpose and make of our vocations a way to dig into life's important questions. This is a group to which Jean Robbins unequivocally belongs, toward which, Newkirk tells us, Jean spent her professional life guiding others: "She knew what she stood for." And it wasn't the status quo. "She so encouraged the teachers she worked with to become learners, to watch kids… [and grow alongside them.]"
At Heinemann we're devoted to helping teachers find their way into this kind of purpose, to awaken and stay awake to the work's possibilities. Every book, blog post, article, curricular resource, on-demand course, webinar, workshop, Twitter chat, and Teacher Tip is an invitation to a rich practice. It's Jean Robbins, taking you by hand at seven A.M. sharp. It's you stepping into her office. It's a host of others who have spent their lives learning and loving this field, enfolding you—from Marie Clay and Don Graves to Lucy Calkins, Nancie Atwell, Smokey Daniels, Irene Fountas and Gay Su Pinnell, Ellin Keene, Steph Harvey and Anne Goudvis, Kylene Beers and Bob Probst, and now to Kristi Mraz and Christine Hertz, Allison Marchetti and Rebekah O'Dell, Colleen Cruz, Katie Muhtaris and Kristin Ziemke.
Find your place. The children are waiting to show you what is possible for them. This is a practice of powerful heart. It can sustain you for a lifetime and leave with an enduring legacy. You only have to meet someone like Jean Robbins once to understand that.
♦ ♦ ♦ ♦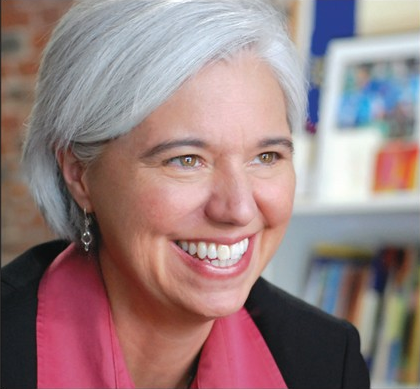 Vicki Boyd is the General Manager of Heinemann. Follow her on Twitter @VickiBoyd.