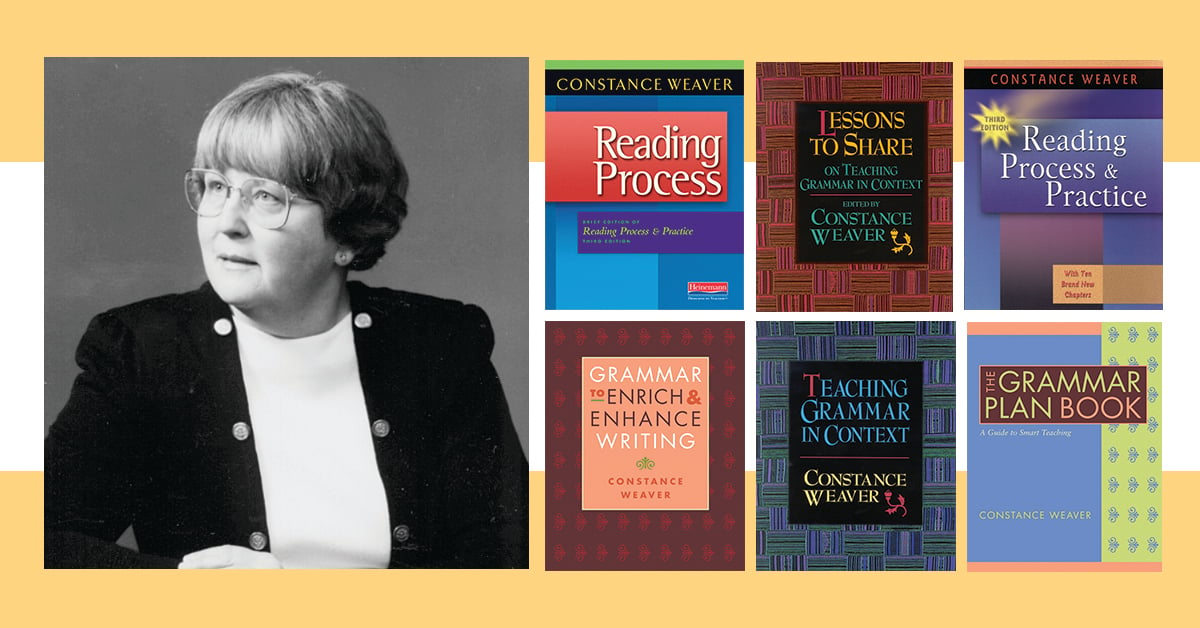 For more than three decades, Constance Weaver was one of the field's leading voices on literacy topics ranging from the reading process to grammar instruction with writing. Her book Reading Process & Practice first appeared in 1988 and became widely known as the most authoritative, comprehensive, and definitive book of its kind. It helped teachers define reading in ways that support high-quality instruction. Connie once again led the way with the 1996 publication of the bestselling Teaching Grammar in Context and its companion Lessons to Share on Teaching Grammar in Context. Then she expanded and deepened her insights and specific teaching ideas in The Grammar Plan Book and Grammar to Enrich and Enhance Writing. In 1996, the Michigan Council of Teachers of English honored Weaver with the Charles C. Fries award for outstanding leadership in the profession. Connie was the Heckert Professor of Reading and Writing at Miami University, Oxford, Ohio, and Professor Emerita of English at Western Michigan University. She passed away in July of 2018.
Heinemann Author Kelly Gallagher shared this reflection:
I'll never forget it. Spring 1998. I was sitting in my classroom after school, and my copy of Teaching Grammar in Context had just arrived. I was tired, and needed to run some errands, so I decided to just take a peek at the table of contents and to save the "real" reading for later. Three hours later, I was still sitting in the exact same spot, absolutely glued to the book. When I say I'll never forget it, I mean that literally; even though I am not physically in that same classroom anymore, I can tell you the exact spot where I was sitting when I read Connie's book. That's how good it was. My grammar instruction changed the next day.

Flash forward twenty-something years. I am in Chicago to speak at NCTE. I am sitting alone at a bar eating dinner the night before my presentation when I strike up a conversation with the woman sitting next to me. You know where this is going. When I found out that the woman I had been speaking with for the past 30 minutes was Connie Weaver, I about fell off my stool. I proceeded to fawn over her so much I am sure I lost all dignity. I didn't care. She was so gracious and humble, and I am so grateful that I had the opportunity to tell her face-to-face how much her work meant to me.
♦ ♦ ♦
Our thoughts are with Connie's family and those who were close to her.
♦ ♦ ♦