Movement is much more than a technique for offering "brain breaks" to our students or sprinkling some hands-on learning into our instruction. In her new book, Math on the Move, author Malke Rosenfeld shows how pairing math concepts and whole body movement creates opportunities for students to make sense of math in entirely new ways.
In the clip below, Malke talks about the importance of bringing math "off the page." You'll also see a moving math class in action.
Want to learn more about Math on the Move? Click here to preview a sample chapter today.
---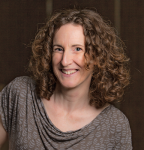 Malke Rosenfeld is a dance teaching artist, author, and presenter whose interests focus on the learning that happens at the intersection of math and the moving body. She delights in creating rich environments in which children and adults can explore, make, play, and talk math based on their own questions and inclinations. Follow her on Twitter @mathinyourfeet.