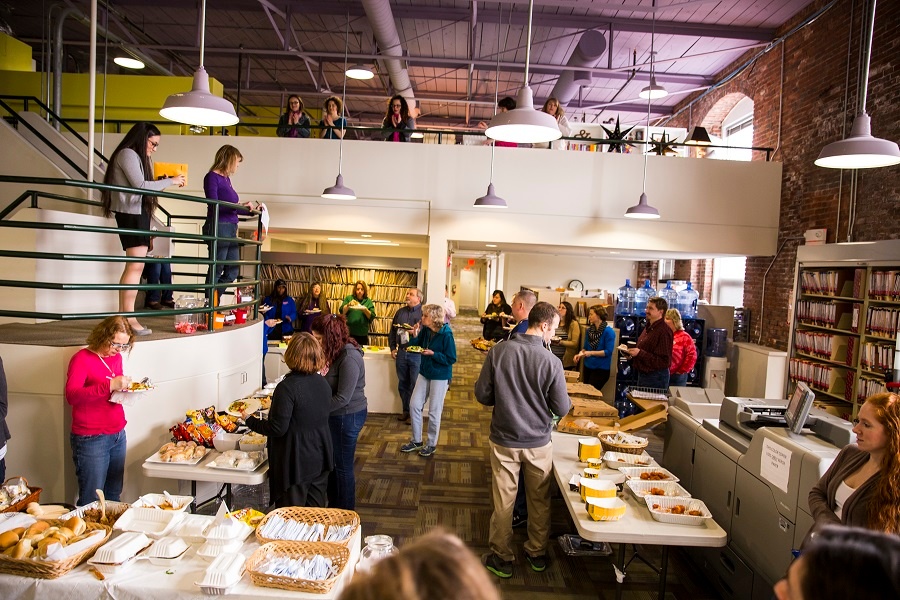 Last week at Heinemann, we held our annual Lunch for Literacy to benefit the United Way of the Greater Seacoast's K-Ready Kids Program. The lunch was a resounding success with $920 raised for the United Way!
K-Ready Kids is a program that supplies and distributes back backs to children entering kindergarten in order to foster a readiness to learn. Back packs contain books, school supplies, calendars, and parent resource packets.
According to the United Way, children who enter kindergarten ready to learn are more likely to attain their third-grade reading level and to graduate high school. The program's goal is to fill 1,100 bags with books and supplies before students enter kindergarten in the fall.
K-Ready Kids Lunch for Literacy @HeinemannPub to benefit young area readers! pic.twitter.com/gjHoYtAglm

— Eric Chalek (@EricChalek) April 7, 2015
Heinemann's Lunch for Literacy is a hotly anticipated event in the office. For a small, suggested donation, colleagues sample a smorgasbord of offerings from local restaurants. This year's participating restaurants included:
With the funds raised, members of our Community Investment Council will purchase supplies for the back packs and then hold an assembly event, providing emergent readers with over 2,000 donated books!
Thanks to the Heinemann Community Investment Council and to the friends who helped organize this event: Veronica Bennett, Brenda Gaudet, Marie Calvi, Thomas Carr, Mim Easton, Kelly Ernest, Michelle Guy, Debbie Hinkley, Natalie Pavlov, Stephen Perepeluk, Erin St. Hilaire, Angel Lepore, Maria Czop, Lorinda Keefe, Jim Anthony, Erik Ickes, and Chelsea Kenyon.
And special thanks to the friends who donated yummy home baked goodies or other awesome food for the ancillary lunch potluck: Kathy Haney, Marie Calvi, Breda Gaudet, Nicole Pollack, Angel Lepore, Maria Czop, Jen Batchelder, Debbie Hinkley, and Jim Anthony.
Heinemann's Community Investment Council (CIC) is made up of thirteen employees and works hard to support organizations in the Seacoast Region. The CIC helps engage colleagues in local volunteer opportunities while planning and facilitating Heinemann's charitable programs and events.
The United Way of the Greater Seacoast brings communities together to help improve people's lives and strengthen the neighborhoods in the region.