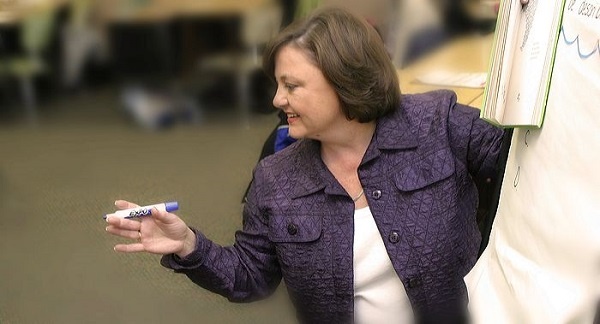 We have received several emails from educators who use Explorations in Nonfiction Writing by Linda Hoyt and Anthony Stead in their classroom and wanted to share student work. One teacher, Irene Farmer, has been teaching first grade at Francis Wyman Elementary School in Burlington, MA for 18 years, and this is her second year using Explorations in Nonfiction Writing.
In this link to her classroom website and her students' "Virtual Author's Tea," Irene shares the process of using an Extended Writing Unit from Explorations in which her first grade students write and narrate their very own informational books on the rainforest.
Throughout the unit the students learned about note taking, writing, editing, and publishing as well as 1:1 technology connections of uploading images and creating video clips of themselves reading their books aloud.
Below Irene briefly shares the process, but be sure to visit the link to see the many vibrant class photos and the students' own video presentations.
Room 111's Rainforest Research:

Step One: The R.A.N. Chart

Students chose from the following animals: jaguars, poison dart frogs, toucans and sloths.
After choosing which rainforest animal students wanted to research, they began with a R.A.N. chart (Reading and Analyzing Nonfiction). Prior to doing any research, they wrote information/facts which they thought to be true about their animal on Post-it notes. Students then placed them on the "What I Think I know" page of our R.A.N. chart.
Step Two: Research

Students began to research facts on our animal in a few different ways.
They researched facts and jotted them down in their Research Notebook.
They focused their research on "What the Animal Looks Like"; "Where It Lives"; "What It Eats" and "Other Amazing Facts."
They researched through teacher-approved websites on their iPads.
They researched through "Sketch to Stretch": In "Sketch to Stretch" the teacher reads some information from a book and/or a magazine and students quickly sketch some pictures with labels to help them remember the facts about their animal.
Students then add this information into the proper page of their Research Notebook.
Step Three: First Draft

Students begin to write the first draft of their informative piece, using the information from their Research Notebook.
Step Four: Edit and Publish

After much writing and editing teacher support, students are ready to input all of their words into their electronic book created on the Bookcreator app on their iPads.
Students use www.photosforclass.com to find appropriate, kid-friendly photos to go with their writing. Each photo also cites from where the photograph came.
Step Five: We Celebrate!

After much research, drafting, typing and layout work, the books are ready to be recorded.
Students read aloud to record what they have written on each page and then share with fellow classmates.
Each student gets the chance to listen to all classmates' books as they rotate around the room.
After each listen, students jot down a short compliment on a piece of paper for classmates to take home.
Step Six: Back to Our R.A.N. Chart

Lastly, students go back to their R.A.N. chart.
They move their Post-it notes with information from the "What I think I know" page to the "Yes! I was right" page or the "I don't think this anymore" page.
They discovered that we already knew a lot and learned even more!
Click here to visit the "Virtual Author's Tea" on Irene Farmer's classroom page.