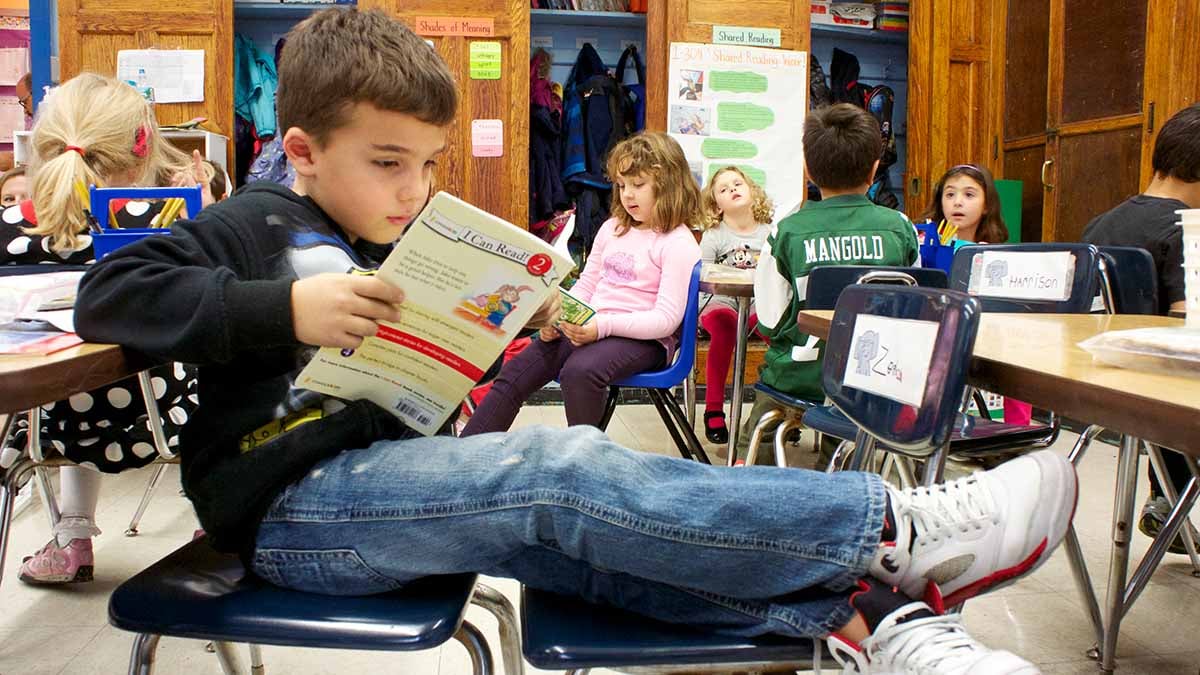 What does a truly kid-driven classroom look like? Reflecting on this question can lead to some powerful decisions in your instruction and classroom routines.
At each stage of the writing process there are opportunities to reflect on your teaching and ask yourself, "How could I turn more of this over to the kids?"
Here are a few more questions for reflection:
Idea Generating
Ask yourself, "How can I teach kids to generate their own ideas?" Are you modeling in a way that will spark even more ideas from the kids? Do your students know, for sure, that all topics are allowed and encouraged? Who's doing most of the talking at this stage? You, or the children?
Planning and Oral Rehearsal
Are your students truly planning their own writing, independently? Could they plan a piece of writing completely on their own outside your classroom, without your guidance? Do premade organizers or sheets play a large role in their planning process, or are kids doing the work independently, saying their stories aloud, or sketching directly onto their pages on their own?
Drafting
In the drafting phase, do children get the work on the page, freely, without worry? Do they have an underlying understanding that a draft is made to be revised later? Or do they fret over making each word and sentence perfect before moving on? Do they move along independently, or do they wait for "permission" to start the next page, or to start a new piece of writing?
Revising
Do your students make big, meaningful changes to their work, to add new ideas, take out whole sections, and try out multiple strategies? Or do they resist revision, for fear of "messing up" their perfect pages? Will children revise all on their own, or only when guided to use a particular strategy?
Editing
Are your kids in the habit of rereading their own work for mechanics? Do they use tools, like the word wall, or a spelling patterns chart all on their own? Are they willing to approximate and make mistakes? Or do they wait for an adult to spell words for them, or show them where to add punctuation? And possibly the hardest question of all: Are you willing to accept their approximations, or are you tempted to heavily coach them to make it more perfect, even if it does not reflect what they can do on their own?
Publishing
Do your students have a clear sense of who the audience for their work will be, from the very beginning of the process? Do they have a say in who the audience will be? Are they thinking about their readers as they write? Or… is publishing something that your children are only made aware of at the end of a unit, when their work is finished?
There is a reason Lucy Calkins has famously named this work the "Art of Teaching Writing." There is truly an art to teaching in a kid-driven way that creates independent young writers who make their own decisions, who own the writing process in such a way that they could carry on their work outside the classroom, all on their own.
---
Looking for ways to put kids front and center in your writing workshop? Each Wednesday night at 7:30 pm EST the Teachers College Reading and Writing Project hosts a Twitter chat using the hashtag #TCRWP. Join hosts Sara Berg @missskbee and Molly Picardi @MollyinNewYork to chat about kid-driven classrooms.
Not on Twitter? Take Heinemann's free Twitter for Educators course here.
---
Elizabeth Moore, literacy consultant and coauthor of two books in the Units of Study for Teaching Writing and Units of Study for Teaching Reading series, has been a first grade teacher, fifth grader teacher, literacy coach, and lead staff developer at TCRWP. She has also served as an adjunct instructor in the Department of Curriculum and Teaching at Teachers College, Columbia University. Currently she lives in the mountains of northern Vermont where she finds adventure around every corner.
She can be found writing on Two Writing Teachers and on Twitter at @BethMooreSchool