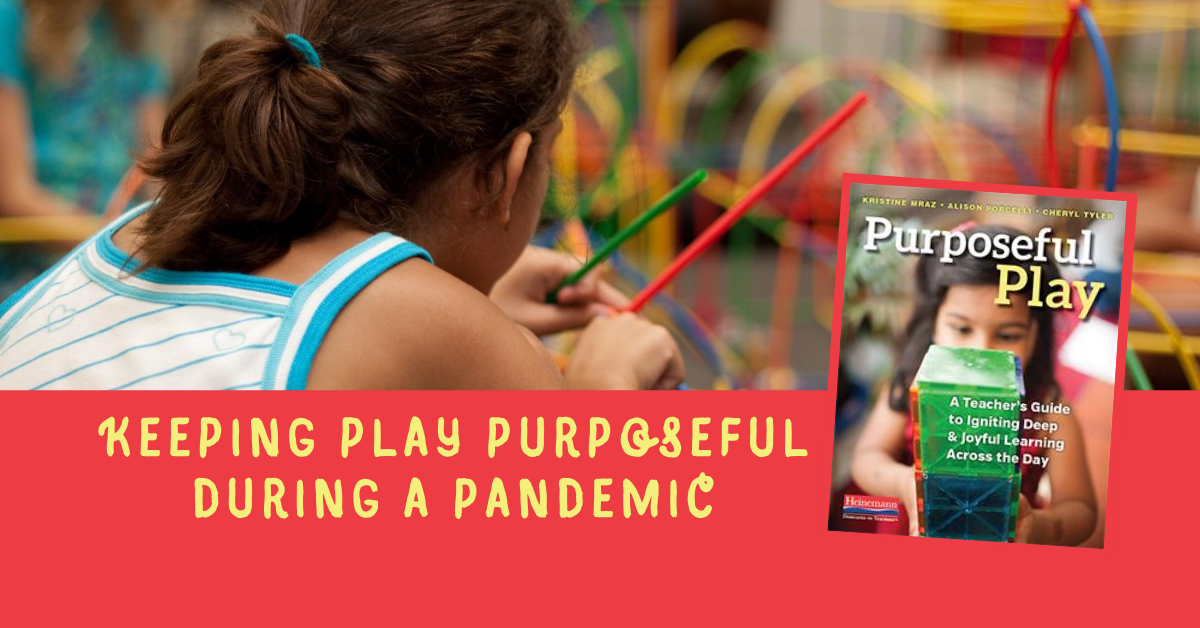 By Kristine Mraz, Alison Porcelli, and Cheryl Tyler

The Coronavirus pandemic has had the ground shifting beneath us on a daily basis. Life isn't as it should be. It's often a confusing and lonely time for kids and their families. And one of the most challenging obstacles for kids (and their families) is the absence of play
We've often heard that play is the work of children. It is, in fact, a complex occupation that requires practice in collaboration, negotiation, empathy, communication, literary allusion, and abstract thinking.

It is in play that kids learn best to be kind to others. In play they learn to recognize another person's pain and to identify with their feelings. And what could be more essential, in the midst of a pandemic than for kids to understand that kindness matters? That caring matters. That generosity matters. That trust matters. That empathy matters. So let's give kids what really matters: time for play.

There are so many variations in the way this year may unfold, we could not hope to address every single situation. Instead, we aimed to look across the bigger branches of opening plans and within that, imagine how we could hold tight to the fundamental aspects of children's play.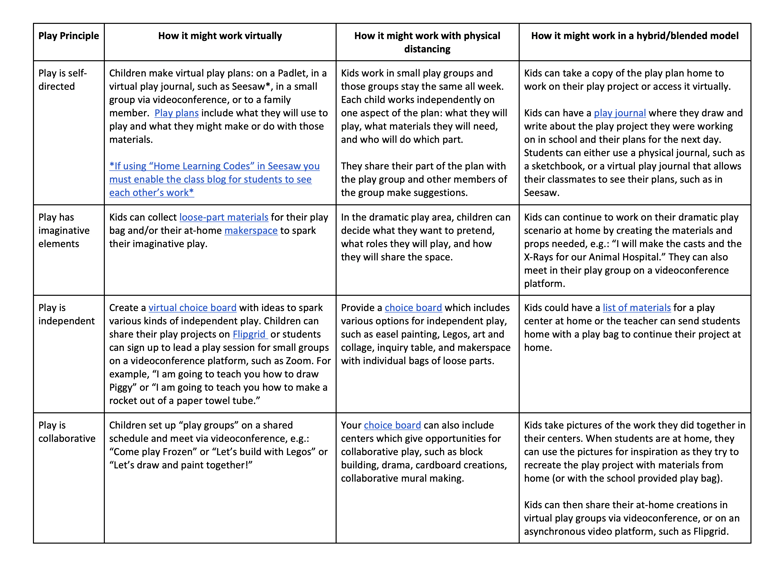 Click the image to access the
PDF with hyperlinks
.
A Note About Materials:
Health and safety guidelines also differ across districts and states, and so we only offer a few general guidelines about materials usage. Some ideas that you might find helpful are:
Portioned Materials: If you are in a physically distanced classroom, or must clean materials between groups of children, you might consider creating "single-serve" portions of materials in plasticware, resealable baggies, or crates. Children can still select the material they want to use, they can still play alongside others, but their materials will be in smaller, single sets. This might look like 4 crates of blocks, 4 mini-water tables made out of plasticware, etc.
At Home Play Bags: You might consider building a bag of materials that children can use when they are at home. Open-ended, flexible materials that you do not need to have back will likely have the most amount of use. We think of things like peg people, clay, wire, a selection of loose parts, tape, and glue. They'll all have a great deal of potential for children to explore, in addition to what they may have at home.
Loose Parts: Loose parts are things like bottle caps, nuts and washers, paper towel tubes, etc. They are great for building and pretend play (a clothespin could easily be a person, a train, a part of a bridge). There are a few reasons why loose parts will be incredibly useful this year:

They are consumable: children can have their own selection, and they can be easily replaced with recyclables or other found materials
They are low-cost/no-cost: at a time when districts are slashing budgets, and spending the remaining funds on plexiglass and masks, this is a way to ensure access to open-ended play materials regardless of spending cuts
They are everywhere and accessible to all kids: no matter where you are, loose parts are also there: in your yard (if you have one), on the street, in the recycling container, in the junk drawer. You might consider launching the year with the unit "Beautiful Stuff" where children hunt out their treasures in their spaces.
Loose parts invite unlimited possibilities for kids in play: they are natural or synthetic, found, bought, recycled or upcycled materials that kids can move, manipulate, control, and change within their play. Engaging and captivating, they capture children's curiosity, give free reign to their imagination, and motivate exploration and learning
Social distancing (is that an oxymoron?) will be required as kids return to school. But while all of us will need to maintain physical distance with each other, it's more important than ever to provide opportunities for social and emotional connections.
Kids will best forge those connections through play. Play, fantasy and storytelling are the abstract thinking of children. Kids' play helps them to make connections, empathize, focus on common problems and navigate their fears.
As kids use play to make sense of their world, they also engage in wider social cultures by enacting a myriad of roles and identities. Through play they access, navigate, understand, and interpret various aspects of culture within their worlds. The deepest, most profound understanding of each other and the world around them happens through play. Play provides fertile ground for the growth of cognitive, narrative, and social and emotional connectivity.
In fact, play is so essential to optimal child development that it has been recognized by the United Nations High Commission for Human Rights as the right of every child.
The right of each and every child. Play.
• • •

To learn more about Purposeful Play: A Teacher's Guide to Igniting Deep and Joyful Learning Across the Day visit Heinemann.com.
Click below to browse more blog posts about Purposeful Play.

---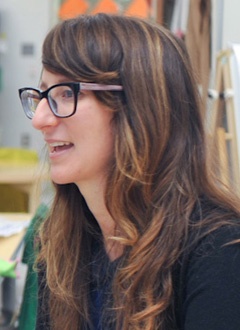 Kristine Mraz is coauthor—with Christine Hertz—of Kids First from Day One, which provides a practical blueprint for increasing the child-centeredness of your teaching practice. She and Christine previously teamed up for the bestselling A Mindset for Learning (coauthored with Christine Hertz), which provides practical and powerful strategies for cultivating optimism, flexibility, and empathy alongside traditional academic skills.

Kristi has also coauthored—with Alison Porceli and Cheryl Tyler—Purposeful Play, the book that helps you make play a powerful part of your teaching. She and Marjorie Martinelli wrote Smarter Charts and Smarter Charts for Math, Science, and Social Studies ​to get the most out of this classroom staple. Their popular blog Chartchums keeps teachers in touch with ongoing and relevant classroom issues and ways to use charts as a support. Chartchums is also on Facebook and on Twitter @chartchums! Kristi is a recent transplant to southern California, where she will be writing and consulting until the classroom calls again. You can follow all of her adventures on Twitter @MrazKristine or on her blog, found at kristimraz.com.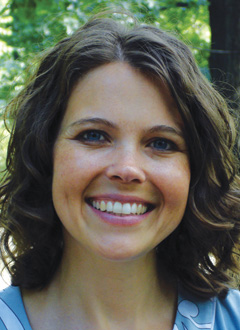 Alison Porcelli is coauthor (with Kristi Mraz and Cheryl Tyler) of Purposeful Play. She also coauthored A Quick Guide to Boosting English Acquisition in Choice Time, with Cheryl. Alison is Vice Principal at PS 59 in Manhattan and worked for eight years as a senior staff developer at the Teachers College Reading and Writing Project at Columbia University, where she consulted nationally and internationally to bring exceptional literacy practices to schools. Before that, she was a kindergarten teacher. Alison's playground is in Bedford, NY where she resides with her husband, Tom, and son, Preston. You can find Alison on Twitter @AlisonPorcelli.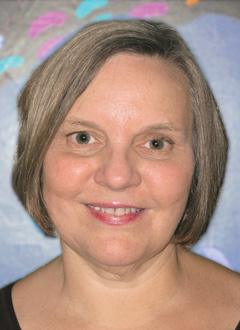 Cheryl Tyler is coauthor of Purposeful Play with Kristi Mraz and Alison Porceli. She has worked extensively in New York City schools as a kindergarten teacher, staff developer, consultant, and the principal of PS 277 in the South Bronx. She is currently the director of Reading Rescue at Teachers College Reading and Writing Project. Cheryl and Alison are coauthors of A Quick Guide to Boosting English Acquisition in Choice Time, K-2. You can find Cheryl on Twitter @cheryltyler11.