NEW

from Lucy Calkins and her TCRWP colleagues:

an

additional writing unit

that aligns perfectly with unit 2 of gr K phonics!
Show and Tell: From Labels to Pattern Books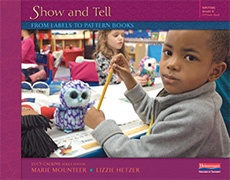 This unit is designed to be taught after Unit 1 of the Kindergarten Writing Units of Study and in conjunction with Unit 2 of the Kindergarten Phonics Units of Study. Bend 1 of Show

and Tell and Bend 1 of Word Scientists, the second kindergarten unit in the new Units of Study in Phonics, w

ere written to align perfectly with each other.

"This new kindergarten unit will teach your students to make texts that are a written version of show-and-tell time, that most iconic kindergarten tradition. Children will bring their hair band or robot or Pokémon card to school and they'll share their objects with each other by drawing and labeling. As the unit evolves, they'll show and tell things that are too big to

bring to school—their grandma's apartment, the mall—and they'll teach each other about these cherished things not only through labels, but also through pattern books.
"Meanwhile, for you, this is not a unit on the genre of show-and-tell writing—there is no such thing. Instead, this is a unit in which you turn all your children into inventive spellers. Typically, at the start of this unit, you will have some children who use writing time as an opportunity to draw and story-tell. By the end of this unit, your children will hopefully all be writing at least a sentence on each page, and writing many pages a day. The spellings in those pages will vary tremendously. Some children will record most of the salient sounds in the words they 'stretch out' and will also spell a dozen high-frequency words correctly, while other children will rely mostly on just a very few consonant sounds in each word. The process that children go through to write will vary less. They'll draw, then they'll settle on a word to write, and then they'll cycle through a process that involves saying that word, writing the first part of it, rereading that part and saying also the part of the word that they have yet to write, recording that next bit, and rereading again."
—Marie Mounteer and Lizzie Hetzer

Visit the Units of Study in Phonics webpage to learn more, download sample sessions, and to preorder the new phonics units!