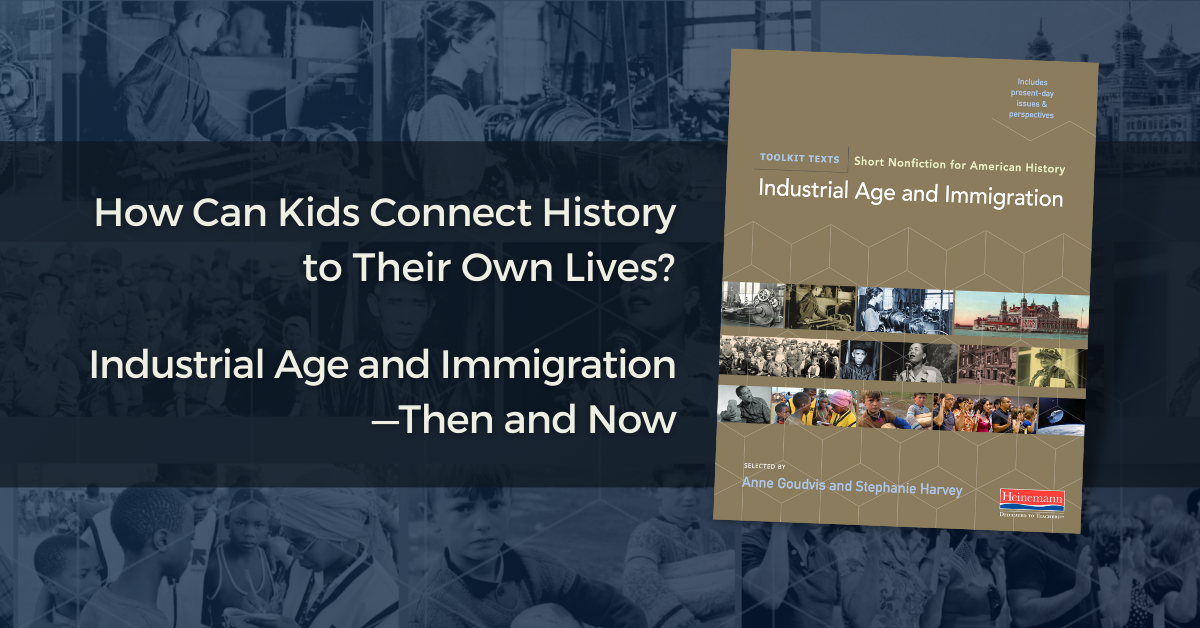 The Short Nonfiction for American History series aims to create thinking- and learning-intensive classrooms. To build intrigue, knowledge, and understanding in history, students read and learn about the events, mysteries, questions, controversies, issues, discoveries, and drama that are the real stuff of history.

Industrial Age and Immigration explores history from the 1880s to the present with a wider lens—emphasizing untold stories, unrecognized perspectives, and the social, cultural, and racial injustices that are too often left out of traditional history instruction.



It goes without saying that issues surrounding immigration in the U.S. are in the news 24/7. We strive to create classroom conversations that encourage tackling stereotypes, foster inclusiveness by telling personal and family stories, and offer a new take on how we view immigration and migration both in the past and in the present.

When we think about teaching history, we think about these questions:
How can kids connect history to their own lives?
How can history instruction be relevant and compelling so kids are engaged with and excited about what's happening in their world?
How can we help kids build a more accurate and empathetic understanding of others' experiences and perspectives?
History should be more than a dull slog through the textbook. Kids need a multisource and multi-perspective curriculum rather than a one-size-fits-all coverage approach.
We hope that by growing our understanding of people with different lived experiences, educators can contribute to creating greater respect for diversity and empathy.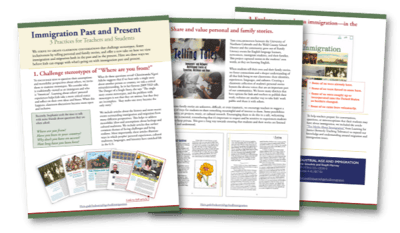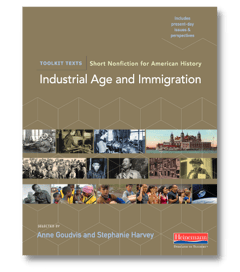 To learn more about Industrial Age and Immigration visit Heinemann.com.


---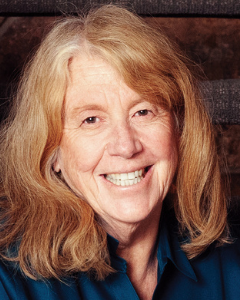 Anne Goudvis has taught students in grades K-6 over the years, beginning her teaching career in urban schools on the south side of Chicago. She spent many years as a staff developer in the Denver area, working in culturally and linguistically diverse schools. Currently, Anne works with schools and districts around the country to implement progressive literacy practices and comprehension across the curriculum.

She is the coauthor with Stephanie Harvey of Strategies That Work and The Comprehension Toolkit series, along with resources including Scaffolding the Comprehension Toolkits for English Language Learners. A history buff, she and Stephanie also coauthored the Short Nonfiction for Teaching American History series, which includes strategies for teaching historical literacy and student articles about often overlooked voices and people in history. With Inquiry Illuminated, Anne, Steph, and Brad Burhow show how curiosity and student agency thrive as kids engage in Researcher's Workshop across the curriculum.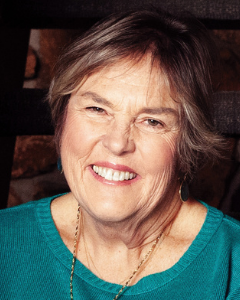 Stephanie Harvey has spent her career teaching and learning about reading and writing. After fifteen years of public school teaching, both in regular education and special education classrooms, Stephanie worked for twelve years as a staff developer for the Denver based Public Education and Business Coalition (PEBC), a partnership of leaders from education and business, who support innovation in public schools.

Insatiably curious about student thinking, she is a teacher first and foremost and currently serves as a private literacy consultant to schools and school districts. In that role, she conducts keynote speeches, presentations, workshops, demonstration lessons, coaching sessions and ongoing consultation to teachers, reading specialists, literacy coaches, principals and district administrators. With a focus on K-12 literacy, her specialties include comprehension instruction, inquiry-based learning, content area reading and writing, nonfiction literacy, and the role of passion, wonder and engagement in teaching and learning.

Stephanie has written many articles, books and resources; her Heinemann publications include the title Comprehension and Collaboration which she co-authored with Smokey Daniels, and The Comprehension Toolkit series which is an in-depth Curricular Resource for comprehension instruction co-authored with Anne Goudvis. Connect with Steph at @StephHarvey49.