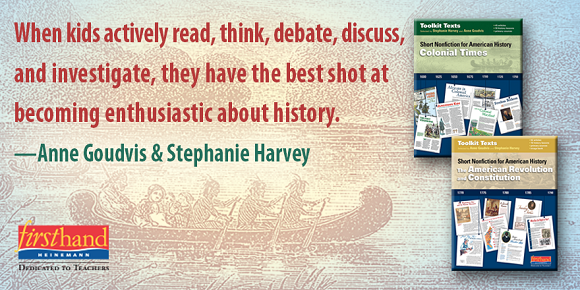 To support cross-curricular strategy instruction and close reading for information, authors Anne Goudvis and Stephanie Harvey have expanded their Toolkit Texts series to include a library of short nonfiction for American history. The two resources—Colonial Times and The American Revolution and Constitution—are out now.
In several blog posts over the next few weeks, Anne and Stephanie share their perspectives and insights into historical literacy. Today's post focuses on annotation to encourage engagement.
History Matters

by Anne Goudvis and Stephanie Harvey
This week we continue sharing essential practices that encourage kids' engagement and learning in history by using comprehension strategies to read closely and annotate the text.
Annotating: Thinking-Intensive Reading for Understanding

Close Reading is Strategic Reading
To comprehend texts in history, filled with complex ideas and unfamiliar information, readers need a quiver full of strategies to glean meaning. To us, close reading is thinking-intensive reading. Readers consider their background knowledge to make sense of new information and ask questions about what eludes them. They read closely to think inferentially about and analyze new content. They read for the gist, synthesizing the information in the text margins, either on paper or digitally. Readers annotate the text using these strategies as well as jotting down their reactions and responses. Comprehension and thinking strategies such as these are well-grounded in research conducted by P. David Pearson and many others. But one thing is clear: the more challenging the text and ideas, the more readers need to be strategic. That's how they build their knowledge and understanding.
Annotating and analyzing across texts: Exploring different perspectives

History matters to all of us, but too often textbooks leave out many voices and perspectives. We encourage kids to consider the "untold stories": the experiences, voices, and perspectives of people who are unrecognized as playing an important role in historical events. Learning about lesser-known individuals provides new insights into historical events and issues.
How can we help kids grasp what happened long ago and far away? Kids relish the opportunity to build historical understanding by reading a variety of texts from multiple sources and analyzing information from different perspectives.
In a fifth grade class studying colonial times, kids gathered around posters of historical fiction accounts and "journals" of children who lived in and around Jamestown. They read about young English colonists and servants, children who were enslaved, and Native American kids, including Pocahontas. Using the articles from Colonial Times: Short Nonfiction for American History, kids read closely, annotating and discussing their questions, inferences, responses, connections, and reactions.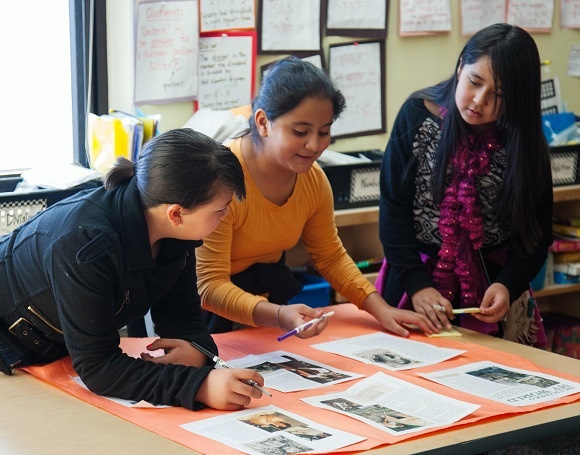 Kids annotate with a specific focus, comparing different children's perspectives by grappling with the varied experiences and the many challenges colonial and native children faced. Here are one child's annotations about Thomas Savage, a young boy sent to live with the Powhatan. (Click image to magnify.)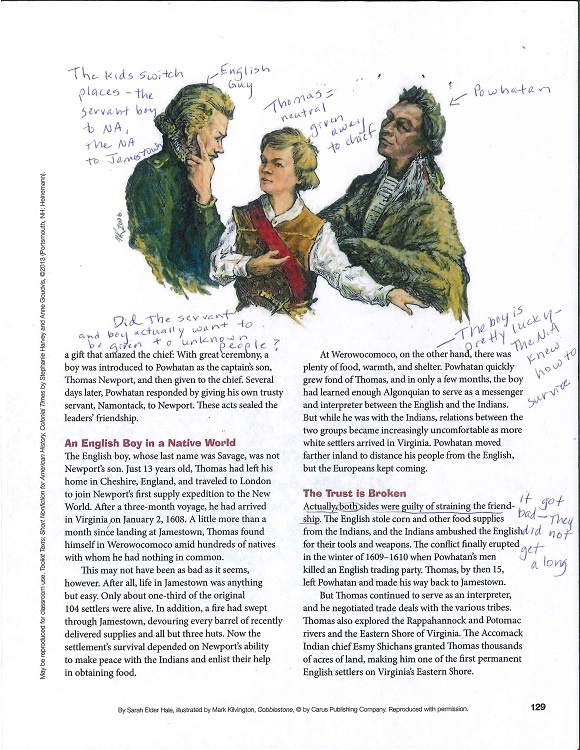 Bring historical characters to life

To wrap up their conversations about different perspectives, kids can collaborate in small groups to create tableaux from a distinct and historically accurate point of view, speaking out as an English orphan sent to colonies or an enslaved child separated from his family or the Native American child Pocahontas. Kids love to be "in character" as they work together to dramatize these short snippets of historical experience.
[Read last week's post: History Matters]
♦ ♦ ♦ ♦
Anne Goudvis and Stephanie Harvey have enjoyed a fifteen-year collaboration in education as authors and staff developers. They are coauthors of the Heinemann title Comprehension Going Forward and of Strategies That Work. They have also created a family of bestselling classroom materials under Heinemann's firsthand imprint: The Comprehension Toolkit, The Primary Comprehension Toolkit, Toolkit Texts, Comprehension Intervention, Scaffolding for ELLs, and Connecting Comprehension and Technology. Their newest resource, Short Nonfiction for American History, is discussed in this blog post.