During our month-long webinar series for the new school year, Heinemann is featuring a "Classroom Essentials for Right Now" back to school blog series written by colleagues from The Educator Collaborative. Each blog offers practical, heartfelt advice on how to start the year off right. From being a thoughtful, reflective practitioner to creating a joyful community of learners, honoring student voice and choice. How do I choose the right books? How do I help my students become better writers? What do I do about grades? Join us as colleagues share their "Classroom Essentials for Right Now" from The Education Collaborative. In today's post, Heather Rocco writes about a struggle we all face, writer's block.
Helping Students Through Writer's Block

Written by The The Educator Collaborative Contributor, Heather Rocco

We all get it at some point. Actually, I have spent the summer battling with this writer's nemesis. Writer's Block - that cruel, seemingly calculating adversary that strikes at the worst times (say for instance during the summer when you have more time to write)! For most writers, when writer's block hits, panic ensues. "Ahhh! The blank page...the white space...the judgement...the deep aversion to "just writing anything." I'm an ELA teacher, for goodness sake. I'm not allowed to have writer's block nor should I ever admit to it (just did...epic fail).
However, all this internal monologue about writer's block lead me to where nearly every thought I have about reading and writing takes me - the students. What about students who do not see themselves as writers? What about those who do, but they are having a tough week and can't put pen to paper? How do we help students conquer writer's block? How do we support them in their writing process while also showing them that the struggle to find a meaningful topic can be good too?
When my students said they didn't know what to write, I would ask, "Well, what do you love? What interests you?" I thought these were wonderful questions to help them dig deep inside themselves and dislodge a tale that needed to be told. I didn't, though, frequently see those results. Students wanted me to tell them what to write. And if I ever caved in and did so, students wrote with less investment and vigor about the piece.
In November 2015, I heard my favorite poet, Stephen Dunn, speak at the CEL Luncheon during NCTE's Annual Convention in Minneapolis, Minnesota. He shared how he worked with students struggling to find an idea for their writing. He warned the teachers in the audience, "Never ask them to write about what they love."
Wait...what?
My teacher instincts pushed back hard against this statement. We shouldn't ask kids to write about what they love? I have been doing it wrong all these years? It can't be so! However, something about Dunn's bold statement struck a long-ignored chord with me, so I decided to hear his explanation.
Dunn said that when we ask students to write about what they love, we are asking them to write about the most complicated and abstract idea known to humankind. He asked, "Has anyone ever explained love in a way we all understand?" Hmmm...good point.
Instead, Dunn suggested teachers ask students who are struggling to find an idea to write about an object, for example. Have them take out an item from their desk or their backpack that has a story to it. Maybe the item was a gift or a reward or borrowed or found. Dunn proposed that if students start writing about something simple, they are more likely to reveal what they love or how they feel in interesting ways that captures their voice and nurtures their creativity. Students can discover what they want to share by starting with something that doesn't seem like much. Teachers, then, can conference with the students to help them see the stories that need to be told within these drafts.
Sometimes, I think, it is okay to ask students to write what they love (please don't tell Mr. Dunn). But when they are stuck, maybe writing about a pencil case, a water bottle or an old pack of gum might move that stubborn block out of the way and free them to put words on a page and find their story.
♦ ♦ ♦ ♦
For more information, and to join Heather and her colleagues from The Educator Collaborative in a live online PD series this month, click here (and check back on Monday for "But What Does it Mean? Systems to Help Students Understand Grades" in our Educator Collaborative blog series):
♦ ♦ ♦ ♦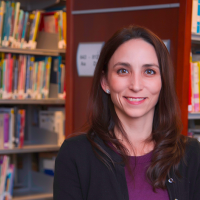 With nearly twenty years of literacy instruction expertise at the secondary level, Heather has served as a classroom teacher, English Language Arts Supervisor for grades K-12 and an education consultant in some of the highest performing schools in New Jersey. She focuses much of her professional work on designing learner-centered, authentic literacy experiences for students. She has supported districts in designing standards-based and student-focused curricula, adopting new instructional methods, and leading school-wide initiatives with passion.
Additionally, Heather has an extensive background in supporting and coaching literacy leaders. Heather has served as Program Chair for NCTE's Conference on English Leadership (CEL) Annual Convention and was elected CEL's Associate Chair in 2014. Through her work with CEL, she designs professional learning opportunities for administrators, supervisors, teacher-leaders, and coaches to help them implement and sustain effective instructional practices and curriculum. She also facilitates the organization's #LitLead, a monthly Twitter chat for literacy leaders.
Heather speaks and writes passionately about issues and trends affecting teachers, leaders, schools, and, most importantly, students.She has presented at national, state, and local conventions, including NCTE, ASCD,CEL, NJPSA and NJLALA. Her work has been published in the English Leadership Quarterly, Educational Viewpoints, and the New Jersey Council of Teachers of English Journal. She is currently doing research for a book on learner-centered, secondary level instruction.
Heather brings her passion for student-centered learning, differentiated instruction, and transformative leadership to her school consulting and speaking engagements. She works with schools to design and implement engaging curriculum and dynamic learning experiences for students and educators. Follow here on Twitter @HeatherRocco.