Language is deeply involved in learning mathematics as students both communicate and think about their mathematical ideas. For all students—and English learners in particular—access means finding effective, authentic ways to make language clear and thinking visible so they can reason more, speak more, and write more in mathematics.
Watch Mark Driscoll and Jill Neumayer DePiper, two of the authors of Mathematical Thinking and Communication, talk about opportunities for providing access to mathematics for all students, including:
avoiding "one right answer" or "one way to do something" situations
using visual representations as students think about and respond to mathematical situations
providing sentence starters and sentence frames for students to record their thinking
tips for adapting textbook tasks you already have so they are more accessible
Interested in learning more about strategies that support English learners in math? Stay tuned to the Heinemann blog for more from Mark, Jill, and their coauthor Johannah Nikula over the next few weeks. You can also click here for a sneak preview of their book.
♦ ♦ ♦ ♦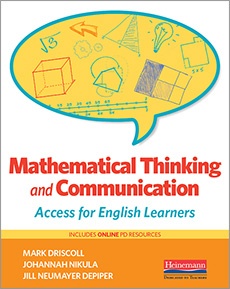 Mark Driscoll, Johannah Nikula, and Jill Neumayer DePiper work in the Learning and Teaching Division at Education Development Center (EDC) in Massachusetts, a non-profit organization that designs, implements, and evaluates programs to improve education, health, and economic opportunity worldwide. They have decades of experience creating and studying professional development resources and training for mathematics teachers, with a particular focus on strategies to support the academic success of English learners.