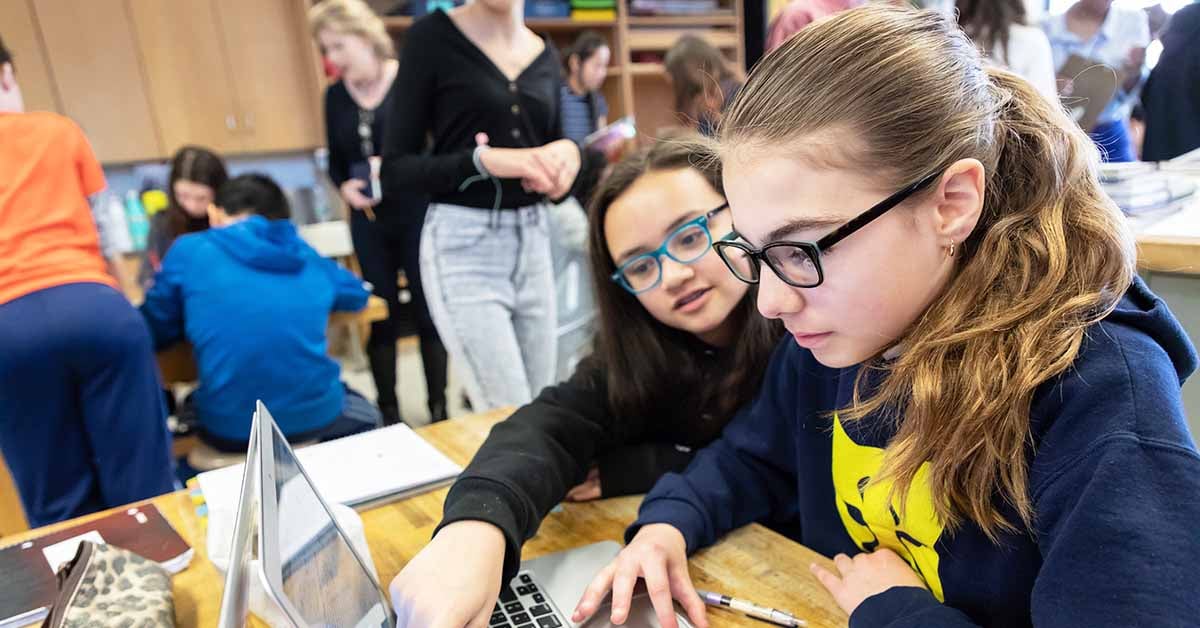 The last few days of school, which once seemed so far-away we could barely imagine them, are on the horizon, coming into sharper relief and clearer focus every day. As your last few days approach, you might consider planning to do a special wrap-up to reading and writing workshop, and set your students up to read and write all summer long and beyond.
Here's a rough timeline to help you plan for ending your year with energy, right to the last day.
Five Days and Counting: Take Time to Reflect
With five days left of school, you might take 15-20 minutes to reflect on reading workshop by bringing out all the read-alouds and shared reading texts from the year and giving students time to talk with a partner about their favorites. Students might look back through their reading notebooks, or browse the classroom library to make a stack of their most favorite or memorable books. As a class, you could create a list of favorites. You might watch a quick video clip of the class talking about a read-aloud from early on in the year, followed by a more recent video-clip and discuss how they've grown as readers and thinkers.
In writing workshop, you might take 15-20 minutes for students to look through their yearlong writing portfolios, talking with a partner about how they've changed across the year. You might also display all your mentor texts, and your own teacher-created writing for kids to discuss favorites (and not-so-favorites) as a class.
Four Days and Counting: Making Plans for Living the Writerly (and Readerly) Life
As the end grows nearer, you might consider giving kids a chance to select the type of reading and writing they hope to do over the summer. Encourage them to read and write anything and everything! You could share a list of possible ideas for inspiration, with all idea centering student choice and independence. Every option is something kids could do completely on their own outside of school if given the materials and access to books to do it.
Possible Writing Projects
Keeping a journal
Writing in a choice of any genre
Pen pals (digital or snail mail)
Choosing a mentor author
Book making (digital or old school hard cover)
Genres You Could Offer As Choices for Writing
Comic books and graphic novels
Poetry, songs, and raps
Fantasy
Sci-Fi
Thrillers and scary stories
Mystery
Information books and how-to's
Recipe books
Video game guides
Magazines, zines
Letters
Posters
Scripts
Possible Reading Projects
Funny books
Mysteries
Magazines
Series
Characters
Picture books
Interests & topics
Partner reading
Performing a scene
Access to books and materials are critical for successful independent reading outside of school. Find out if your school can allow kids to take home a baggie of books or a collection of library books to read for the summer. This would be the day to fill those summer book baggies. This would also be a great day to give kids a fresh writing notebook or folder to use over the summer to continue their writing lives. Many schools encourage kids to come back to school in the fall ready to talk about their summer book baggies and summer writing folders/notebooks.
Three Days and Counting: Make Some Plans
If we really want students to read and write over the summer, they'll need clear realistic plans and deadlines. Today you might give kids time to create a plan or fill in a calendar for their summer reading and writing. Even the littlest kids can create a plan by drawing a place where they plan to read and write, or making a list of people they'd like to read with. Older kids can mark deadlines for themselves on a calendar. Encourage them to take into consideration sports practices, camps, and family commitments at home. The key is choice, and students setting their own realistic goals.
Two Days and Counting: Freedom to Read and Write on Their Own
Today is the perfect day to set aside some nice quiet, relaxing time to read and write completely on their own. They can get started on those plans and goals they set yesterday. Put on some soft music in the background, turn down the lights -- better yet, go outdoors if you can, and give kids time to practice summer reading and writing. At the end of their quiet reading and writing time, they might reflect in writing or by talking with a partner on what they think will be easy about summer reading and writing, what they think might be challenging, and brainstorm solutions to those challenges.
Last Day of School!
On the last day of school, you might celebrate by sending home special reading and writing tools, along with their book baggie, writing notebook/folder and plans."Reading Kits" and "Writing Kits" that contain special pens, post-its, bookmarks, flashlights for reading under the covers and other book-lover goodies can inspire kids to read and write all summer long.
---
Looking for more ways to keep literacy alive and well all the way to the end of the school year and beyond? Each Wednesday night at 7:30 pm EST the Teachers College Reading and Writing Project hosts a Twitter chat using the hashtag #TCRWP. Join hosts Liz Masi (@lizreadwrites) and Kelley Wynne Lavery (@kjw_lavery) to chat about ending the year with energy.
Not on Twitter? Take Heinemann's free Twitter for Educators course here.
---
Elizabeth Moore, literacy consultant and coauthor of two books in the Units of Study for Teaching Writing and Units of Study for Teaching Reading series, has been a first grade teacher, fifth grader teacher, literacy coach, and lead staff developer at TCRWP. She has also served as an adjunct instructor in the Department of Curriculum and Teaching at Teachers College, Columbia University. Currently she lives in the mountains of northern Vermont where she finds adventure around every corner.
She can be found writing on Two Writing Teachers and on Twitter at @BethMooreSchool