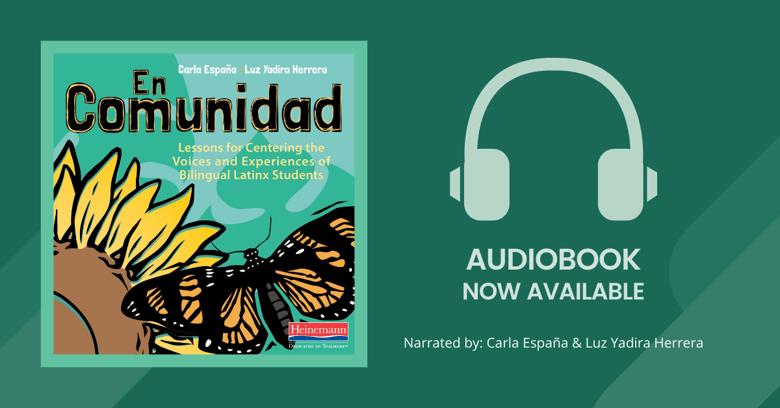 Heinemann Audiobooks presents En Comunidad: Lessons for Centering the Voices and Experiences of Bilingual Latinx Students by Carla España, Luz Yadira Herrera.



Access this audiobook on your favorite platform: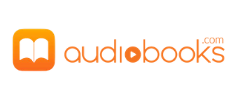 Coming soon to Apple Audiobooks.
Listen to a preview of the audiobook:

BOOK DESCRIPTION
Drs. Carla España and Luz Yadira Herrera's schooling and teaching journey reveal the power of educators to create either liberating or dehumanizing spaces and experiences for bilingual Latinx students.
En Comunidad brings bilingual Latinx students' perspectives to the center of our classrooms. Its culturally and linguistically sustaining lessons begin with a study of language practices in students' lives and texts, helping both children and teachers think about their ideas on language. These lessons then lay out a path for students' and families' storytelling, a critical analysis of historical narratives impacting current realities, ways to develop a social justice stance, and the use of poetry in sustaining the community.
As the largest group of bilinguals in the U.S., bilingual Latinx students need teachers to not just welcome them into their classrooms, but also to advocate with and for them, for their languages, and for their lives. En Comunidad offers classroom-ready lessons that amplify the varied stories and identities of Latinx children.
Each sequence of lessons follows a critical bilingual literacies framework for any educator teaching bilingual Latinx children and:
focuses on issues of language, literacies, and power

recommends carefully-curated texts and multimodal resources featuring Latinx voices

centers a translanguaging pedagogy that honors bilingual Latinx students' language practices.
• • •
To learn more about the En Comunidad (Audiobook), visit Heinemann.com.

Podcast fans, Listen to our conversation with Carla España and Luz Yadira Herrera on the Heinemann Podcast.

Help us build on our community of educators.
Use the blue share icons at the top of this blog post to share this blog on your Facebook, Twitter, or Linkedin account.
---

Follow us on Instagram @heinemannpub to stay up to date on the latest books, your favorite authors, and upcoming events!
---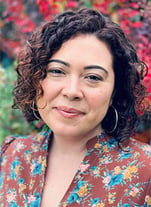 Carla España is an instructor at the Bank Street College Graduate School of Education. Carla's teaching journey began in a bilingual classroom in Harlem, New York, continued at Teachers College Reading and Writing Project partner schools, and at the bilingual teacher preparation program at Hunter College, City University of New York. Finder Carla on Twitter: @ProfesoraEspana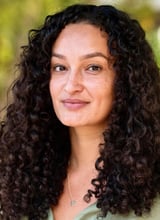 Luz Yadira Herrera is an Assistant Professor at the Kremen School of Education and Human Development at California State University, Fresno. As a former teacher in NYC public schools and researcher at CUNY-NYSIEB, her teaching and research centers culturally and linguistically sustaining approaches to teaching emergent bilinguals, translanguaging pedagogy, and bilingual education policy. Find Luz on Twitter: @Dra_LuzYadira
To learn more about all other Heinemann Audiobooks, click here: