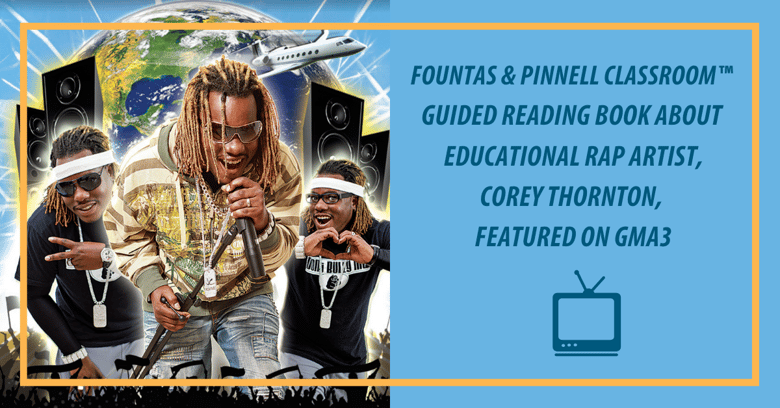 School can be tough sometimes, but educational rap artist Corey Thornton knows how to help, and he uses music to do it. Corey was contacted by the producers of GMA3: What You Need to Know to share his story of inspiration, motivation and education, and talk about his partnership with Heinemann Publishing to share his story in classrooms around the world.
Rapping for Kids: Corey's Story is a book in the grade four Fountas & Pinnell Classroom™ (FPC) Guided Reading Collection, published by Heinemann. At the heart of FPC are the highest-quality leveled books that captivate and engage the hearts and minds of all students in the classroom. This particular biography tells the story of how rapper Corey Thornton uses his personal experiences and musical talents to help kids learn important life skills, like doing well in school, making good choices and standing up to bullying. Corey gives kids a serious message in a fun way that they remember, and when Corey raps, kids listen! View the GMA3 interview here
The default for this video is mute. To hear the sound, hover over the sound icon and drag the line to the right.
ABC NEWS August 3, 2020:
Using rap to motivate and educate students
Corey Thornton can't stop, won't stop inspiring kids everywhere with his music and videos.
Click here view this video on the GMA website.
About Fountas & Pinnell Literacy™
Fountas and Pinnell's collective and comprehensive literacy work includes a cohesive classroom literacy system (Fountas & Pinnell Classroom™), an intervention system (Leveled Literacy Intervention), an assessment system (Benchmark Assessment System), an extensive professional book base, and professional learning opportunities. To learn more about Fountas & Pinnell Classroom™, please visit www.fountasandpinnell.com/fpc/.
About Heinemann
Heinemann is a publisher of professional resources and a provider of educational services for educators, kindergarten through college. Heinemann supports the professionalism and compassion of teachers as they help children become literate, empathetic, knowledgeable citizens. Heinemann authors are exemplary educators eager to support the practice of other teachers through books, videos, workshops, online courses, and most recently through explicit teaching materials. Heinemann is dedicated to teachers. Discover the path to lifelong professional learning at Heinemann.com.