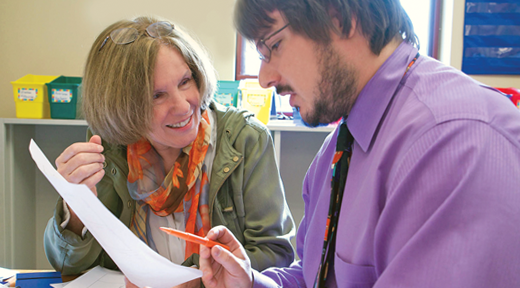 Above all, good teachers matter. It is important to develop teachers' abilities by providing professional development and a culture of collaborative practice.

"Again and again, research shows what most of us already know to be true: good teaching makes a world of difference. Karen Bembry found that students in classrooms that provided consistently high-quality instruction, achieved standardized test scores 40% higher than those earned by students receiving lower-quality instruction. That is a staggering statistic, and an important one. As Richard Allington writes, 'It has become clear that investing in effective teaching—whether in hiring decisions or professional development planning—is the most 'research–based' strategy available.'"—Lucy Calkins
Lucy Calkins and Senior Colleagues Present Units of Study PD Workshops!

Whether your focus is writing instruction, reading instruction, or both, there's a spring Units of Study workshop for you. Heinemann and Teachers College Reading and Writing Project are bringing the learning to you with a full schedule of exciting events across the country.
These workshops are designed to help you learn how to use a workshop approach to reading/writing instruction in ways that accelerate your students' progress towards meeting ambitious new global standards. Units of Study workshop participants will:
Learn about the principles, progressions and methods that undergird a reading or writing workshop curriculum.
Explore practical ways to teach the higher-level literacy skills that are required by today's ambitious standards.
Be brought backstage to hear about the research and the discoveries that informed the development of the Units.
Grasp ways of supporting kids as they progress up the ladder of text complexity or as they write across text types.
Click here to check out the complete spring schedule! [PDF]
Click here for details on Heinemann sponsored workshops
Click here for details on TCRWP sponsored workshops
———
Apply Now for Teachers College Reading and Writing Project Professional Development Institutes

If you're looking for other ways to deepen your practice, you'll want to consider applying for the Reading and Writing Project's professional development institutes.
April 21–23 at Teachers College, New York, NY
This institute focuses on the Project's latest thinking around the integration of digital and media literacy with tried and true reading and writing workshop methods and curriculum. It will introduce participants to the latest and most successful methods for authentically tapping the power of digital tools and media within the workshop classroom. Instructors will show how new media can dramatically affect regularly taught concepts in writing, such as the role of audience and importance of supporting ideas with evidence.
———
Applications for TCRWP Summer Institutes Accepted Beginning February 24

As always, the Reading and Writing Project will offer their renowned summer institutes on the teaching of reading and the teaching of writing. Applications will be accepted beginning at 9:00 a.m. on February 24, 2016.
NYC Writing and Reading Institutes:

June Writing Institute: June 20–24, 2016
June Reading Institute: June 27–July 1, 2016
August Writing Institute: August 1–5, 2016
August Reading Institute: August 8–12, 2016