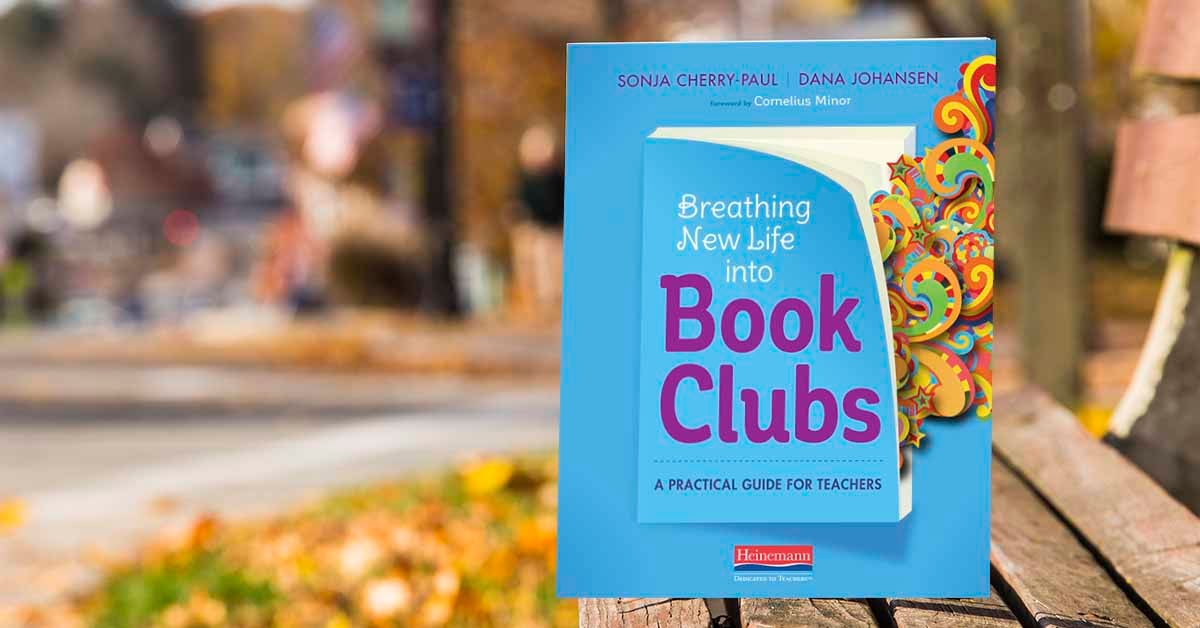 When we picture book clubs in our classrooms, we envision many of the same wonderful components of adult book clubs. We imagine small groups clustered together in cozy spots around our room. Perhaps they are seated on the carpet, at a table, or at a group of desks. Some may be gathered beneath their club banner or in a makeshift cardboard clubhouse. In our mind's eye, we see our students making reading plans with their club, talking about books, and asking each other questions. In this hum of activity, we hear joyful laughter and
see new friendships created. We feel the positive energy in the classroom as clubs meet. We picture our students engaging in the same adult experience that we admire, and we feel proud of our students' level of preparedness and their eagerness to take part in their club's discussion.
As we imagine book clubs in our classrooms, we envision our students doing the work we've been teaching. They are putting their learning into action. Some groups of students talk in an animated manner as they set reading goals and cheer each other on. We hear words of encouragement such as, "We can do this! Let's read twenty pages tonight and make five sticky notes." Our students are in charge of their reading lives, and they feel empowered to challenge themselves as readers and work collaboratively as a team.
While we dream of having book clubs in our classrooms that provide the joyful experience of adult book clubs, we've also found that there can be hiccups. Sometimes our clubs are roaring successes, and at other times, the clubs fizzle and fall apart. Over the years we've heard from fellow educators who have faced similar challenges with book clubs. "They're too complicated to manage." "Are the kids really reading?" "Are their discussions really deepening their understanding of the text?" We've also heard from teachers who've never tried book clubs because of their worries about time and rigor. "I don't have time for this!" "What do I teach in book clubs?" "Are my students just doing their own thing?" "How do I assess their understanding of the book?"
We admit it. We've experienced frustration ourselves. We've come close to throwing in the towel when it comes to book clubs. Stepping back to examine all of our concerns, a common theme emerges: a fear of letting go. Although we want our students to have control over their reading, we have concerns. As teachers, it's our job to make sure that all
of our students are learning and growing, and it's easier for us to imagine this happening underneath our watchful eyes where we can anticipate pitfalls and plan pathways for success. Sometimes it's challenging for us to imagine that, independently, our students will make the best decisions about their reading.
Our vision for book clubs continues to be a work in progress. It is informed by our own experiences and our ongoing dialogue with fellow educators, as well as our research. Together, this has become the fountain of knowledge that we draw upon. And we'd like to share our vision with you. No matter your reading curricula, we'd like to show you why book clubs should become an essential part of your school year and how to make that happen. Whether you're looking to breathe new life into book clubs or begin implementing them in your classroom, we invite you to join us on this journey.
— Sonja Cherry-Paul and Dana Johansen
…
Learn more about Breathing New Life into Book Clubs and pre-order at Heinemann.com
---
Follow us on Instagram @heinemannpub to stay up to date on the latest books, your favorite authors, and upcoming events!
---
Sonja Cherry-Paul, EdD, has taught middle school English for twenty years. She is a literacy consultant who served on the Jane Addams Children's Book Award committee for ten years. Sonja leads presentations about literacy at national conferences and provides professional development for educators on reading and writing instruction and racial literacy.
She is the coauthor, with Dana Johansen, of the titles Teaching Interpretation and Flip Your Writing Workshop.

Follow Sonja on Twitter @LitLearnAct
Dana Johansen has taught elementary and middle school for more than fifteen years. Dedicated to the ever-expanding applications of technology in the classroom, she presents at national conferences on the use of blogs, digital texts, and flipped learning in literacy instruction.
She is the coauthor, with Sonja Cherry-Paul, of the titles Teaching Interpretation and Flip Your Writing Workshop.

Follow Dana on Twitter @LitLearnAct