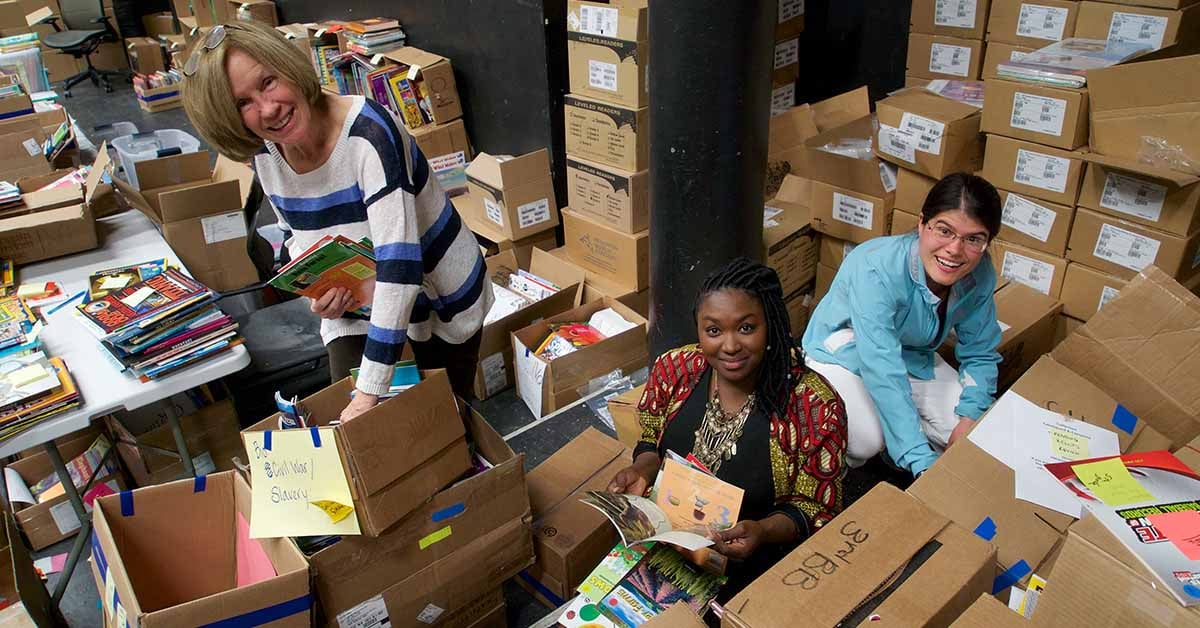 A classroom library is the at the heart of reading instruction. The kinds of texts students encounter in their library will help shape the kinds of readers they become. If they encounter texts in a range of genres and on a range of topics, they'll be more likely to be the kinds of readers who try new things. If they encounter texts just a bit above their normal reading level, they'll be more likely to be the kinds of readers who face challenges. And, if they encounter books that feel new and fresh and exciting, they'll be more likely to be the kind of readers who think it's cool to be in the know about the latest best sellers.
The classroom library then, should be a growing, changing entity. Ideally, it is reorganized at the start of each new unit to reflect the kinds of reading students will be doing, and their shifting levels as their reading skills grow. It should also reflect each class's unique personality by taking into account student's genre and topic interests. Part of curating a truly engaging classroom library is having a finger on the pulse of what kids want to read most.
When Lucy Calkins and her colleagues undertook the work of curating classroom libraries for grades K−8, they took the following steps:
Had conversations with experts in children's' literature
Engaged literacy experts to think about developmental stages of reading and successful teaching of reading
Took into account reading skill goals for each grade
Shared books with children and collected their feedback
Thought about books that would engage readers at and below level
Considered issues of representation and diversity
Choosing must-reads for upper and middle grade students doesn't mean simply choosing the newest series or the most sensationalized content. It doesn't mean choosing reading materials with the slickest packaging. It does mean finding reading material with that perfect balance of high interest and high quality. There is a reason that classics like Charlotte's Web capture generation after generation of kids' hearts: kids are drawn to quality, too. At this week's TCRWP Twitter chat, Staff developers Heather Burns and Laurie Burke will lead a discussion on ways teachers can orient themselves to must-reads for upper and middle grade readers. You'll leave this discussion with plenty of tips for making your classroom library more engaging than ever.
---
Each Wednesday night at 7:30pm eastern, The Teacher's College Reading and Writing Project hosts a Twitter chat using the hashtag #TCRWP. Join @header334 & @burkelf to chat about ways to immerse yourself in must-reads for older students tomorrow night.
Not on Twitter? Take Heinemann's free Twitter for Educators course here.
---
Anna Cockerille, Heinemann Editor and Coauthor of Bringing History to Life (Grade 4) in the Units of Study for Teaching Writing Series, was a teacher and a literacy coach in New York City and in Sydney, Australia, and later became a Staff Developer and Writer at TCRWP. She also served as an adjunct instructor in the Literacy Specialist Program at Teachers College. Anna has been a researcher for Lucy Calkins, contributing especially to Pathways to the Common Core: Accelerating Achievement (Heinemann 2012), and the Units of Study for Teaching Reading, Grades 3–5 series (Heinemann 2010). Anna is currently serving as an editor on the forthcoming Phonics Units of Study series for grades K-2, and previously served as an editor for the Units of Study for Teaching Reading, K–5 series.
Follow her on Twitter @annagcockerille