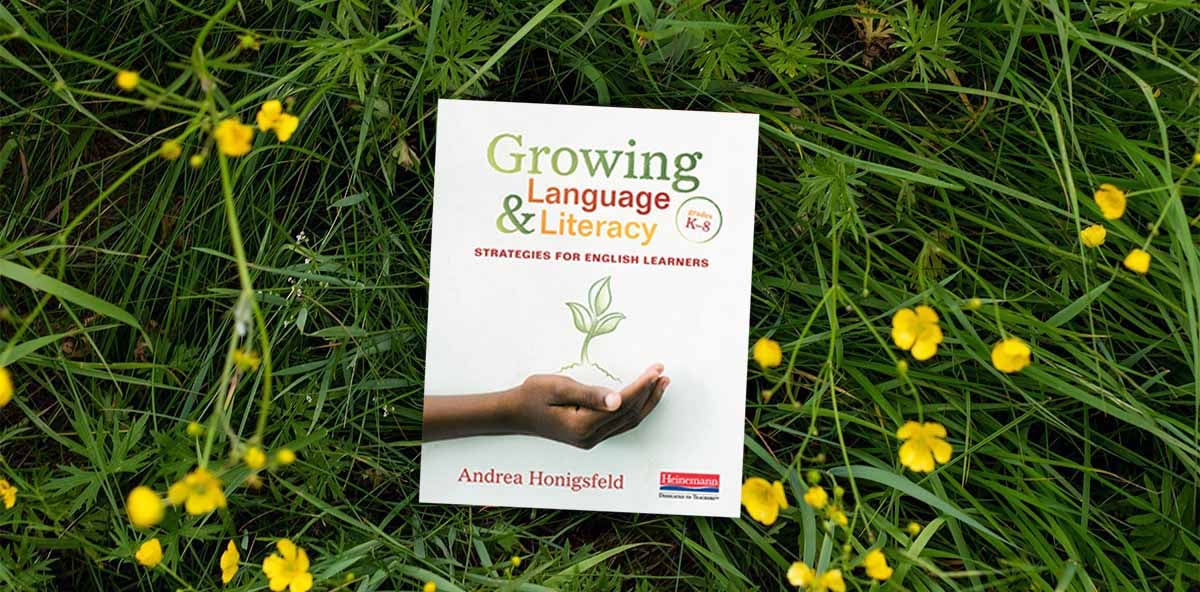 In Growing Language and Literacy: Strategies for English Learners, Andrea Honigsfeld describes five levels of language proficiency and the practices we can employ to support students at each one. Starting Level students are our earliest English Learners, and can be best supported through teaching techniques that are multidimensional, both linguistically and academically. These children need learning activities that allow them to be fully engaged by listening to others (both teachers and peers) talk about something they can relate to. When it comes to contributing to class, find ways for students to do so with minimal language use such as expressing themselves nonverbally, visually, artistically, through movement, and so on. If literate in the native language, encouraging students to use that language as a bridge to English is critical for cultural, social-emotional, and linguistic development.
When you have a student at the Starting level in your class, make sure that he or she feels welcome and included in the classroom and school community. Three practices to implement are (1) using what is familiar to your new students as a primary source of or link to learning, (2) establishing a peer support system, and (3) building basic comprehension and communicative language in English.
Capitalize on Familiarity
Starting level students more than any other group of ELs must be made to feel
that they belong and can learn English while their home cultures and native languages are also affirmed. One powerful way you can welcome newcomers is by making them feel a sense of belonging and incorporating resources into your teaching that will be familiar to them:
Learn to say the child's name correctly.
Learn some phrases such as "welcome," "Glad to see you," "I am your teacher" in the child's home language.
When establishing classroom routines and procedures, incorporate print and visual cues.
Make interpreters available on site or on call as needed to support family meetings.
Let students tell their personal stories, make connections to text—both fiction and nonfiction—and make sense of their way of life at home.
Establish a Peer Support System
When you have a new student in your classroom, regardless of the age or background, that child is likely to face some challenges as he or she begins to adjust to the new school and classroom environment, accept the changes in routines, understand the social and academic expectations, adhere to the written and unwritten rules of, make new friends, and build trust in relationships with both peers and adults. Building relationships one classmate at a time can be achieved in a more systematic way if you assign various roles to a number
of peers in the classroom:
A classroom helper will be attentive to the needs of the student regarding classroom routines and instructional activities.
A literacy partner will whisper-read to the EL during silent reading time and share his or her writing with the EL while also offering encouragement for native language use.
A math (or social studies or science) associate will sit with the newcomer during class to help navigate the resources.
A homework tracker will ensure that the appropriate homework goes home with the EL
Build Basic Comprehension and Communication Skills
At the very onset of language acquisition, your Starting level ELs will want to understand what is happening around them and learn how to communicate their needs. How can you
help them develop language skills to respond to their immediate needs?
Attach language to objects and actions. For students in younger grades, when you pick up a book, say, "Book" and repeat the command "Pick up your book," allowing the beginner ELs to hear the words that are connected to objects and actions commonly used in the classroom. For students in upper grades, prepare illustrated anchor charts that include key vocabulary.
Create a daily schedule or an agenda that is visually supported with diagrams or pictures. Not only will your ELs develop familiarity with the structure of the day and understand what is expected of them, but they will also learn some key words and phrases.
Use as many different kinds of available in-class support such as native-speaking peers, colleagues, and volunteers as well as technology-enhanced supports.
…
This blog has been adapted from Growing Language and Literacy. You can learn more at Heinemann.com
---
Follow us on Instagram @heinemannpub to stay up to date on the latest books, your favorite authors, and upcoming events!
---
Dr. Andrea Honigsfeld is Associate Dean and Director of the Doctoral Program (Educational Leadership for Diverse Learning Communities) at Molloy College, Rockville Centre, NY. Before entering the field of teacher education, she was an English as a Foreign Language teacher in Hungary (grades 5-8 and adult), an English as a Second Language teacher in New York City (grades K-3 and adult), and taught Hungarian at New York University. A Fulbright Scholar and sought after national presenter, Andrea is the coauthor or coeditor of 20 books on education and numerous chapters and research articles related to the needs of diverse learners. Andrea is coauthor of the Core Instructional Routines books with Judy Dodge. Visit Andrea at www.andreahonigsfeld.com