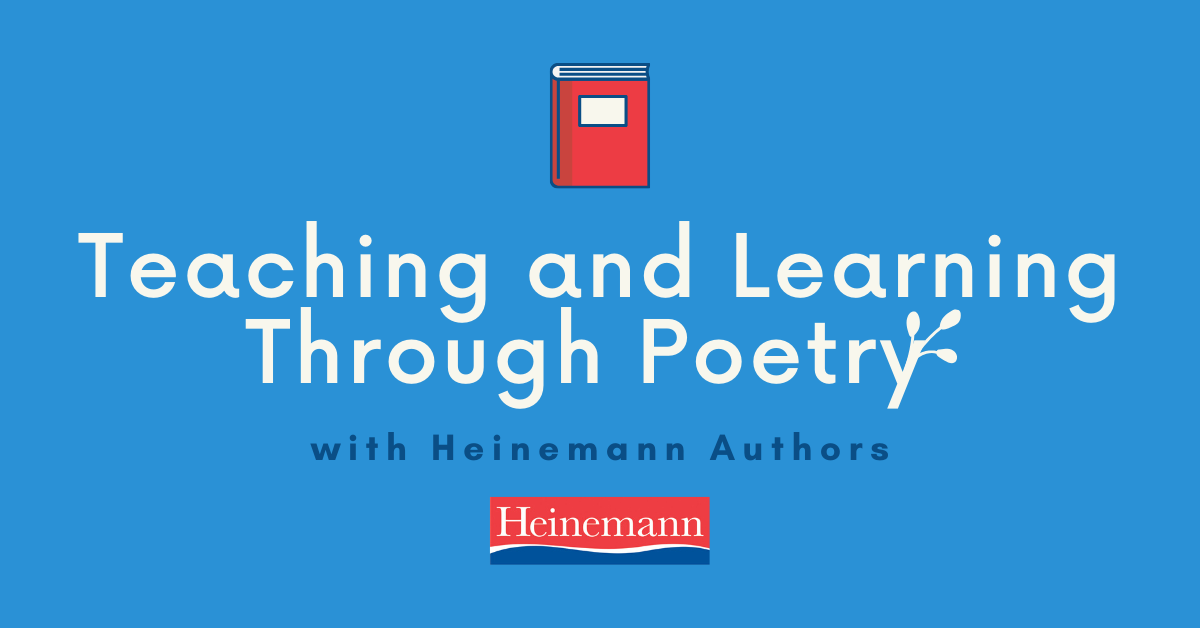 As the title of Amy Ludwig VanDerwater's book says -- Poems Are Teachers. They teach us to be better readers and writers. They inspire, provoke, challenge, and soothe us. With all that poetry does for us we wanted to quietly celebrate Poetry Month by re-sharing this collection of books that provide support for teaching and learning through poetry.

Poems are Teachers: How Studying Poetry Strengthens Writing in All Genres
by Amy Ludwig VanDerwater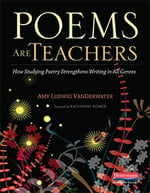 This is a practical book designed for every classroom teacher. Students will learn how to replicate the craft techniques found in poetry to strengthen all writing, from fiction to opinion, from personal narrative to information. "Poets arrange words and phrases just as prose writers do, simply in tighter spaces," Amy argues. "In the tight space of poetry, readers can identify writing techniques after reading one page, not thirty pages."

---
Heart Maps: Helping Students Create and Craft Authentic Writing
by Georgia Heard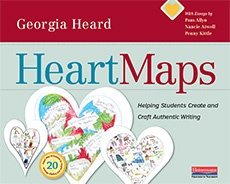 In Heart Maps, Georgia shares 20 unique, multi-genre heart maps to help your students write from the heart. Filled with full-color student heart maps, examples of the resulting writing, along with access to reproducible templates, Heart Maps will be a practical tool for awakening new writing possibilities in your students throughout the year.

---
Reading Poetry in the Middle Grades: 20 Poems and Activities That Meet the Common Core Standards and Cultivate a Passion for Poetry
by Paul B. Janeczko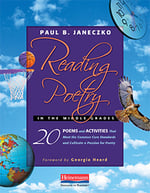 The 20 poems in this collection were chosen for their thought-provoking topics; compelling real-world themes that lead to conversation and collaboration in middle school classrooms. And by showing you how the poems and activities address the common core standards for English Language Arts, Paul provides a clear understanding of how you can "get there" using poetry.
---
Awakening the Heart: Exploring Poetry in Elementary and Middle School
by Georgia Heard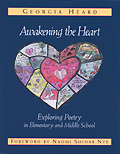 Awakening the Heart explores how to cultivate the poet in every elementary and middle school student—through well-drawn examples, detailed exercises, creative projects, and down-to-earth classroom teachings. Along the way, we learn how to: create environments that encourage children to express their innate sense of wonder; introduce poetry that will engage them; and help children make the transition from reading and talking to writing.
---
For the Good of the Earth and the Sun: Teaching Poetry by Georgia Heard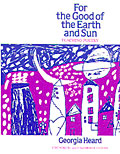 For the Good of the Earth and Sun is for teachers at all levels, especially for those teachers who feel anxious about introducing poetry to students. Georgia Heard offers a method of teaching poetry that respects the intelligence of students and teachers and that can build upon their basic originality. She explores poetry from the inside as it is: a powerful and necessary way of looking at the world, and one of mankind's most durable inventions.
---
Explore Poetry
by Donald H. Graves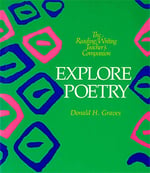 This volume involves you in both the reading and writing of poetry, for yourself and your children. Experiment with reading poetry aloud, "found" poems, writing poetry from prose, and acquiring poems through choral speaking. The "Actions" here help you encourage a sense of play in the composing of poetry, focusing on passion and wonder, combining sound and sense, and transforming the common into the unusual. A concluding section invites ways of spreading poetry throughout the curriculum, integrating it with the study of science, history, and mathematics.
---
Practical Poetry: A Nonstandard Approach to Meeting Content-Area Standards
by Sara Holbrook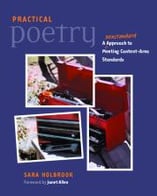 In Practical Poetry, Sara Holbrook shows you how the precise language and keen observations of poems can be used as nuts-and-bolts tools for addressing content and language standards in four key subject areas. Whether you teach one or several subjects, Practical Poetry includes chapters specially written to show you how to promote content understanding and meaning-making in language arts, math, science, and social studies by taking poems out of the artsy ether and making them functional. Even if you aren't a poet, you'll be ready to use poetry in your class tomorrow because each of Holbrook's lessons.
---
Outspoken! How to Improve Writing and Speaking Skills Through Poetry Performance
by Michael Salinger and Sara Holbrook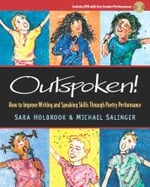 In Outspoken! poet–educators Sara Holbrook and Michael Salinger take you through the process of developing, implementing, and assessing poetry performance—and beyond. Beginning with ideas for encouraging even the most reluctant students to speak clearly and write from the heart, this handbook uses familiar workshop structures to guide young poets toward vibrant completed pieces and an exciting, dynamic delivery. With lessons involving memoir, metaphor, character, point of view, and articulation, you'll find a fully realized unit that's as enjoyable to teach as it is to learn and that's full of specific advice on assessing the writing, speaking, performing, and learning of your students.

---
Brave New Voices: The YOUTH SPEAKS Guide to Teaching Spoken Word Poetry
by Scott Herndon and Jen Weiss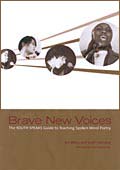 Brave New Voices provides teachers with a "how-to" guide to staging a teen poetry slam, enabling students to unlock their poetic passion in front of their peers. For all levels of students and developing artists, from the shy to savvy, here is a way to spark a love of poetry. For students already composing poems, here is a way to help them take a powerful step forward in their growth as writers. And for teachers, here is a way to liberate poetry from dry textbooks by tapping the poetic potential within the next generation.
---
Climb Inside a Poem: Reading and Writing Poetry Across the Year
by Georgia Heard and Lester Laminack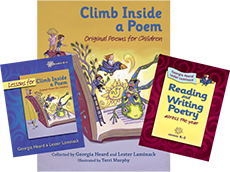 In Climb Inside a Poem: Reading and writing Poetry Across the Year, Georgia Heard and Lester Laminack tap into this natural inclination and demonstrate how reading and writing poetry can also support and extend young children's language and literacy development. Through an anthology of original children's poems and related lessons, Georgia and Lester describe how to weave poetry into the fabric of a school day by reading a variety of poems for a variety of purposes.
---
Naming the World: A Year of Poems and Lessons
by Nancie Atwell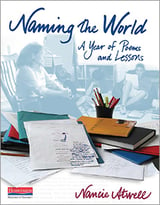 Reading and discussing great poems changes her students: helps them gain perspective on their identities and make sense of their worlds, while honing their skills as critical readers and intentional writers. Poetry is the foundation upon which Nancie's students build excellence as writers in every genre, from finding subjects that matter, to crafting powerful language, recognizing how punctuation gives voice to writing, and developing and supporting a theme.
REMINDER: Free shipping on professional books listed above.
Use code BOOKIT.
Restrictions apply. Click here for details.
---
Words That Sing: Poetry Charts for Shared Reading
by Irene C. Fountas and Gay Su Pinnell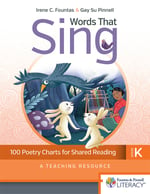 Words That Sing is an illustrated collection of poems, songs, and rhymes that will fill children with language, ideas, and imagery, which will help them use and enjoy the oral and written word. Enlarged charts make it possible for children to "read" a much more complex text than they could independently, enabling each child—regardless of reading level—to benefit from the many values and goals that poetry brings to the classroom. Available for grades PreK-2.
Sing a Song of Poetry: A Teaching Resource for Phonemic Awareness, Phonics and Fluency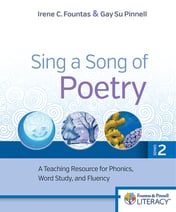 The poems in Sing a Song of Poetry immerse students in rich, rhythmical language, providing age appropriate opportunities to enjoy language through shared reading, stimulate oral language development, connect words, and much more. Poetry enhances any early childhood curriculum. Sing a Song of Poetry can be used as a stand-alone resource for language and literacy opportunities or can be used as a companion resource to the Fountas & Pinnell Phonics, Spelling, and Word Study System. Available for grades K-2.
To learn more about any of these individual titles, click on the book covers above or click on the button below to scroll through all poetry related books on our website.

Follow us on Instagram @heinemannpub to stay up to date on the latest books, your favorite authors, and upcoming events!