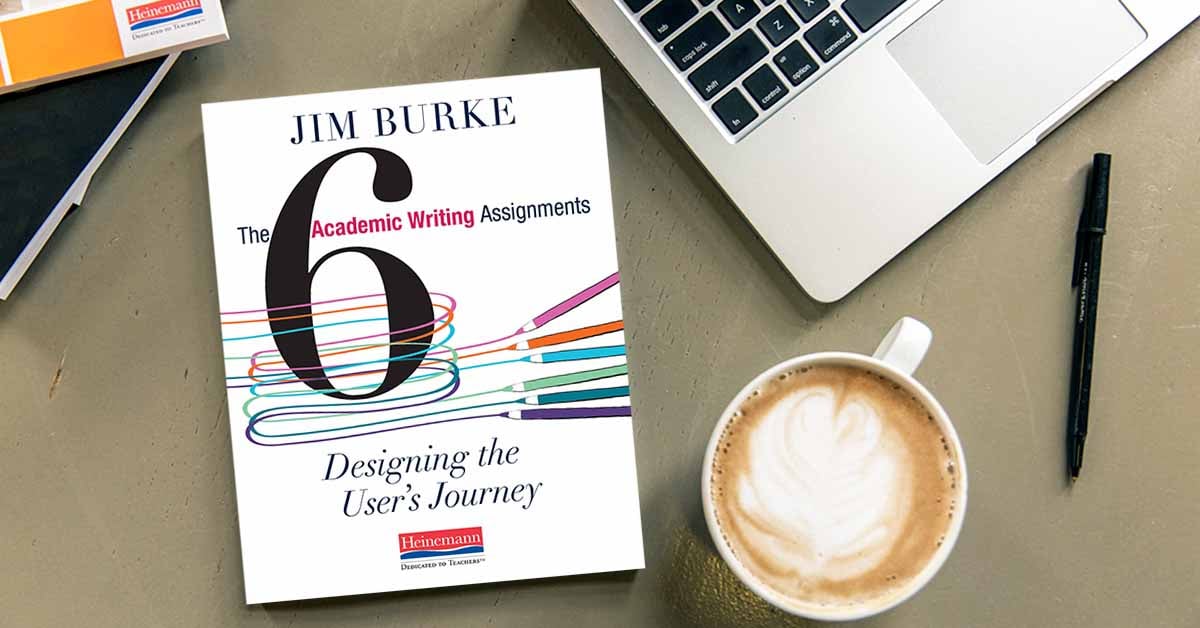 In his latest book, author Jim Burke proposes taking a new approach to writing assignments; one that views students as "users" for whom the assignments are designed for. The guiding principles of design found in The Six Academic Writing Assignments are grounded in a few core ideas about classrooms and assignments. Well-designed writing assignments are...
anchored in clear goals linked to specific standards appropriate to students' age and development, as well as the future exams they will take in class, for the state, or on national assessments.
grounded in texts that are as engaging as they are demanding in terms of how those texts must be read and used in the writing task.
cognitively demanding relative to the standards themselves and student' intellectual progress without being overwhelming and thus leaving students feeling defeated.
emotionally and intellectually engaging to all students to the degree that the assignments give students some measure of choice when it comes to the texts, tasks, and topics they encounter in the context of the writing assignment.
designed to support students in ways that helps them meet the challenges of the writing task while also demonstrating their knowledge and skills legitimately and independently despite such potential obstacles as language or learning difficulties .
assessed or evaluated according to criteria and requirements that are clearly stated up front so students can use them as a guide and know how best to spend their time and energy when writing the assignment.
written and formatted for maximum readability and ease of use in language that is clear, consistent, concise, and correct, using a layout that makes clear what students need to do and how they need to do it.
The overall design of an academic assignment, from the layout to the words used, is critical to not only how well a student preforms, but how they continue to learn throughout their academic journey. By taking a user approach, Jim Burke suggests that we can design better work for our students. Hear more about user-oriented assignments below!
•••
Learn more about The Six Academic Writing Assignments at Heinemann.com
---
Follow us on Instagram @heinemannpub to stay up to date on the latest books, your favorite authors, and upcoming events!
---
Jim Burke is the author of numerous bestselling Heinemann titles, including the English Teacher's Companion, Fourth Edition and What's the Big Idea? The question he's always tried to answer is "How can we teach our students better?" He seeks these answers daily through his work in his own classroom at Burlingame High School in California where he still teaches after twenty years. Facing the same constraints and challenges as every other teacher, Jim shares his creative solutions in bestselling professional titles with Heinemann such as Reading Reminders and Writing Reminders as well as through Heinemann Professional Development Services. As part of his commitment to helping teachers and learning how to use the latest technologies, he founded the English Companion Ning, described by Education Week as "the world's largest English department" and winner of several Edublog Awards for Best Social Network for Education. In addition to the EC Ning, Jim offers a steady stream of recommended resources through his website (www.englishcompanion.com) and Twitter (@englishcomp) where he is ranked in the top 100 educators to follow at the top within the online English teacher community.