The following was written by Tammy Mulligan and Clare Landrigan, authors of the new title It's All About the Books: How to Create Bookworms and Classroom Libraries that Inspire Readers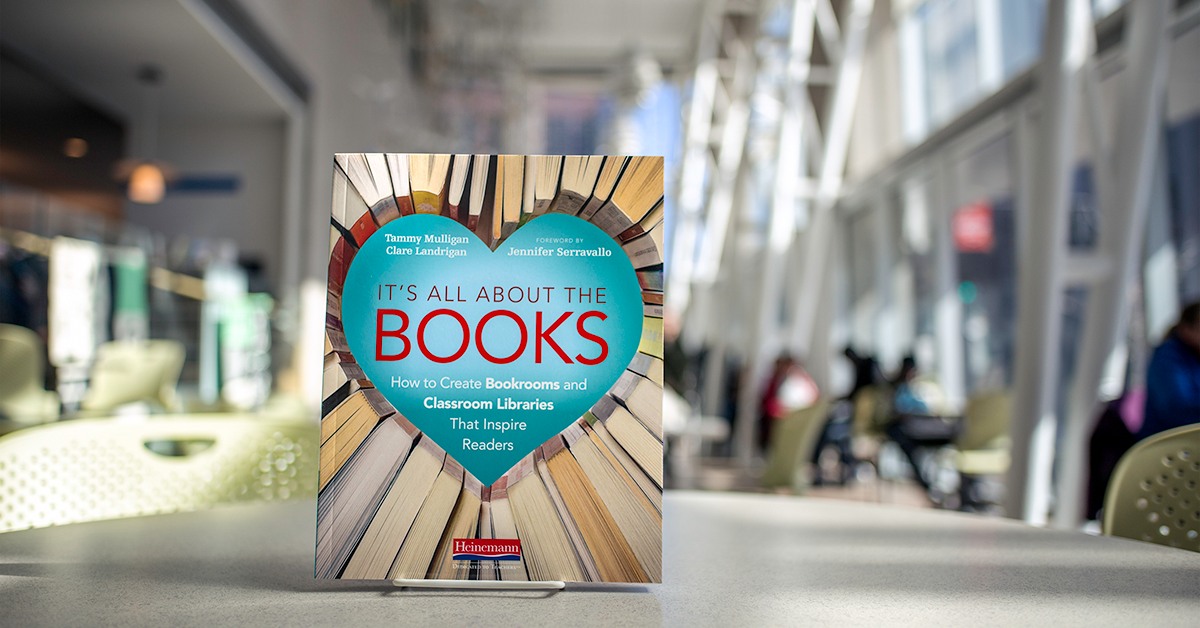 We have been partnering with school districts as literacy consultants for the past fifteen years, and we continually find that almost all teachers, regardless of what program they are using, do not have the amount of books they need. A core curriculum, basal, anthology, or any purchased program tells us what to teach and provides texts for us to model instructional strategies. It even provides some texts for us to use in small group instruction and for independent practice. But, bottom line, we still need more books. We need more whole class texts for repeated explicit modeling and more small group texts to meet the range of learners in our classrooms. If we implement a curriculum, but we do not have books our students can read to practice the strategies taught in that curriculum, our students will not progress. Books our students can read and want to read are the most important instructional tools we have for teaching literacy. Every student in every classroom needs to have access to books that fit them.
We see bookrooms as the perfect solution to provide the depth and breadth of books a teacher needs to supplement a core curriculum. In It's All About the Books, we share our vision of how a bookroom can become a shared instructional resource - room, shelf, cart or closet - that provides us with what we need whenever we need it. Bookrooms are a practical, economical, and effective solution to making sure every teacher has the volume of books she needs to support her students in learning the instructional strategies identified in her curriculum. Books for whole class and small group instruction are organized in grab-and-go baskets for a teacher to simply (and quickly) take and incorporate into her classroom. It's All About the Books will take you on a bookroom tour to show you many different options so you can design a space to meet your specific needs.
It's All About the Books will also help you re-envision how to organize the books you have to meet the evolving needs of your students. When teachers share and store materials in a central location, the volume of books our students can access immediately increases. Most core curriculums provide multiple-copy sets (six-packs) for small group instruction. While these small group texts do represent a range of text complexity, the range is often not enough to meet the needs of students in a classroom. How can a program predict the range in every classroom year after year? Our students develop at different rates, so if we house these texts in the bookroom, teachers from other grades levels can also use them. For example, if a third-grade teacher needs primary leveled texts for a student, she can go to the bookroom to find them. Some schools realize they have too many sets of six-packs and decide to reorganize these texts into baskets, so students have more choice for independent practice. Do you have texts from a prior basal or anthology collecting dust in a closet? No, problem! Let's take those out and reorganize them for easy access and use! We can make a big impact on volume simply by sharing and reorganizing the books we already own.
Core curriculums focus on a particular theme, topic, or genre for each unit. This allows us to introduce students to new types of texts and it often sparks a new interest for our students to explore. Students may want to spend time reading more of these types of texts or pursuing an inquiry study to learn more about a topic of interest. We suggest dedicating a section of the bookroom to grade-level curricular topics, so teachers have these additional texts at their fingertips. We must keep our instructional goals front and center. However, when we can provide students a choice of text within these instructional goals, it is a win-win. Bookrooms make it possible for teachers to do this.
Teachers also need more books to support content area curriculum. When we have books that cover our science and social studies standards, we give students time to build the content knowledge they need to apply to the experiments and experiences happening in our science and social studies time. In our book, we show you how to design a section of the bookroom to support your grade-level content curriculum. Teachers need to have easy access to the materials they need to teach across the curriculum, and we will show you how to do it!
Every child deserves the opportunity to be a lifelong reader, and every teacher deserves to have the tools he needs to make that happen. We know budgets and time in schools are tight. So, if you decide you need to purchase books in addition to reorganizing, we've got you covered - even on a tight budget. We share sample budgets, booklists, order forms, order guides, and publisher hyperlinks. We also share some of our tried and true titles, suggest titles to support specific curricular ELA standards, and even give some tips for how to use these texts to scaffold strategies identified in many core curriculums. This book will truly help you get more bang for your books!