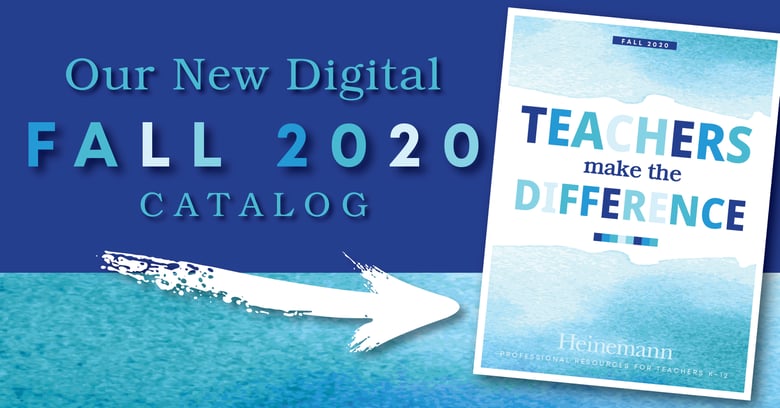 Heinemann's Fall 2020 Catalog is here!
Check out our latest catalog featuring NEW publications from returning authors Jennifer Serravallo, Stephanie Parsons, Kelly Boswell, Mary Ehrenworth, M. Colleen Cruz, Nell K Duke, Anne Goudvis and Stephanie Harvey along with exciting publications from some NEW authors. You can also explore Fountas & Pinnell Classroom™, Listening To Learn: A K–5 digital interview tool, and professional development opportunities.
Click the hand icon in the digital catalog
to access special VIDEO content.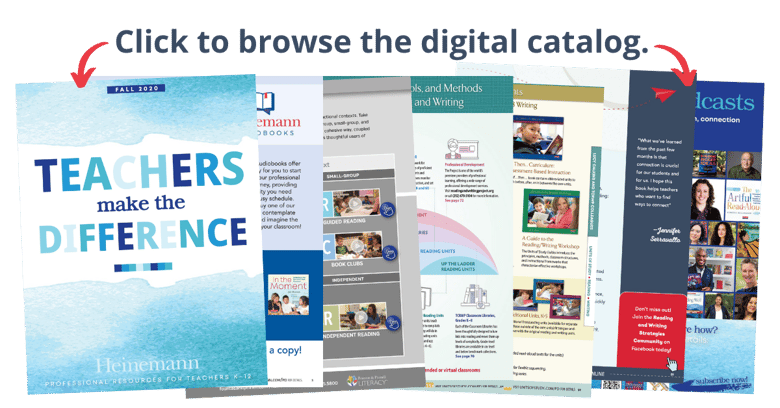 The catalog includes a message from Vicki Boyd, EVP and General Manager at Heinemann.


I write this from the makeshift office I've constructed at home—essentially, a folding table in a bedroom. It beats the basement, where I spent the first three months of quarantine, emerging so rarely from my work cave my family took to calling me Gollum.
We live our way through the previously unimaginable. Global pandemic. Economic collapse. An eruption of civil unrest that has given rise to what some social scientists believe is the largest protest movement in the history of the United States—this being the good news, if it can force at last the kind of reckoning each of us must make with the ways we have contributed to injustice in our nation and finally begin to reverse racism's corrosive, oppressive, dangerous, even deadly effects, particularly on Black Americans.
In our better moments, from socially appropriate distances, perhaps via Zoom or DM, we comfort each other. "We'll get through this together," we say. In other moments, despair finds us. It enters uninvited, no mask, stands close, breathes its toxic fog on us.

I'm not prone to gloom, but I found solace recently in an interview Rabbi David Wolpe* gave about how to make sense of suffering. "If you want to lay down in a moment and say, 'Oh my God, I can't take it anymore,' I'm with you," he said. "Totally understand…I'm all for momentary despair."

Whew, I thought. And then the next thing he said truly saved me: "I'm all for momentary despair. I'm all against permanent despair…You have to get up again. You have to. You have to build the world anew every, single, day. Even though it's hard and you don't want to."

At this impossible moment, I have no magic words to offer anyone, least of all teachers, whose collective courage and conviction shone so vividly through the many impossible weeks of the past school year. "Teachers Make the Difference," our catalog cover reads. We watched you prove that for our kids over and over again this past spring.
Instead, I have two deeply held wishes for you. First, may you and your family and your colleagues and your students be kept safe. Second, may whatever despair you feel be of the momentary kind. May you replace it with the resolve to make the world new again for yourself and for your students. Every day, may you rise to put the last one behind you, whatever happened in it, and reach for the connection, meaning, significance that renews you in your teaching. Wherever you make your practice this year, may your daily renewal find and engage the heart and mind of each child you teach, in ways that help them find their own connection, meaning, significance. May you emerge whole, together though apart, with new strength to face whatever lies ahead.
Vicki Boyd
EVP, General Manager
Heinemann
@VickiBoyd