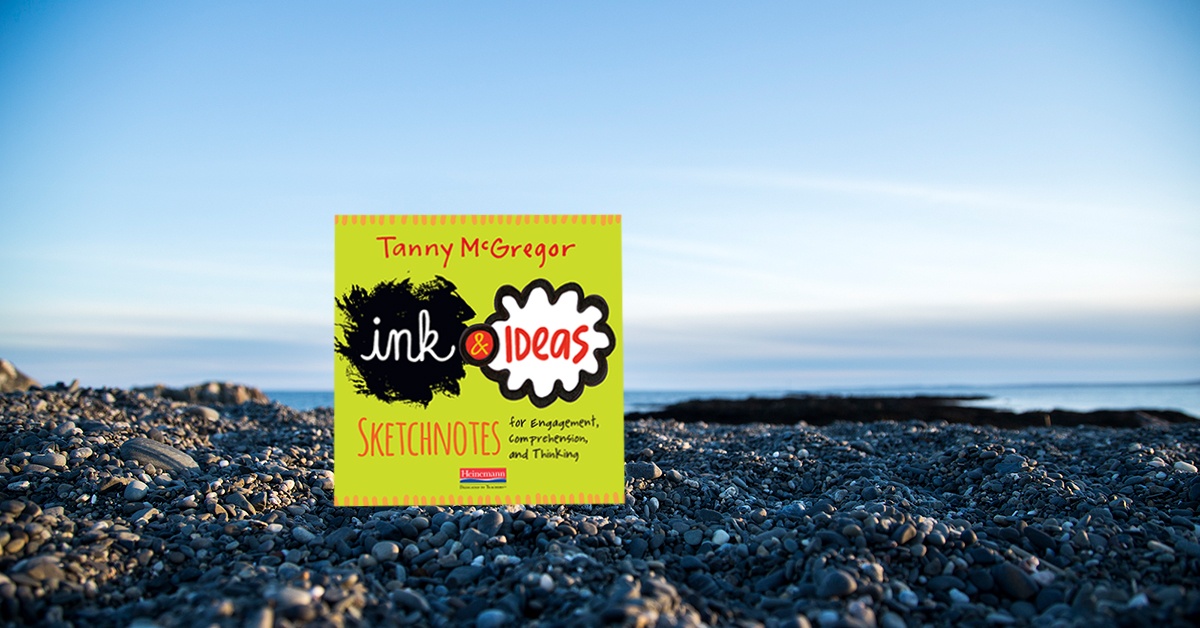 The best part of sketchnoting is when our thinking bears itself out before our eyes. That's the big picture. It will pay off later, though, if we zoom in to look at the mechanics of sketchnoting now. From choosing a pen to selecting a visual strategy, let's address it here.
Think about your materials. What do you need? Ask a dozen sketchnoters about the best pens and paper to use for sketchnoting and you'll likely get a dozen different answers. It can be boiled down to three questions. You might not have answers to these questions yet, but as you make sketchnoting a practice your awareness will grow. The same goes for your students!
1. What do you have available to you right now?
If you have a pencil and piece of paper, you've got what it takes! You'll find notetakers use everything from crayons to colored pencils to gel pens, and digital sketchnoters use all of those tools in apps, we well. You can plan for other tool to try out later, but don't let the lack of materials keep you from moving forward. It's the same in our classroom, too. Don't try to get it all figured out before you start. Use what you have. You can always embrace new tools, be they analog or digital, as your thinking changes.
2. What do you enjoy using?
Think about what tools you like to use. Is there a brand of pens that is your go-to tool? Do you prefer writing with thick or thin lines? And what about paper? Do you like ruled pages, graph paper, or dotted grids? Some of you have instant answers to these questions, and others might never have thought about them before. That's OK. Start with what you like to use and feel comfortable using. Your preferences will follow. You'll be surprised at how you'll soon have opinions about what you use and why you use it. Just as the right equipment entices athletes to practice their sports, sketchnoters can becomes more interested in visual notetaking when preferred tools are accessible. Most of us would choose a pen with a nice ink flow over a broken crayon with a torn wrapper.
3. What do you need to help show your thinking and make it meaningful?
It's an interesting dichotomy: Sometimes your thinking comes first, and then it materializes on the page. other times you don't know what you're thinking until it exits the pen. Be sure about this: If you are open to exploring your thinking with what you are reading, listening to, or viewing, then you can sketchnote. You'll soon discover if you need a variety of colors to best show your thinking, if you need a quiet workspace, if you prefer working "in the moment" or "after the fact." You'll know what you need as you practice and become more aware of your own thinking and how you want to show it. Exploring sketchnoting in the classroom gives your students the opportunity to learn these things, too.
Sketchnoting fosters metacognition. It's a vehicle to help us think about our thinking. The pens, paper, and apps we use aren't the "end all, be all"; they change with us over time as our thinking grows and changes. The "stuff" of sketchnoting contributes to the process. The media helps move the message.
•••
Learn more about Ink & Ideas at Heinemann.com
---
Follow us on Instagram @heinemannpub to stay up to date on the latest books, your favorite authors, and upcoming events!
---
Internationally-known teacher and conference speaker Tanny McGregor brings nearly 30 years of professional experience to her popular sessions. Her workshops are known for their creative and engaging style. Originally an elementary school teacher, Tanny has served as a literacy coach, gifted intervention specialist, and preK-12 staff developer.
Tanny is the author of three books, Comprehension Connections (Heinemann, 2007), Genre Connections (Heinemann, 2013), and her newest release, Ink & Ideas (Heinemann, 2018). Tanny was also a contributor to the seminal work, Comprehension Going Forward (Heinemann, 2011). In addition to writing and consulting, Tanny serves as a teacher on special assignment for West Clermont Schools in Cincinnati, Ohio. She and her husband Miles have four daughters and two grandsons.
Follow her on Twitter @TannyMcG