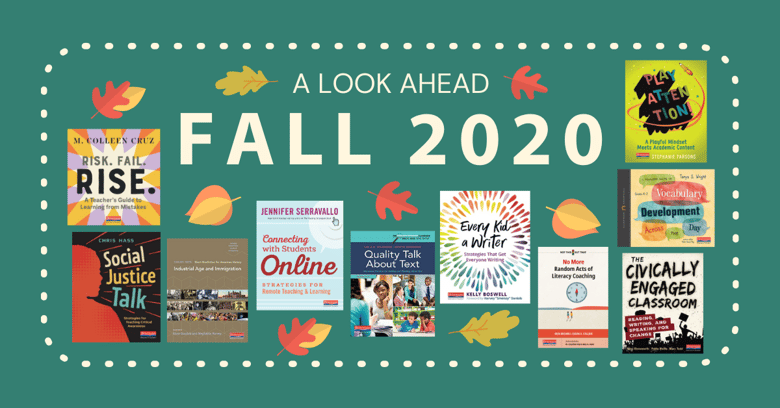 A look ahead at the NEW professional books that will be published in Fall 2020. Follow the links below for more information about the books, authors, and to preorder titles.

We are also very pleased to present our latest DIGITAL CATALOG! Click through to learn about everything from Heinemann Audiobooks to Professional Development opportunities. This 152 page color catalog includes special video content from your favorite authors! Download and share.
---
FALL 2020 PROFESSIONAL BOOKS
IN ORDER OF ESTIMATED PUBLICATION DATE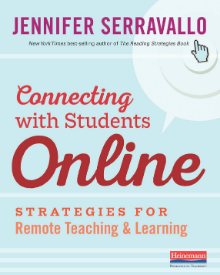 Connecting with Students Online: Strategies for Remote Teaching & Learning
By Jennifer Serravallo


An unprecedented pandemic may take the teacher out of the classroom, but it doesn't take the classroom out of the teacher! Jennifer Serravallo's Connecting with Students Online gives you concise, doable answers based on her own experiences and those of the teachers, administrators, and coaches she has communicated with during the pandemic.


Grade Level: Kindergarten - 8th • Book with Online Resources
---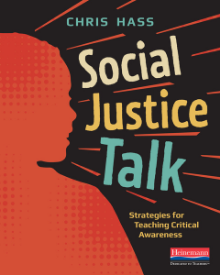 Social Justice Talk: Strategies for Teaching Critical Awareness
By Chris Hass
In Social Justice Talk, Chris Hass, along with his colleagues Nozsa Tinsley, and Tiffany Palmatier, detail how to facilitate rich discussions that disrupt the harmful social beliefs and practices we and our students are immersed in every day. Each chapter is filled with vignettes, transcripts, and video clips from real classrooms and families that offer realistic expectations and models of what we can expect and hope for when we take on this work.


Grade Level: Kindergarten - 5th • Book with Online Resources
---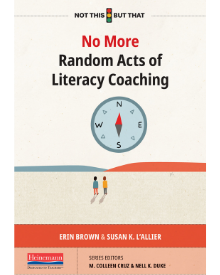 No More Random Acts of Literacy Coaching
By Erin Brown and Susan L'Allier


Teacher-coach collaboration is critical to teacher effectiveness and student learning, but sometimes the in-the-moment response rate required when supporting several teacher requests at once can make literacy coaching appear to be, well, rather random.

No More Random Acts of Literacy Coaching looks at the common obstacles and misconceptions that can prevent effective coaching, and offers strategies that literacy coaches, teachers, and principals can employ to make wise use of their time together.


Grade Level: Kindergarten - 5th • Part of the Not This But That Series
---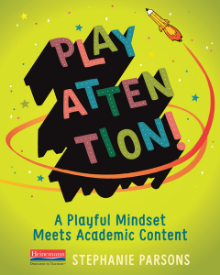 Play Attention! A Playful Mindset Meets Academic Content
By Stephanie Parsons


A playful mindset is key to finding creative, resourceful ways of doing the things we need to do in life. And yet, in the past 50 years there has been a steep decline of free self-directed play both in and out of school. "In providing more structured activities outside of school, longer school days and more rigorous curricula, we have raised children who are less prepared for a successful adulthood," Stephanie writes. But there is hope!

In Play Attention! you'll learn how play can add value to what you are already doing in your classroom and can even help you do it better.


Grade Level: 3rd - 6th • Book with Online Resources
---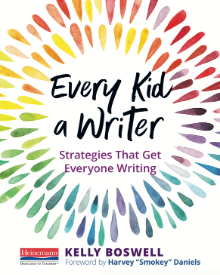 Every Kid a Writer: Strategies That Get Everyone Writing
By Kelly Boswell


Sometimes the hardest part about teaching writing is getting students to write at all. Kelly Boswell reminds us that every writer is reluctant to write at some point. It's the conditions––not the kids––that determine success. In Every Kid A Writer, Kelly provides six field-tested strategies to get everyone in the classroom writing with energy and enthusiasm.


Grade Level: Kindergarten - 5th
---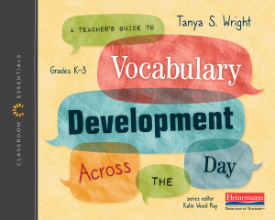 A Teacher's Guide to Vocabulary Development Across the Day
By Tanya S. Wright


You probably know that having young children memorize new words or relegating vocabulary instruction to one time of day is not the way to go, but you may not know what else to do to support students' vocabulary development. In this guide, Tanya Wright shows you how to make word learning more meaningful and engaging as you incorporate teaching about words across the day.

Young children love to learn and use new words; the key is to tap into their natural curiosity and excitement. Tanya shows you how to create opportunities for children to think about and use words in meaningful contexts during read aloud, content-area learning, reading instruction, and writing instruction—all day long! Classroom videos of teachers and children learning about words bring the ideas to life, and a friendly "What We Know" feature highlights important research that informs the practice.


Grade Level: Kindergarten - 3rd • Classroom Essentials Series Book
---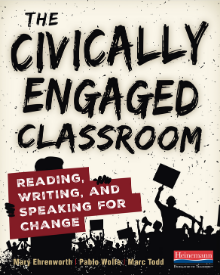 The Civically Engaged Classroom:
Reading, Writing, and Speaking for Change
By Mary Ehrenworth, Pablo Wolfe, Marc Todd


Create more alert, thoughtful, engaged, inquisitive, and active citizens by reframing teaching so that it's not just about content and standards, but also civic virtues. The Civically Engaged Classroom is packed with practical guidance designed to support teachers in giving students the skills, knowledge, and tools to be active participants in society.

Grade Level: 5th - 12th
---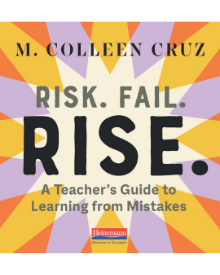 Risk. Fail. Rise.
A Teacher's Guide to Learning from Mistakes
By M. Colleen Cruz
Mistakes are part of learning. Every educator knows this. But what happens before and after a mistake that facilitates that learning is rarely explored practically. In Risk. Fail. Rise. teachers will learn how to address their own teaching mistakes, model with their own mistake-making, and improve their responses to others' mistakes.


Grade Level: Kindergarten - 12th
---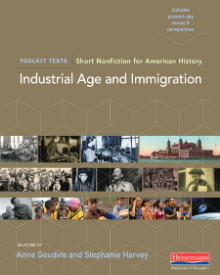 Industrial Age and Immigration
Short Nonfiction for American History
By Anne Goudvis, Stephanie Harvey
Industrial Age and Immigration is the latest volume in the Short Nonfiction for American History Toolkit Texts, part of The Comprehension Toolkit Series. This resource highlights multiple perspectives and diverse voices of this historical time period. The last section, from the 1960s on, includes articles illustrating present-day perspectives, events, and issues surrounding immigration and innovation.


Grade Level: 4th - 8th • Book with Online Resources
---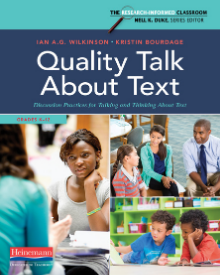 Quality Talk About Text
Discussion Practices for Talking and Thinking About Text
By Ian A.G. Wilkinson and Kristin Bourdage
Teachers know quality talk helps develop students' intelligence. Unfortunately, there hasn't been enough support in showing teachers how to plan for this kind of talk. In this book, authors Ian Wilkinson and Kristin Bourdage bring together research-proven approaches to talk about text and offer teachers different models based on the specific skills they want to develop in students. More than just one approach, theirs is a versatile collection of approaches that will develop and expand students' knowledge and skills.


Grade Level: Kindergarten - 12th
---