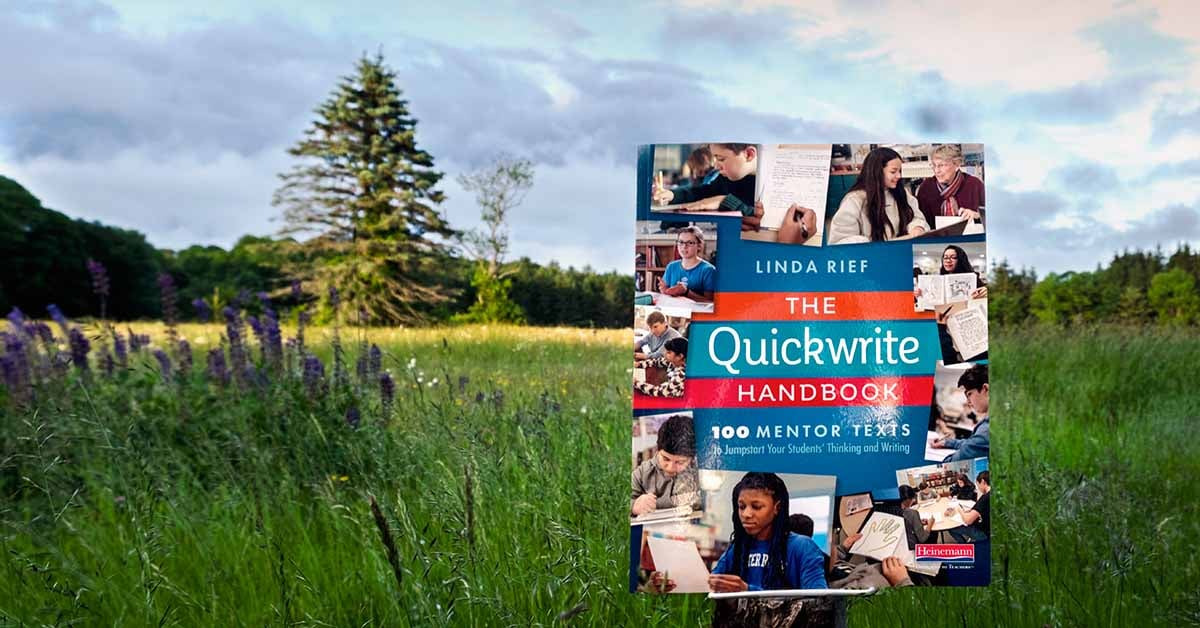 From The Quickwrite Handbook by Linda Rief
Writing and teaching writing can be intimidating. It is hard work, and it takes time. Quickwrites offer an easy and manageable writing experience that helps both students and teacher find their voices and develop their confidence, as they discover they have important things to say. This quick exercise pulls words out of the writer's mind. When the models for quickwrites are compelling and carefully chosen, students are able to focus closely and write clearly.
Quickwrites bring out the writer. They...
give students ideas and frames for their own writing so they are not working in a void
help students build a volume of writing from which to draw ideas for more extensive and developed pieces
focus students' attention and stimulate their thinking at the beginning of a class
encourage writing about important ideas, chosen to make us think and feel as we learn
give students choices about what they write, how they write, and what works and does not work in a low-stakes situation
are ungraded, allowing students to be creative, imaginative and reflective in their thinking
introduce students to a variety of stylistic devices and craft moves they might try in their writing
Quickwrites build students' confidence. They...
build confidence when students see the quality of their writing
make writing accessible to all students, even those who struggle the most with words and ideas, because quickwrites are short, quick, nonthreatening, and directed toward a specific task
Quickwrites develop fluency by increasing volume. They...
keep students writing several times a week
keep students writing beyond the quickwrite when they find themselves committed to a topic that matter to them
offer ongoing practice for writing in sensible, realistic, and meaningful ways on demand or in timed situations
Quickwrites bring out the reader. They...
teach students to become better readers as they hear, see, and craft language
introduce students to a variety of writers
A peripheral benefit of using quickwrites is that they enhance students' ability to cope with timed writing assignments on specific topics. Remind them to approach such assignments as they would a quickwrite and use the same process to develop, expand, revise, and edit their thinking as they take the writing to a best draft. They are better able to face such daunting, timed tasks precisely because their quickwrites practice has made them more fluent and proficient.
•••
Learn more about The Quickwrite Handbook at Heinemann.com
---
Linda Rief teaches middle school in Durham, New Hampshire and is an instructor in the University of New Hampshire's Summer Literacy Institute. A national and international presenter on issues of adolescent literacy, she is also a recipient of NCTE's Edwin A. Hoey Award for Outstanding Middle School Educator in the English Language Arts.
Her newest book is The Quickwrite Handbook: 100 Mentor Texts to Jumpstart Your Students' Thinking and Writing. She is also the author or coeditor of many Heinemann titles, including Read Write Teach, Inside the Writer's-Reader's Notebook, The Writer's-Reader's Notebook, Adolescent Literacy, Vision and Voice, and Seeking Diversity.
Follow Linda on Twitter @LindaMRief.