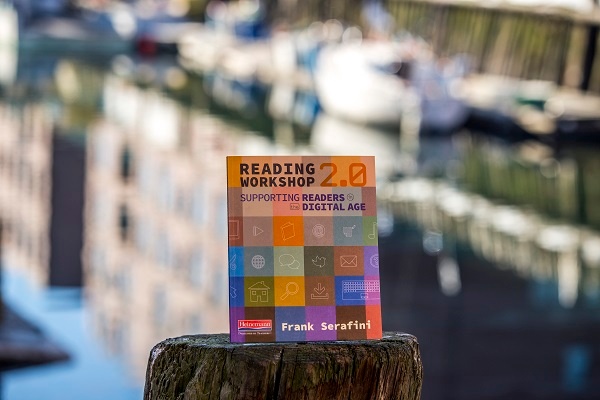 How do we deal with the massive shifts that digital literacy is creating? Frank Serafini has the answer in his new book Reading Workshop 2.0: Supporting Readers in the Digital Age. It's out now!
In today's post adapted from the book, Frank describes his reading workshop 2.0 framework.
Technology and Reading
by Frank Serafini
The term technology can be misleading. When people say the word technology, they often mean the newest gizmo, software application, or digital resource that is being bandied about by friends in and out of education. However, it is important to remember that the pen and pencil were also technological advances at one time in our history. So was the codex, or what we commonly refer to now as the printed book. Writing a book like Reading Workshop 2.0 requires attending to all forms of technology, print- and digital-based, not just the newest web-based resource or trendy app to hit the internet.
A reading workshop 2.0 framework must also take into account what Lankshear and Knobel (2006) refer to as the new ethos stuff, in addition to addressing the new technical stuff. By new ethos stuff, they are suggesting that along with the changes in the technologies teachers and readers are exposed to in and out of school, the ways in which these new technologies affect the way we interact with information, people, and ideas have also changed.
The profiles people construct on various social media platforms, the relationships that develop among participants in chatrooms and discussion boards, and the conventions and expectations for communicating with colleagues through email have changes as much as the web-based platforms used to house these interactions.
As readers draw on new technologies (new technical stuff), they are no longer viewed simply as consumers of information; rather, they are considered producers and critics of information as well (new ethos stuff). You will read more about the development of web-based and digital resources and the new ethos associated with it in the opening chapters of Reading Workshop 2.0.
♦ ♦ ♦ ♦

Frank Serafini has dedicated his life to making reading accessible to every student. His numerous Heinemann titles include The Reading Workshop and Around the Reading Workshop in 180 Days. He is an Associate Professor of Literacy Education and Children's Literature at Arizona State University. Visit Frank's blog "The Reading Workshop" and follow him on Twitter @doctorserafini.