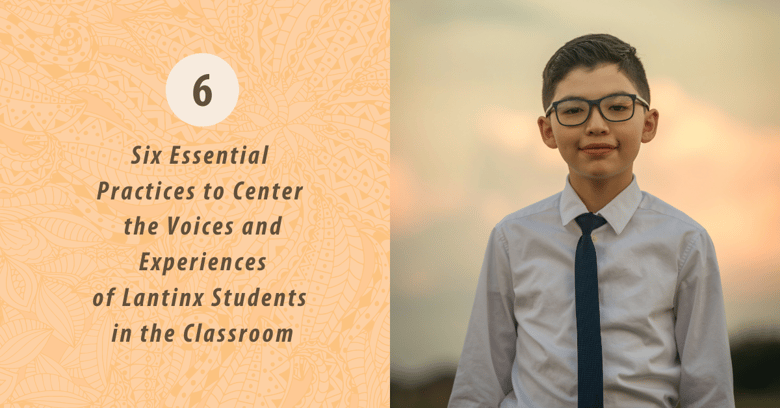 Photo by Gabriel Tovar
How can educators create a welcoming, liberating, and transformative environment for Latinx students? We can begin by learning to amplify the stories and identities of Latinx children. Carla España and Luz Yadira Herrera offer six practices that bring Latinx students' perspectives to the center of our classrooms.
Practice #1: Get to know your students' journeys.
Carla and Luz use journeys to describe those experiences that continuously shape and influence our students' realities. It may mean navigating identities that do not fit neatly into boxes that students check off on a form or questioning how others define them versus how they self-identify. Some students have had varied immigration experiences and may be growing up as the first generation in the United States. Perhaps it is a combination of experiences that include the ways their language practices have been interpreted, and other aspects of who they are, all of which impact their lives in various ways. These also reveal how students respond to issues of marginalization. As educators, we have to create meaningful spaces for the sharing and learning of all of our journeys.
Practice #2: Understand our students' language practices.
Carla and Luz use the phrase language practices to highlight how we engage with language and how languaging is a process that is performed differently depending on context. This helps us describe how we use language to communicate, convey emotions, and create or support relationships. Our language practices reflect our linguistic resources, some of which may be nurtured in our schooling or suppressed. A bilingual child, for instance, may have language features categorized as Spanish or English in their repertoire, and thus their language practices often involve the use of all of those features as they seek to communicate, make connections, and negotiate relationships.
Practice #3: Understand our students' (and their families') traditions of literacies.
In this book, Carla and Luz take a broad view of literacy, following the legacies of sociocultural approaches. These approaches consider that literacies happen in context, for example, the various practices that families engage in, such as oral traditions, including storytelling, proverbs, and elder and community wisdom that have been passed down through generations. These also include digital literacies as well as literacies most commonly associated with youth culture: you may have students who can fully explain the use of social media platforms, online gaming communities, music-related literacies (hip-hop, K-pop), and the informational how-to videos they watch repeatedly to learn more about their interests.
Practice #4: Affirm, be in solidarity with, and help create awareness of our students' language practices.
Sonia Nieto, one of the key figures in the field of equity in schooling, has encouraged educators to seek beyond "tolerance" in our work with children, especially languageminoritized students. Affirming our students' language practices means that we must get to know and validate their backgrounds and journeys and, most importantly in our work with Latinx students, learn about the varied experiences. In other words, in both of the following examples from our stories, language is intimately connected to place. Although this has been central to our understanding of ourselves, language practices, and family identities, it is also a privilege that we have had to be able to travel back and forth. We must be thoughtful in learning about different experiences so that we can be in full solidarity with students who may not have the same privileges or opportunities. Also, as thoughtful, critical thinkers, we can and should consider the reasons why we may have had opportunities our students have not.
Practice #5: See the connections between school and government policies and their direct effect on our students' lives.
Educators have to be aware of the policies, political climate, and national narratives that impact our students. The chart below identifies some policies that have negatively impacted Latinx students' lives.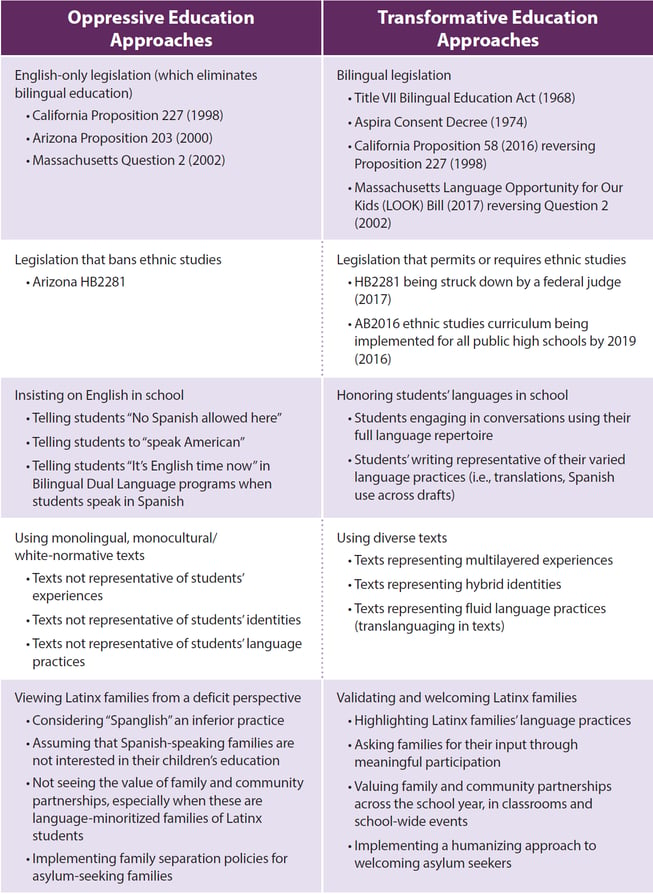 Practice #6: Understand that our students live in the intersections of many cultural practices and identities.
Carla's and Luz's understanding of their students' identities and systems of oppression are informed by the foundational work of Kimberlé Crenshaw, professor at UCLA and Columbia Law School. Crenshaw uses the term intersectionality to "denote the various ways in which race and gender interact to shape the multiple dimensions of Black women's employment experiences" (Crenshaw 1991, 1244). Consider the intersection of race, gender, class, sexuality, ability, language practices, and documented status—among other ways of self-identifying—as you learn about the marginalization of Latinx students in both bilingual/multilingual and monolingual classrooms.
…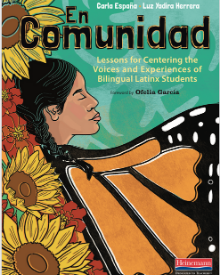 Learn more about En Comunidad on Heinemann.com
---

Follow us on Instagram @heinemannpub to stay up to date on the latest books, your favorite authors, and upcoming events!
---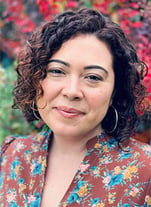 Carla España is an instructor at the Bank Street College Graduate School of Education. Carla's teaching journey began in a bilingual classroom in Harlem, New York, continued at Teachers College Reading and Writing Project partner schools, and at the bilingual teacher preparation program at Hunter College, City University of New York. Finder Carla on Twitter: @ProfesoraEspana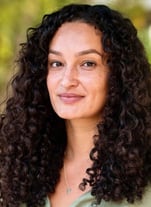 Luz Yadira Herrera is an Assistant Professor at the Kremen School of Education and Human Development at California State University, Fresno. As a former teacher in NYC public schools and researcher at CUNY-NYSIEB, her teaching and research centers culturally and linguistically sustaining approaches to teaching emergent bilinguals, translanguaging pedagogy, and bilingual education policy. Find Luz on Twitter: @Dra_LuzYadira