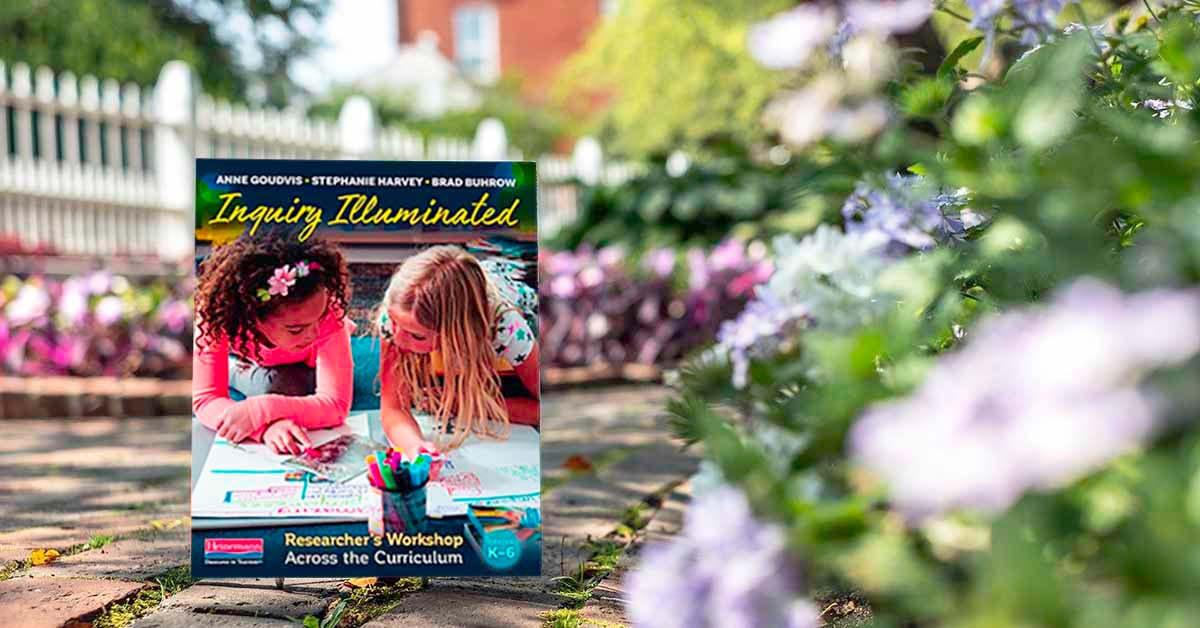 "Literacy blooms whenever students have access to books they want to read, permission to choose their own, and time to get lost in them." —Nancie Atwell
Much of what we ordinarily teach in reading and writing workshops transfers easily to the inquiry process. Kids use reading and writing in the service of learning about particular topics, whether introduced in researcher's workshop or in the reader's or writer's workshop.
With our support and guidance, readers choose just-right books and read extensively during workshop. Writers are given time to write to inform, understand, and learn. Teachers teach reading and writing strategies explicitly during lessons and conferences and kids share their learning and thinking at the end of the workshop, building community in the classroom. Listed below are the core foundations of reader's and writer's workshops.
Access
We stock our classrooms with plenty of books and resources, carefully curating the options and borrowing books from the school and public libraries, so that our collection is ever changing. School libraries, not to mention the school librarian, can make a huge difference in kids' reading lives. We have a rich selection of books in all genres accessible and available. It doesn't take much to get kids engaged in real or imaginary worlds: posters of sea creatures, picture books about dramatic events or compelling people, graphic novels, fantasy, mysteries, and adventure (Krashen, Lee, and Lao 2017). We constantly work to build our classroom libraries so kids have many compelling texts within reach.
Choice
We make sure that kids have time each and every day to lose themselves in books they choose, not just books that feed our curriculum. Kids need both. Kids have open-ended choice as well as what Allington calls "managed choice," when teachers guide kids' reading in classroom curriculum topics. When it comes to research, this prepares kids to take our inquiries into their own hands, exploring their own interests and answering their own questions. Turning over the choice of writing topics and forms to the kids makes all the difference in their enthusiasm for writing. The focus becomes what kids want to express and share, not a choice someone has made for them. When kids are excited about research and investigation, they are eager to share their learning through writing, drawing, and making.
Time
It makes total sense: For kids to love to read—inside and outside the classroom— and to keep reading as they grow up, they need to spend a lot of time reading texts they can and want to read. Research on time kids spend reading is crystal clear: Allington (2002) reports that comprehension worksheets, test prep, and copying vocabulary get in the way of reading, sometimes resulting in only 10–15 minutes of actual reading in a 90-minute literacy block. So we're vigilant in making sure other activities don't get in the way of the time kids have to read. The same goes for dedicating time for writing. We create predictable and consistent classroom routines. When kids write every day, the writing has forward momentum. Writers are creating, constructing, and composing, whether it's poetry, personal experience writing, or research.
Volume
It's no secret—the more we read, the better we read. Kids' free, voluntary reading is the foundation on which they build to become readers for the rest of their lives. A large volume of high-success reading is the number one factor correlated with kids' reading progress/achievement (Krashen 2017; Allington 2012). The writing principle is just like anything else we practice and learn to do well: The more kids write, the better they write. With opportunities to write in response to reading, math, science, social studies, or any other subjects, kids build writing fluency.
Response
Kids spend a lot of time responding to, talking about, and sharing books, one of the best ways for kids to become members of what Frank Smith calls "the literacy club" (1987). As kids read and respond in workshop, instruction happens during teacher–student conferences.
Ownership and Engagement
If kids are to become independent readers, taking ownership of and responsibility for their reading lives, they must relish what they read. In a classroom brimming with informational books, magazines, artwork, posters, photographs, and artifacts, not to mention online sources, kids soak up information and ideas enthusiastically. When kids have choice in what and how they write, their ownership of and engagement with the writing process soars, and their voice rings true. Authentic writing and drawing about their experiences, new learning, and ideas comes from kids' desire to express themselves rather than from an orchestrated response. Voice, ownership, engagement, and enthusiasm are all integrally related.
…
The above has been adapted from Inquiry Illuminated. To learn more, visit Heinemann.com
---
Follow us on Instagram @heinemannpub to stay up to date on the latest books, your favorite authors, and upcoming events!
---
Anne Goudvis has taught students in grades K-6 over the years, beginning her teaching career in urban schools on the south side of Chicago. She spent many years as a staff developer in the Denver area, working in culturally and linguistically diverse schools. Currently, Anne works with schools and districts around the country to implement progressive literacy practices and comprehension across the curriculum. Follow Anne on Twitter @annegoudvis
Stephanie Harvey has spent her career teaching and learning about reading and writing. After fifteen years of public school teaching, both in regular education and special education classrooms, Stephanie worked for twelve years as a staff developer for the Denver based Public Education and Business Coalition (PEBC), a partnership of leaders from education and business, who support innovation in public schools. Connect with Steph at @StephHarvey49
Brad Buhrow is coauthor of the Heinemann title Comprehension Going Forward.
For the past twelve years he has worked with culturally and linguistically diverse learners teaching fourth, second, and first grade. He believes that "to be a teacher it takes thinking, imagination, creativity, curiosity and a lot of energy. That's why I became a teacher—I love that challenge. I've learned from critical theory that establishing a solid knowledge base and being conscious of my practices is the first step toward action and positive change." Follow Brad on Twitter @bradbuhrow