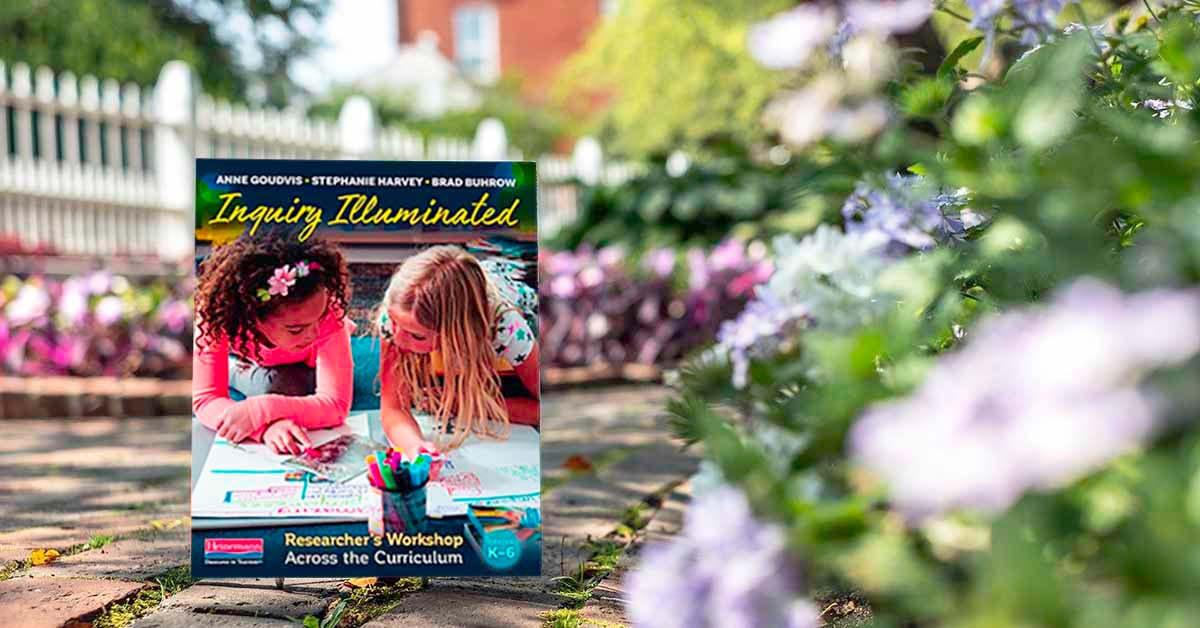 Halls and walls teach. Visual displays of co-constructed anchor charts illustrate and guide teaching and learning over time. Displays of kids' writing and art feature a highly visible record of kids' finished projects and in-progress thinking. When students consistently share their questions and interests, they come to know each other as learners. Collaboration becomes a way of life.
We begin the year with blank walls and bulletin boards. Why decorate with stuff from the teacher store when very soon the halls and walls will be filled with more interesting examples of kids' learning and our teaching?
Post-its, two- and three-column think sheets, and large charts are opportunities for kids to draw and write their way into understanding. Listed below are a few great opportunities for students to make their thinking and learning visible.
Anchor Charts
Anchor charts are essential tools for teaching in ways that make kids' thinking and learning visible and concrete. They provide an ongoing record of instruction as it unfolds each day. Charts of all kinds cover walls, easels, any place kids can see and use them. When space is a challenge, we change them up often, making sure they are relevant and useful.
Here's a short list of options for co-constructing anchor charts:
Include the language of instruction so kids begin to internalize it. Our teaching language becomes the kids' learning language.
Honor kids' work and thinking by adding their responses to the charts. Their Post-its, responses, and ideas spark conversation and discussion.
Send the message that we are a community of teachers and learners— our conversations and ideas are worth recording and "making visible" so we can revisit and discuss these over time.
Keep the language clear. Charts are referred to by kids who rely on them for guiding what they do and how they talk, especially language for comprehension and thinking strategies and procedures (how to choose a book to read, how to write a picture book; steps for the research process).
Collaborate with students. Charts are not only co-constructed (teachers and kids) but also kid-driven/-constructed. When kids create their own teaching/learning/response charts, they are assuming ownership and responsibility. Kids might list their burning questions, their discoveries, their new learning—and other kids respond.
Provide parents and visitors to the classroom a clear, coherent idea of what we are thinking and learning and send the message that this is what matters.
Spotlight kids' original ideas and creative expression.
Kids' Work
Gone are the days of twenty-eight nearly identical state reports posted on the bulletin board. Showcasing kids' work on walls and in hallways— both finished and in-progress—sends the message that this is their classroom and they are sharing what happens there. But it's not just about a display—it's for teaching and learning, both inside and outside of the classroom.
When kids' work is visible and public, this:
Provides authentic opportunities for kids to teach and learn from each other
Shows the development and trajectory of kids' progress and understanding over time
Inspires responses, reactions, and conversations among classmates, with other kids in the school, with parents and other visitors
Celebrates the intensive thinking and hard work that go into kids' efforts to take their learning public and make it attractive and engaging for readers and viewers.
As Ron Ritchhart wisely points out, "When thinking is visible in classrooms, students are in a position to be more metacognitive, to think about their thinking. When thinking is visible, it becomes clear that school is not about memorizing content but exploring ideas. Teachers can see students' thinking because misconceptions, prior knowledge, reasoning ability, and degrees of understanding are more likely to be uncovered. Teachers can then address and extend students' thinking by starting from where they are."
…
The above has been adapted from Inquiry Illuminated. To learn more, visit Heinemann.com
---
Follow us on Instagram @heinemannpub to stay up to date on the latest books, your favorite authors, and upcoming events!
---
Anne Goudvis has taught students in grades K-6 over the years, beginning her teaching career in urban schools on the south side of Chicago. She spent many years as a staff developer in the Denver area, working in culturally and linguistically diverse schools. Currently, Anne works with schools and districts around the country to implement progressive literacy practices and comprehension across the curriculum. Follow Anne on Twitter @annegoudvis
Stephanie Harvey has spent her career teaching and learning about reading and writing. After fifteen years of public school teaching, both in regular education and special education classrooms, Stephanie worked for twelve years as a staff developer for the Denver based Public Education and Business Coalition (PEBC), a partnership of leaders from education and business, who support innovation in public schools. Connect with Steph at @StephHarvey49
Brad Buhrow is coauthor of the Heinemann title Comprehension Going Forward.
For the past twelve years he has worked with culturally and linguistically diverse learners teaching fourth, second, and first grade. He believes that "to be a teacher it takes thinking, imagination, creativity, curiosity and a lot of energy. That's why I became a teacher—I love that challenge. I've learned from critical theory that establishing a solid knowledge base and being conscious of my practices is the first step toward action and positive change." Follow Brad on Twitter @bradbuhrow