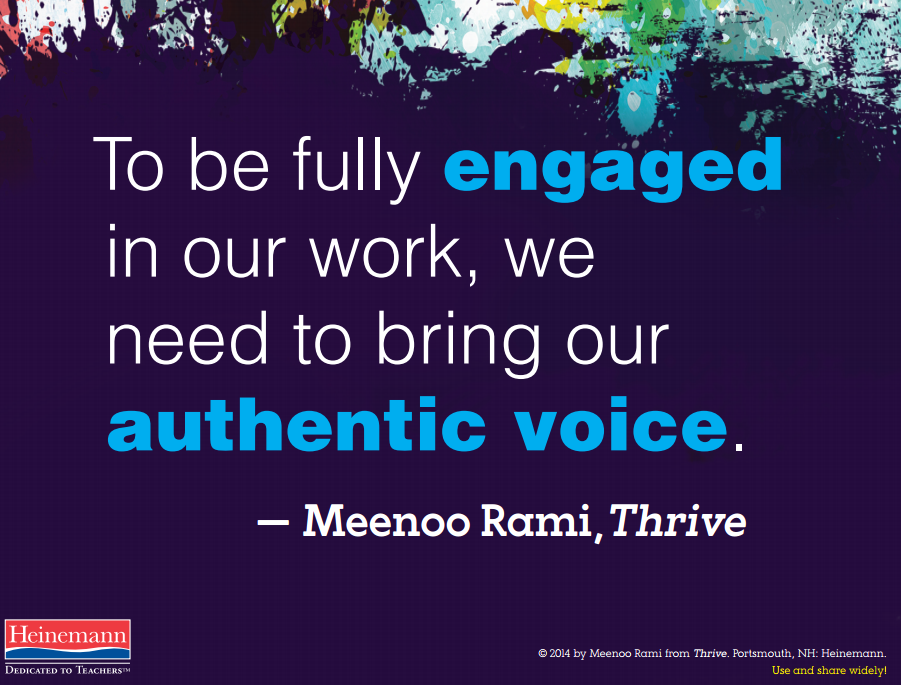 You are one year old today! Published in March of last year, Meenoo Rami's Thrive: 5 Ways to (Re)Invigorate Your Teaching started a yearlong conversation around building successful networks, connecting with mentors, and translating a culture of positivity to your students. Following the book's publication, Meenoo facilitated a blog tour.
The blog tour itself was a testament to Meenoo's hard work—building connections in the profession and exchanging ideas—so it was only sensible for teacher-bloggers like Troy Hicks to pay it forward and praise Thrive as "the right book at the right time. [It] reminds us of how we, as teachers, need human interaction, intellectual fulfillment, and empathy as much as our students."
Revisit the blogs in the tour below.
Meenoo's Thrive Blog Tour Kickoff Post
4/9/14
Jen Vincent – Teach Mentor Texts
"Thrive Blog Tour!"
4/10/14
Franki Sibberson and Mary Lee Hahn – A Year of Reading
"Thrive by Meenoo Rami"
4/11/14
Alyson Beecher – Kid Lit Frenzy
"THRIVE Blog Tour!!"
4/12/14
Kira J. Baker-Doyle, Ph.D.
"How to Go From Burnt-Out to Fired-Up: A Book Review of 'Thrive: 5 Ways to (Re)Invigorate Your Teaching' by Meenoo Rami"
4/13/14
Sarah Mulhern Gross – The Reading Zone
"Thrive – The Book Every Teacher Should Read"
4/14/14
Christina Cantrill - National Writing Project
"Thrive!"
4/15/14
Beth Shaum – Use Your Outside Voice
"Thrive: 5 Ways to (Re)Invigorate Your Teaching by Meenoo Rami"
"Outside Voices from the Inside: Meenoo Rami, author of Thrive"
4/16/14
Linda Baie – Teacher Dance
"We Need a Variety of Connections So We Can Thrive"
4/17/14
Troy Hicks – Digital Writing, Digital Teaching
"Live, Learn, and Thrive"
4/19/14
Joy Kirr – My Own Genius Hour
"THRIVE"
4/20/14
Tara Smith – A Teaching Life
"The "Thrive" blog tour arrives here!"
4/21/14
Antero Garcia – The American Crawl
"Thriving in Practice"
4/22/2014
John Spencer – Education Rethink
"An interview with Meenoo Rami"
4/23/14
Kellee Moye and Ricki Ginsberg – Unleashing Readers
"Author Guest Post and Blog Tour!: Thrive by Meenoo Rami"
How do you thrive during the school year? Get to Twitter and join the conversation with your answer. #EdThrive.

Meenoo Rami is the author of Thrive: 5 Ways to (Re)Invigorate Your Teaching and will conduct a Heinemann webinar on April 14, 2015 titled, "Connected Learning: Empowering Students and Engaging Teachers." Find more information on our Professional Development page.